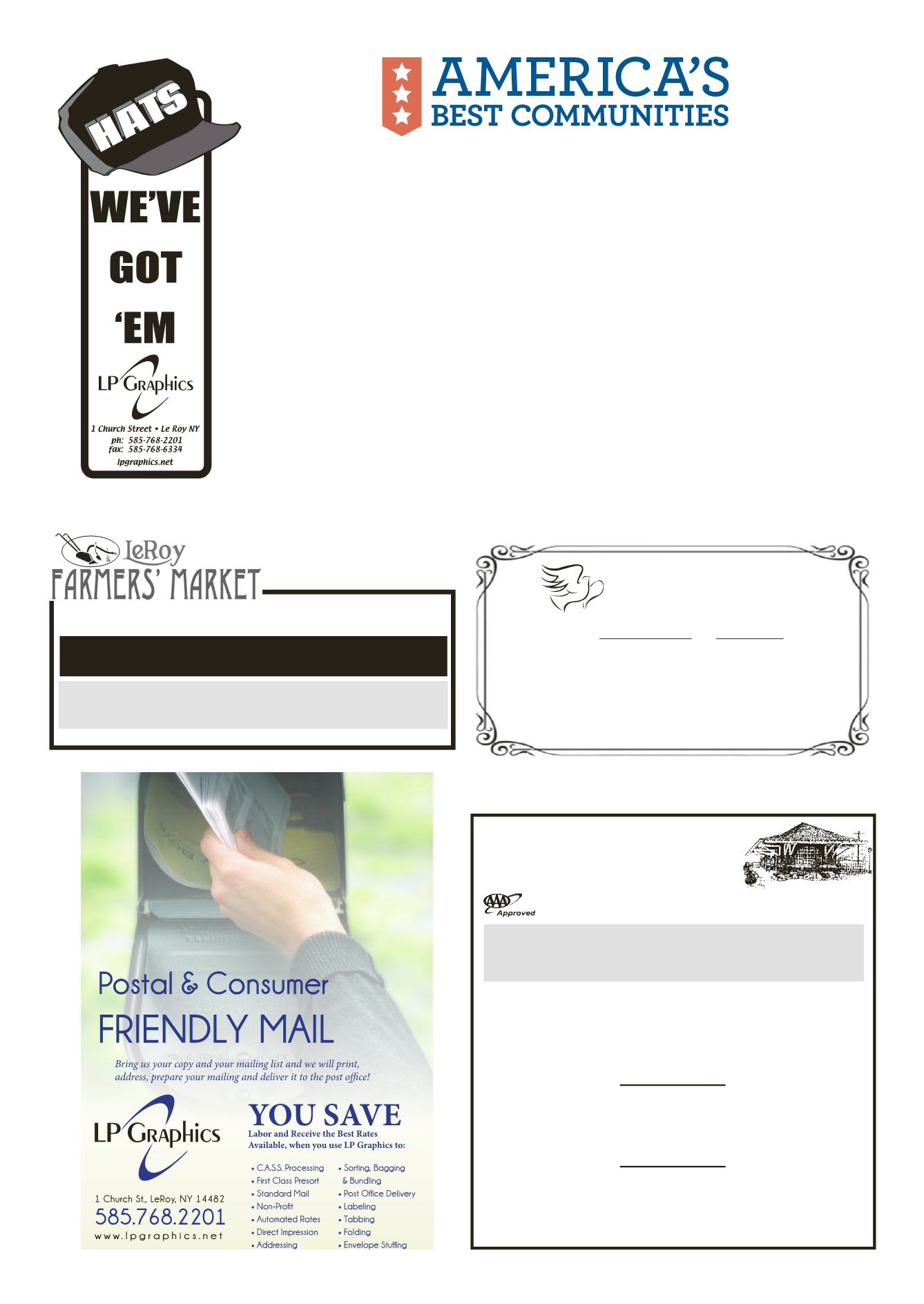 LEROYPENNYSAVER&NEWS - SEPTEMBER 6, 2015
Director /Owner
FuneralDirector
F
ALCONE
F
AMILY
Funeral&Cremation Service, Inc.
Director/Owner
"ALOCALFAMILY
CARINGFORLOCALFAMILIES"
LeRoyFarmer'sMarket onFacebook
TRIGON PARK
Saturday, Sept. 12th
9:00 am-12:30 pm
LOCAL • FRESH•DELICIOUS •NUTRITIOUS
Seasonal Fruits andVegetablesWill BeArrivingWeekly!
SamanthaPlatek playing the trumpet in ourmusic tent.
TheFirst PresbyterianKnitters andLCCPQuilt Raffle
will be in our community booths.
Jams, jellies, eggs,Yancey'sFancyCheeses, NundaMustards,
OnceAgainNut Butters, baked goods, organic produce, honey,maple syrup
and fresh, locally grown produce.
D&RDepot
63LakeSt. (Rt. 19), LeRoy• 768-6270
Let'sMeetAtThe ...
OpenForBreakfast, Lunch&Dinner - 7DaysAWeek 7am-9pm
TheDepot is open regular hours LaborDayweekend–
serving breakfast from 7 am-11 am,
serving lunch or dinner from 11 am-9 pm
SUNDAY, SEPTEMBER 6th /MONDAY, SEPTEMBER 7th
DINNERSPECIAL
BARBECUEDCHICKENn'RIBS
With potato salad, broccoli salad,
and aDepot banana split for dessert - $17.99
SUNDAY, SEPTEMBER 13thDINNERSPECIAL
Old fashionedPOTROASTdinner
Servedwith soup or salad, carrots, potatoes, onions,
and homemadeDutch apple pie for dessert - $17.99
SUNDAY, SEPTEMBER 20thDINNERSPECIAL
ROASTTURKEYDINNER
- (last time beforeThanksgivingDay)
Servedwith soup or salad, realmashed potatoes,
homemade dressing, veggie, and pumpkin pie - $17.99
One way or another we all
make investments. We invest
money in college funds for our
children.We invest in retirement
funds. Ifweweresmartwewould
invest time in keeping fit and
physically active. Sometimeswe
invest our time toworkwith our
churchorasports teamor tokeep
By making an investment of
our time or moneywe are really
investing in the future. We are
making a commitment to what
we think will make the future
better for us and our families.
It is important tomake sure that
our investmentsaremadewisely,
because a poor investment can
have serious ramifications. We
should always invest in the best.
And that iswhyweareaskingour
communities,LeRoyandBergen
We understand that many of
youalready invest timeandmon-
ey inour communities, but for a
short time,weareasking thatyou
consider making a small - - or
large investment that will have
a direct impact on our future
A committee of volunteers,
headed by Donna Friedman and
Lori Steinbrenner, who remem-
bered the LeRoy community's
efforts tosave thepool,has turned
their energy to raising $5,000
toward the$15,000matchmoney
required to pay for the economic
sustainability plan that is be-
ing prepared for the November
deadline. They have prepared a
donation board filled with 100
envelopes.Wheneachenvelope is
filled, thedonationboard isclosed
and themoneywillbegiven to the
LeRoy-Bergen America's Best
The money will be added to
the proceeds from the Field to
Fork Feast held on September 3,
and the $2,000 invested by the
Town of Bergen and the $2,000
investedby theVillageofLeRoy.
The Invest in the Best envelope
boardwill bemaking the rounds
this month. For more informa-
tion contact Donna Friedman at
768-6419 or Lori Steinbrenner