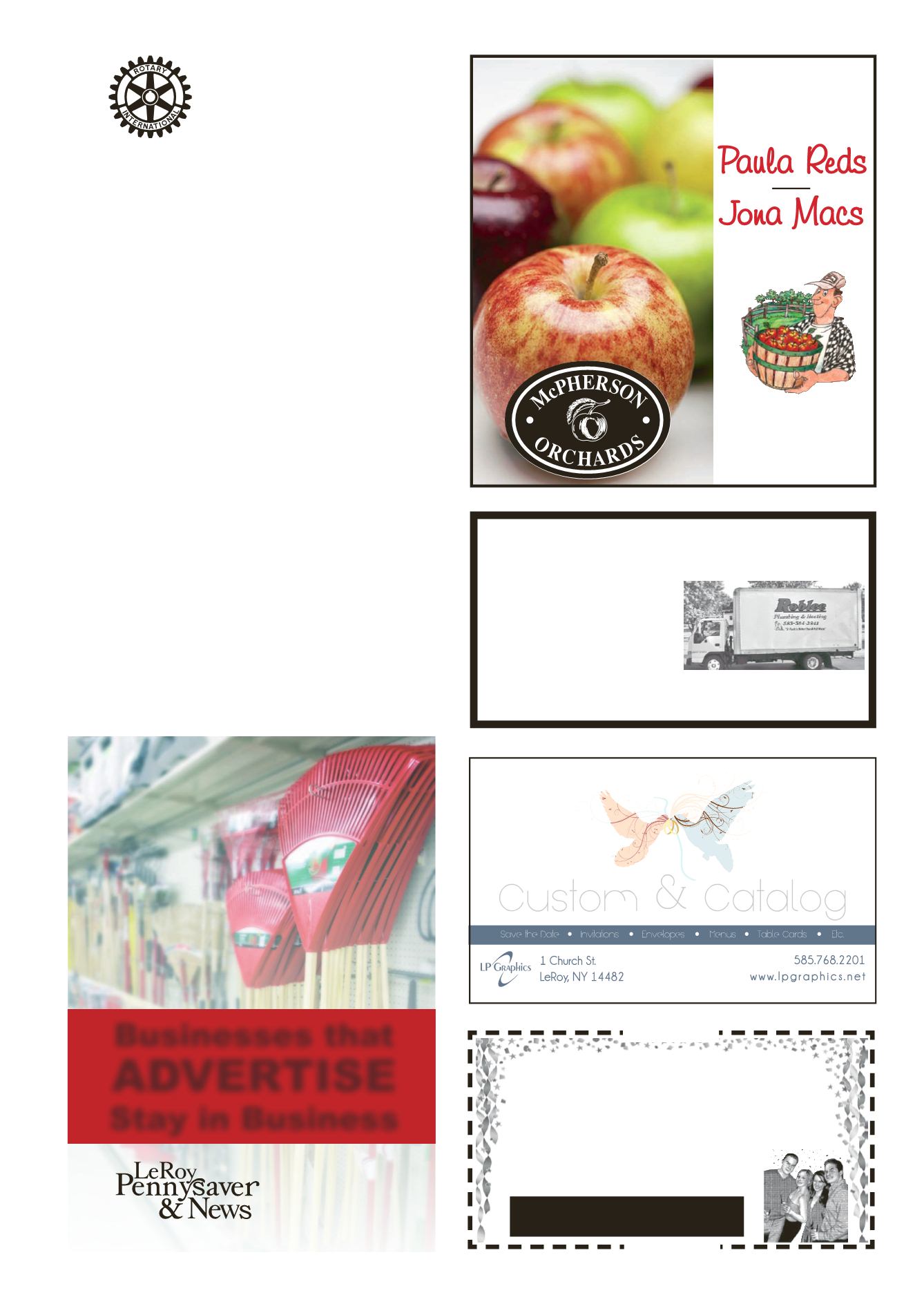 LEROYPENNYSAVER&NEWS - SEPTEMBER 6, 2015
LeRotary
Notes
Early Apples
OatkaTrail
OPENDAILY
9am to6pm
BeginningSept. 5th
ROBLEE
Plumbing&Heating, LLC
10991LakeRd., Pavilion • (585) 584-3841
Full Insured
LUXAIRE
GOULD
NYSCertifiedBackflowTester
Water&Sewer Lines •Water Treatment&ConditioningSystems
American Legion
Post 576
585-768-2090
CLIP&SAVE
CLIP&SAVE
Inside - 2RoomsAvailable
Outside - LargePavilion
Thebell rangpreciselyat12:15
to open our regular lunch meet-
ing. Immediate Past President
Randy filled in for vacationing
President Tony. We were joined
today by visiting Perry Rotarian
Jane Monihan. Announcements
included Friday morning make-
upmeetingwith Bob, the Field-
to-ForkFeastABC fund raiser is
nearlysoldout,ourFamilyPicnic
isSeptember27thandPastPresi-
dentsDinner on September 29th
sign-up sheet is going around.
IPPRandy tooka fewminutes
to pass along well deserved ap-
preciation, in the form of certifi-
cates, to several. This wasmade
possible, in largepart,becauseof
Carol Wolfe. Thank you Carol.
Missed meetings were quickly
dispatched with Bob Bennett,
BobCarlsen, JerryMcCullough,
TomMcGinnis, TimMoag, Rob
Murray, Carol Wolfe and Mary
Young all ready with make-ups
Thefining session startedwith
Bob Bennett's cycling prowess
being questioned, thenTomCox
was called on for his latest au-
tomotive acquisition. Poor Bob
Carlsen (and the rest of Yankee
fans everywhere) was so sad-
denedby their recent 15-1 loss to
Houston,Randycouldn'tfinehim
and insteadhadRobMurraypay
Bob's fine. TomMcGinnis paid
partly (Ron Pangrazio paid the
other part) for the nearly 2,500
lbs. of BBQ chicken he's served
up so far this summer. Carol
Wolfewas tagged for theweasle
Lastly, LarryBoylanwas rec-
ognized for his 43rd anniversary
in Rotary….again. Larry then
was introduced as our Program
presenter today.Tosay thatLarry
has a zest for the socio-econom-
ic-political-historic aspects of
the world, in general and our
country, specifically would be
understating a fact. Today Larry
capsulated the writings of Colin
Woodard. His book "American
Nations:AHistoryof theEleven
Rival Regional Cultures" illus-
trates how North America was
settled and the effect that has
had on our political landscape.
To learn more ... buy the book.
In themeantime…please follow
Advertise •Classifieds •News •HelpWanted •CommunityCalendar
585.768.2201
1ChurchSt., LeRoy, NY14482