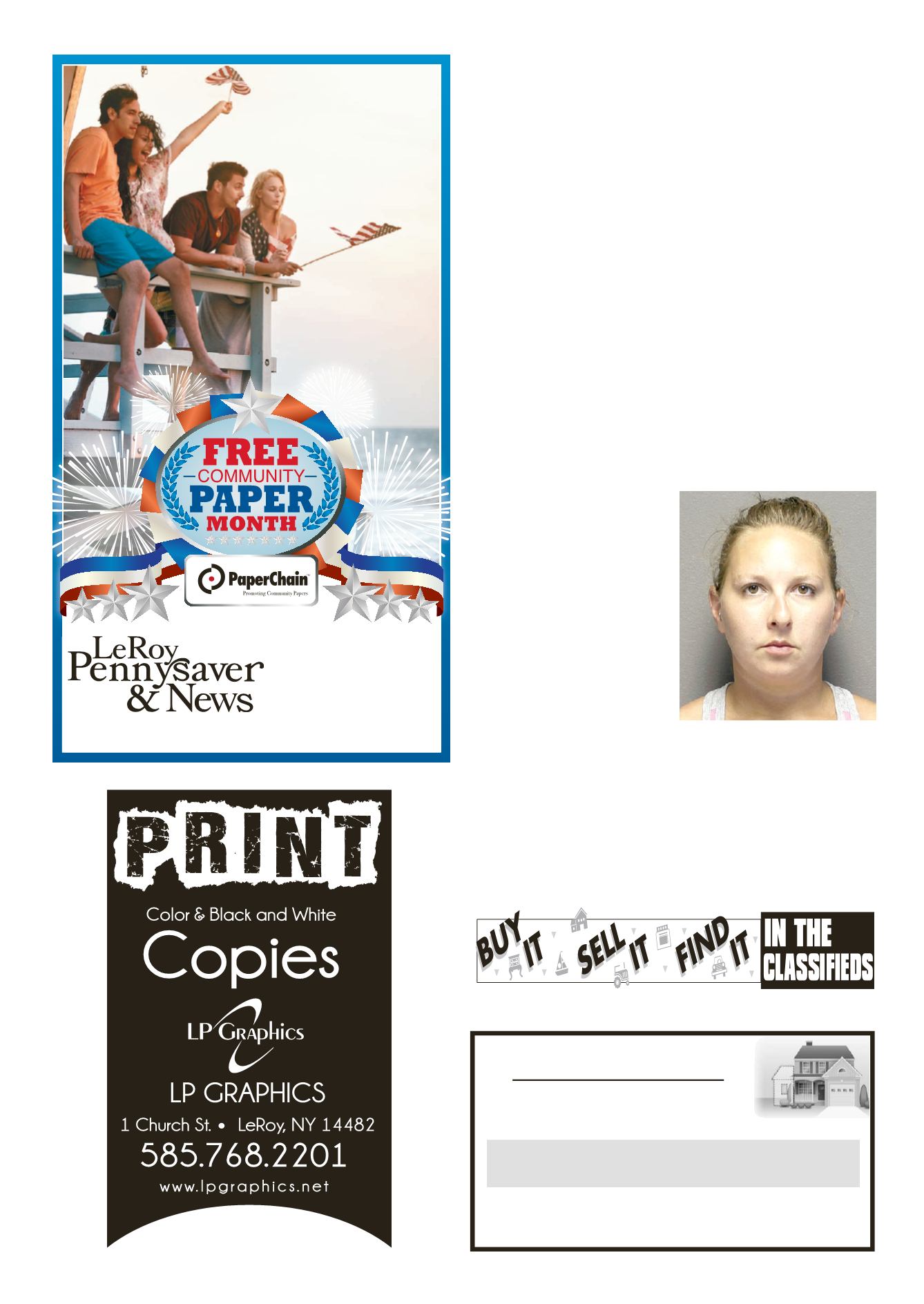 LEROYPENNYSAVER&NEWS - SEPTEMBER 6, 2015
"CompleteCarpentry Service"
M
ILLER
B
ROTHERS
B
UILDERS
CustomHomes •Remodeling•Additions
Roofing• Siding
DANIEL
MICHAEL
08/30/2015 - A sixmonth investigation by the LeRoy Police De-
partment of an injured two year old child concluded on 08/27/2015
with the arrest of 28 year old Christina Pahura of 6303Main Rd.,
Pahura was charged with one count each of the D-Felony of As-
sault in the2ndDegree and theA-Misdemeanor ofEndangering the
Welfare of a Child. The investigation started in early February of
2015when it was discovered that a two year old child had suffered
multiple fracturesof the legandarmandsignificanthighlysuspicious
At the conclusion of the investigation, it was alleged that Pahura,
havingbeen chargedwith the careof this child andbeingmore than
18yearsofage intentionallycausedphysical injury to thechild,under
theageof7,bystriking thechild. The injuriesoccurredwhilePahura
was living at 9School Street in theVillage of LeRoy.
Itwas furtheralleged thatPahuraknowinglyacted inamanner likely
tobe injurious to thephysicalandmoralwelfareof thechild,allowing
the child to remain in a residential situationduringwhichnumerous
suspicious bruises developed alongwith a sever limp. Pahurawas
advised to seekmedical treatment for the child but failed to do so
resulting in further significant bruisingandanuntreated leg fracture.
09/02/2015 - 29 year old Re-
becca L. Santiago of 5955Main
Rd., Stafford was arrested on
09/02/2015 by the LeRoy Police
Department and charged with
one count of criminal Possession
of Stolen Property in the Fourth
Degree, a class E-Felony and
four counts of Identity Theft in
the Third degree, Class A-Mis-
demeanors. It is alleged that on
or aboutAugust 8th, 2015, while
working as a heath care provider
in Livingston County, the suspect stole the credit card of a person
under her care and then unlawfully possessed and used the stolen
credit card in theVillageofLeRoyandothermunicipalitiesmultiple
times. The suspect turned herself intoLeRoyPolice andwas issued
anappearance ticket toappear09/17/2015 in theLeRoyTownCourt.
The LeRoy Police worked in conjunction with numerous other
agencies during this investigation including the Geneseo Police
Department, the Genesee County Sheriff's Office and the City of
The best
things in life
are free
like the one you're reading
today are thriving. In fact,
free community publications
have been able tomaintain
nearly 99% of their readership
since the turn of themillenium.
We love the neighborhoodswe
serve andwe couldn't do it
Thank you!
CIRCULATION VERIFICATIONCOUNCIL DATAMEASURINGPAPERSAUDITED INBOTH 1999 AND 2013.
[MEMBER PUBLICATION LOGO&CONTACT INFO]
Visit paperchain.com to learnmore