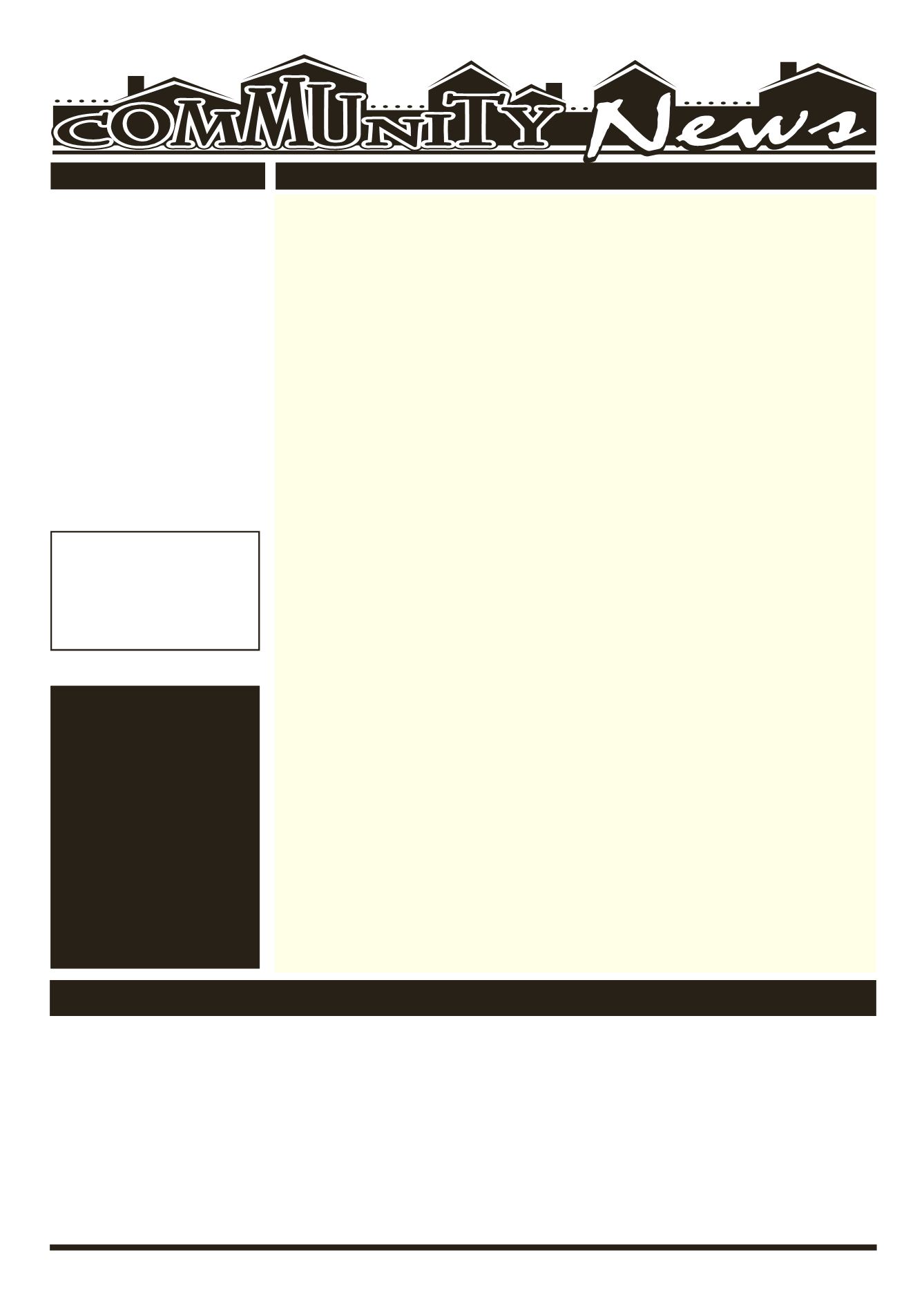 LEROYPENNYSAVER&NEWS - SEPTEMBER 6, 2015
Le Roy
Pennysaver
All GeneseeCounty residents, 60andolder, can takepart in thisweek'sactivitiesat theBataviaSenior Center, 2BankSt., Batavia. Formore information, call 343-1611.
SENIORCITIZENSACTIVITIES (September 7th - September 11th)
WEEKLYEVENTS
OBITUARIES
SeniorCenterClosed–LaborDayHoliday.
AlzheimerCareMeeting
is scheduled tobeginat 8:30a.m.;
Cribbage
is scheduled tobeginat 1:00p.m.
OmbudsmanMeeting
isscheduled tobeginat9:00a.m.;
QuiltersGroup
isscheduled tomeetat9:00a.m.;
Euchregame
is scheduled tobeginat 1:00p.m.
TaiChi
is scheduled tobeginat9:30a.m.;
GentleFitness
is scheduled tobeginat10:30a.m.;
Cribbage&Bridge
MusicalKeyboardLessons
are scheduled tobeginat 2:15p.m.
LegalServices
is scheduled tobeginat8:30 forAPPOINTMENTSONLY;
ArtClassandLineDancing
ARepresentative fromUnivera
is scheduled tobeavailable from10:00a.m. to12:00pm.;
Euchre
SUNDAY, SEPTEMBER6
KonnectYouthGroupat LivingWatersChurch,
days from6:30 to8:30pm forages12-18. "BringDownall theWalls! Connect
withGodandConnectwithothers." Formore information, checkusoutonline
at: livingwatersleroy.org/konnect-youth-ministry/
MONDAY,SEPTEMBER7
TOPS (Take Off Pounds Sensibly)
meets Monday evenings at the LeRoy
Presbyterian Church, corner of Clay &Main Streets. Doors open at 6:00 pm
andmeeting is from6:30-7:15pm.Visitorsarealwayswelcome.Call585-768-
7103 formore information.
TUESDAY, SEPTEMBER8
Preschool Storytime:
Every Tuesday at 11 am featuring stories, craft and
songsatPavilionPublicLibrary, 5WoodrowDr., Pavilion. For info: 584-8843.
LCCP'sGRACE'SKITCHEN:
A FREE dinner everyTuesday evening, 5-6:30pm
at theMasonicCommunityCenteron12BankSt. Plentyofparking.Takeout&
delivery are available. Formore info. contact SelbyDavis at 585-738-8882or
GRACE'SCLOSET:Aclothinggiveawayprogram
MethodistChurch,10TrigonPark,LeRoy,9:30am to11:30ameveryThursday.
Wehaveclothing forallages.Weneedbeddingofallkindsespeciallyblankets.
Donationscanbedroppedoffatthehousenexttothechurch.Pleaseputallbags
INSIDEon thebackporch. NO ELECTRONICS, COMPUTERS,DISHES, etc.
Open
Tuesdays5-6:30pm.
Anyquestions call theoffice768-8980.
WEDNESDAY, SEPTEMBER9
VillageofLeRoyBoardMeeting,
7pmat theVillageHall, 3WestMainSt.
TheLeRoyTown&CountryGardenClub
willmeetat6:30pmat thehome
of President, AnnWalters on9300WarsawRoad. BeckyKellywill direct us in
making cement leaves. Please remember to bringmedium - large leaves.
ContactAnnWaltersat737-9481or768-8130 formore information.
TheWoodwardMemorial LibraryBoardofTrustees
MovieDiscussionof Inceptionat theWoodwardMemorial Library
6:30p.m.Watch thisfilmathome (available for loanatWML)and then join in
a staff-leddiscussion. Registration required! Call 768-8300or register online
THURSDAY, SEPTEMBER10
GeneseeVeteransSupportNetwork
(GVSN) supports thedevelopmentof
VeteransfocusedAAmeetingseveryThursday,6-7pmattheFirstBaptistChurch,
306E.MainSt., Batavia.Meetings ledbyMikeW.&areopen tonon-veterans
aswell.Handicapaccessible. For additional information call 585-302-0825.
TownofLeRoyBoardMeeting
,7pmattheTownHallBoardRoom,48MainSt.
That'sMyStory! EarlyDays inLeRoy! At theWoodwardMemorial Li-
brary
from6:30to7:30p.m.ListentostoriesabouttheneighborhoodsofLeRoy.
Presenters are: SidHorgan, CathyHyde andRobertaGraney. Registration re-
quired! Call768-8300orregisteronlinea
FRIDAY, SEPTEMBER11
Penuel ChristianFellowship,
One Step to Freedom addictionsministry, a
Christ CenteredAddictionsprogram, aweeklymeetingeveryFridayat 7pm.
Call theChurch formore informationat768-6901or594-9575.
Flea&Farmer'sMarketFridays
-GeneseeValleyEMS,3338CaledoniaAvon
Rd. (Rte. 5), Caledonia, NY. 11 am to 6 pm - every Friday,May 1st - October
30th. Fresh fruitandvegetables, etc.Hot foodanddrinkswill beavailable for
purchase.11'x22'spaces -$20.To reserveaspaceormore info -call585-698-
8244. All proceeds go toGeneseeValley EMS&CaledoniaAmbulance. Come
SATURDAY, SEPTEMBER12
First Presbyterian Church
will have a booth at the Farmer'sMarket, 9:00
until12:30.Allkindsofknittedandsewn itemswillbe forsale.Salestobenefit
theChurchmissionprojects.
"TheWholeShebang!"
Multi-Vendor&CraftEventwillbeheldattheByron
FireDepartmentHallonRt.262,10:00am-2:00pm.Manydifferentcraftsand
new items for sale, a50/50 raffle&delicioushome-made soups, sandwiches
and other food items for purchase all day. To reserve a table, call Brenda at
585-356-3720or email her at
VeteransOnlySocial Club -
GeneseeVeterans SupportNetworkannounc-
es a newmeeting location at Scooter's Family Restaurant, 3711West Main
Street Road, Batavia, NY - for the once amonthVeterans Only Social Club.
Meetings areheld the secondSaturdayof eachmonth from7:00 to8:30PM.
Veterans of all eras are invited toattend. GVSN is locatedat 3837WestMain
Street Road, Batavia, NY. For more information, contact GVSN, PO Box 541,
UPCOMINGEVENTS
The GeneseeValley CivilWar Roundtable
presents Clark B. Hall on "Cap-
tain Henry C. Cutler 8th NY Cavalry". The meeting will take place at 7 pm at
LeRoy United Methodist Church, 3rd door on right end of long sidewalk, 10
Trigon Park, LeRoy, NY. Discussion periodwill follow program. Newmembers
Foodlink FreeMobile FoodPantry:
MorganvilleUnited Church of Christ
is partneringwith Foodlink of Rochester to host a freemobile food pantry,
Tuesday, September29,4:00-6:00pmatMorganvilleUnitedChurchofChrist,
8466MorganvilleRoad (offRt 237, 1milenorthof Stafford). Theexact food
itemsandquantityavailablearenotknown,butfreshproducewillbeavailable.
Mustbe18yearsofage,no income requirementor ID required. Mustprovide
ownbags/vehicle to transport items to your home. Foodprovidedon afirst
come, first servebasiswhile supplies last.
CommunityCalendar Submissions shouldbe sent to:
BERGEN— Scott W. Thompson, 56, of
Bergen passed away on Tuesday (Sept.
1,2015)athis residence. In lieuof flowers,
memorialsmay bemade to the family.
LEROY— LeahThater (Webster)passed
away on Monday (Aug. 31, 2015) at the
age of 88. Memorials may bemade to a
BERGEN—AMemorial Mass for Renee
J. (Zury) Stone, 45, of Godfrey's Pond,
who passed away onAug. 15, 2015, will
beheldat 11a.m. Saturday, Sept. 5at St.
Brigid'sChurch, 18GibsonSt.,Bergen. In
lieu of flowers, memorials are suggested
toSt. JudeChildren'sResearchHospital,
262Danny Thomas Place, Memphis, TN
Don't waste precious time