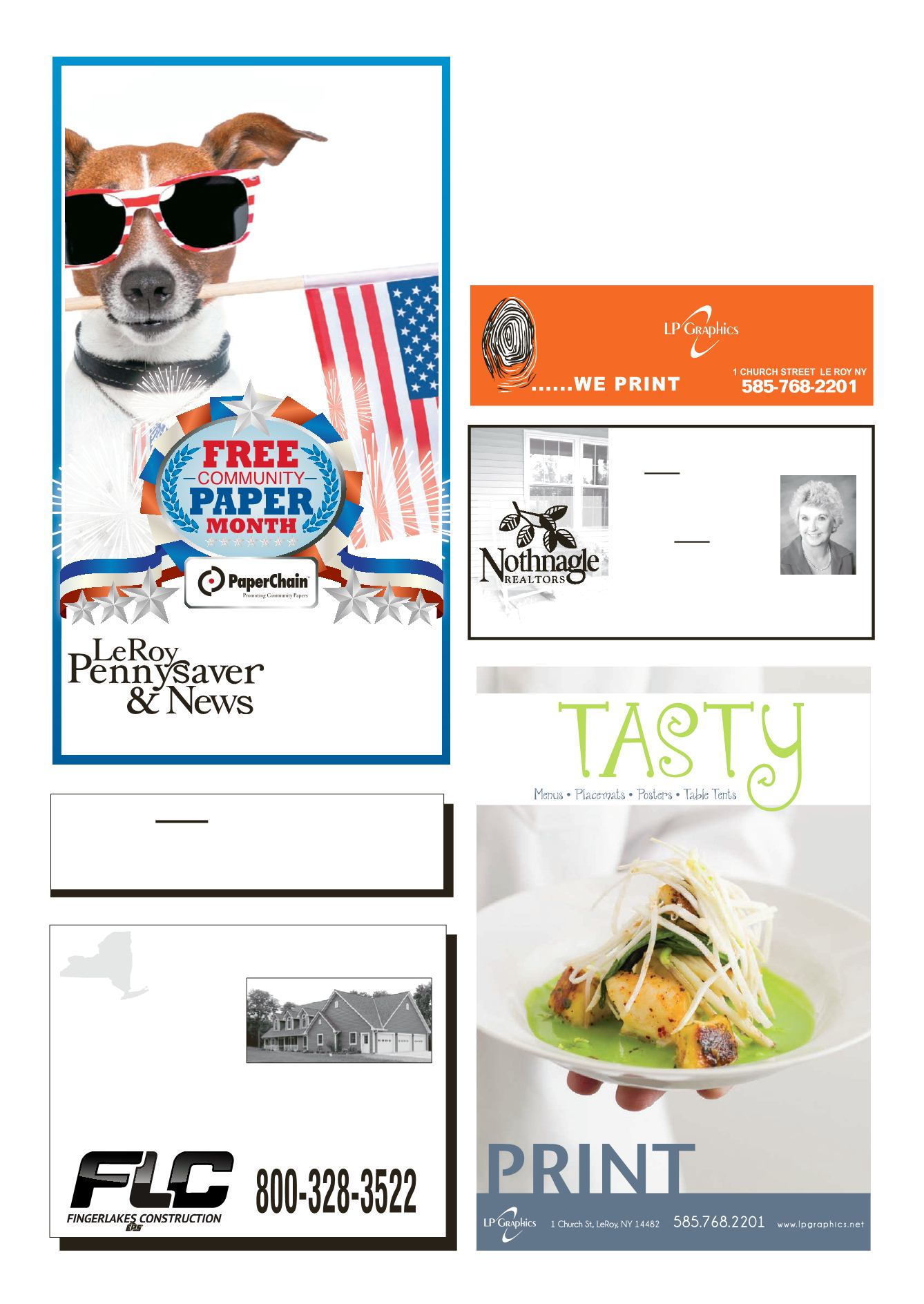 LEROYPENNYSAVER&NEWS - JULY 12, 2015
Le RoyPennysaver•768-2201
Hours:Monday thru Friday8:00 to 5:00p.m.
Batavia
585-343-6750
NOW is theBEST time
toBUYwith the interest rates
at their lowest!
Don't wait
toBUY -
call
LindaBeaumont
for all your real
estateneeds.
LindaBeaumont
Home (585) 768-6315
LicensedReal Estate
Salesperson
Multi-MillionDollar Producer
Part of the family of companies
fingerlakesconstruction.com
Structural insulatedpanels arehigh-performancebuilding
panels used in exteriorwalls, roofs and floors. Thepanels
aremadeby sandwiching a coreof rigid foam insulation
between two skins ofwood structural panels, typically
oriented strandboard (OSB). Ask us for completedetails!
NewYorkState'sPost FrameLeader . . .
and builds with the latest
06-30-15 - The Village of LeRoy Police Department arrested a
23-year-oldman forCriminal Possession of StolenProperty.
Kenneth M. Gray of no permanent address, was arrested for
allegedly being in possession of a vehicle that was reported stolen
out of theCityofBataviaon06/29/2015. LeRoyPatrols located the
vehicle in theVillageon June30thbeingoperatedbyGray traveling
downMainSt.Graywas charged forCriminal Possessionof Stolen
Property, a Class E Felony and was arraigned in Stafford Town
Court and is scheduled to appear inLeRoyTownCourt on 7-06-15
lpgraphics.net
The best
things in life
are free
CIRCULATION VERIFICATIONCOUNCIL DATAMEASURINGPAPERSAUDITED INBOTH 1999 AND 2013.
are thriving. In fact, free
community publications have
been able tomaintain nearly 99%
of their readership since the turn of
themillenium. We love the
neighborhoodswe serve andwe
couldn't do it without your support.
Thank you!
Visit paperchain.com to learnmore
[MEMBER PUBLICATION LOGO&CONTACT INFO]