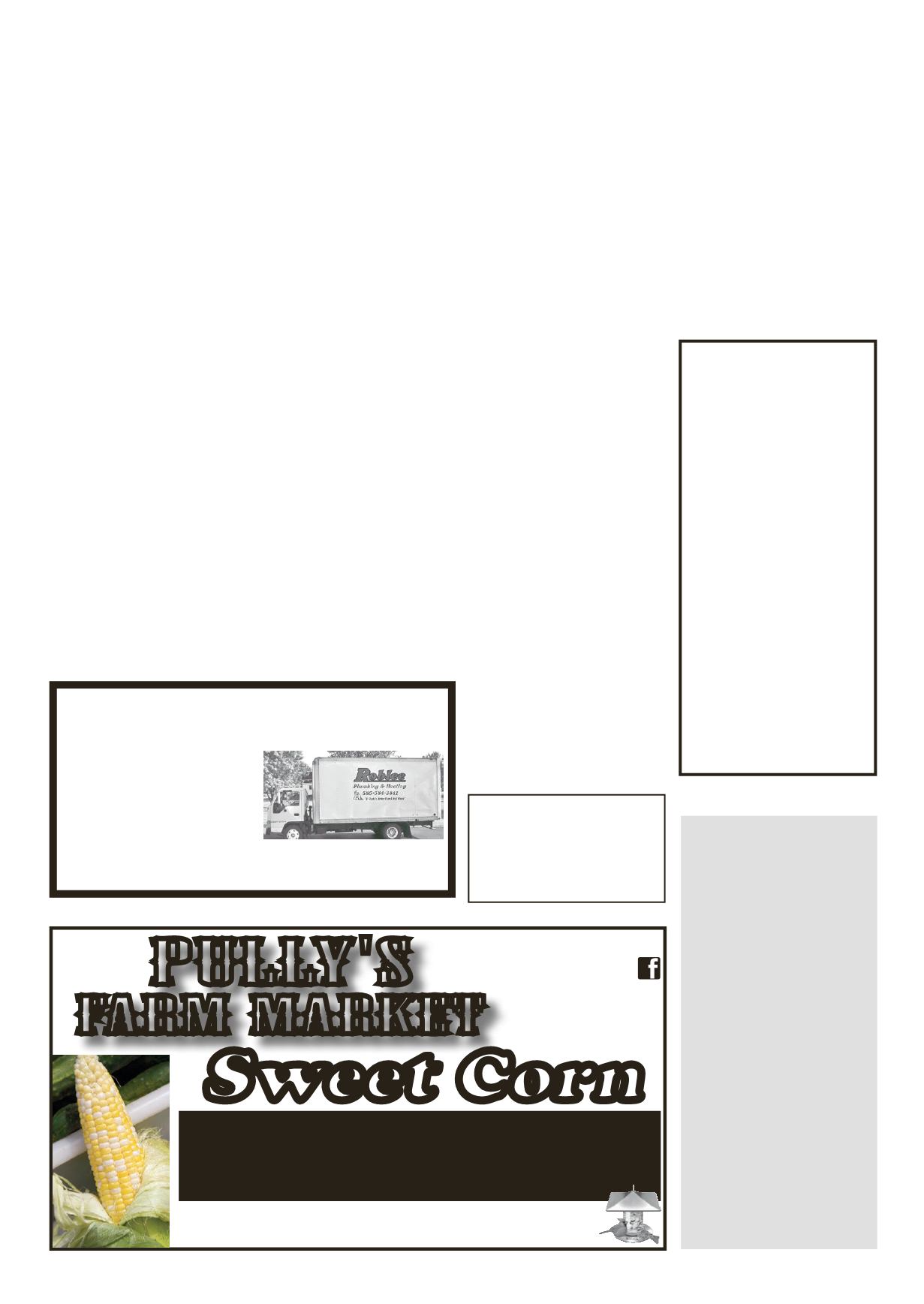 LEROYPENNYSAVER&NEWS - JULY 12, 2015
Cantaloupes •Watermelon •Zucchini
Summer Squash •Watermelon
Cucumbers • Pickles •Cherries •Tomatoes
8160LakeRd. (Rt. 19)
LeRoy, NY
1/2mile southof Thruway
768-2280 • 704-1157
Hours:Mon.-Sat. 9-6, Sunday 9-5
pullysfarmmarket.com
BirdSeed
&Feeders
Jams • Jelly • Seeds •Honey • Syrup
Gift CertificatesAvailable!
Leasefirst, last& security
Mustbe computer literate.
LeRoyLittleLeague - 9&10YearOldAll Stars
LeRoy's 9&10 Year Old All
Stars finish pool playwith a 3-1
record andwill wait for the out-
comeofBatavia /Oakfieldmatch
up to see if theymake theCham-
pionshipGame on July 11th.
Game 1:
LeRoy –0, Batavia - 10
LeRoy's 9&10 Year Old All
Star team started off pool play
with a loss to Batavia last Sun-
day 10-0. LeRoy struggled to
muster any offense against to
Batavia, collecting only 5 hits
over5 innings. Hitting forLeRoy
were Giannia Ferrara, Maveric
McKenzie (2singles),LukeCac-
camise, andRyanShirley. John
Panapento started on the mound
for LeRoy and was relieved by
Game 2:
LeRoy –11,Geneseo – 5
LeRoy would rally after a
tough start to pool play with a
win against Geneseo. LeRoy
started strong scoring 4 runs in
the 1st inning and 2more in the
2nd inning. Geneseowouldfight
backover thenext3 inningsclos-
ing thegap to6-5. LeRoywould
answer closing out the game by
adding 5 runs in the 6th inning
on theirway toan11-5final. Le-
Roy was led by John Panapento
and Tyler Strollo, each going
3-4 with 4 RBIs. Also hitting
for LeRoy were Gianni Ferrara,
Luke Caccamise, Ryan Shirley
(2 doubles), and Drew Strollo.
MavericMcKenziewas thestart-
ingpitcher forLeRoyallowing5
hitsandnoearned runsover42/3
innings. JohnPanapento relieved
Mavericallowingnoearned runs,
2hits, and strikingout 4 to close
Game 3:
LeRoy – 9, Dansville – 2
LeRoyentered the3rdgameof
pool play with a start slow only
collecting1hit through3 innings
andwouldenter the topof the4th
inningdown1-0 toDansville. In
the top of the 4th, LeRoywould
have their first 3 batters reach
safely from 2 errors and a hit by
pitch. RyanShirleywould come
to the plate and single scoring
John Panapento. CoreyWallace
manufactured a walk scoring
another run. AndGianni Ferrara
wouldadda twoout, 2-RBI dou-
ble before the side was retired.
LeRoywouldadd2more runs in
the 5th on a 2-RBI single from
JasonLaSage. LeRoywould tack
on 3more runs in the 6th going
on towin 9-2. Luke Caccamise
started for LeRoy going 5 2/3
innings, allowing 1 hit, 1 run,
while striking out 14. Gianni
Ferrara came in to close out the
game, allowing 1 hit, 1 run, and
Game 4:
LeRoy - 12,Oakfield – 10
LeRoy's offense would start
strong scoring 9 runs in the first
3 innings. LeRoywould score 2
runs on 2 hits in the 2nd inning.
They would add 7 runs in the
3rd inning from 2 hits and sev-
eral great at bats that produced8
walks. Oakfield,however,would
begin to chip away at the lead
by scoring 3 runs of their own
in the 3rd inning. LeRoywould
add a run in the 4th inningwhen
JacksonFix scoredon afielder's
choice. Oakfield would answer
with 4 runs in the bottom of the
4thmaking the score10-7. Each
team was held scoreless in the
5th inning. LeRoywould add 2
more runsonahuge2out,2-RBI
single fromJohnPanapentoscor-
ing Drew Strollo and Maveric
McKenzie. Oakfieldwouldscore
3 runs in the 6th inning making
the final score 12-10. John Pan-
apento set the tone for LeRoy
with a strong performance on
the mound throwing 2 scoreless
innings to begin the game. John
wouldallow7 runs from7hits in
32/3 innings toaverysolidOak-
field team. Maveric McKenzie
would go 2 1/3 innings allowing
3 runswhile surrendering 4 hits.
Hitting for LeRoy were Gianni
Ferrara, JohnPanapento (2 hits),
Luke Caccamise (2 hits), Ryan
Higgins, andTomCondidorio.
ROBLEE
Plumbing&Heating, LLC
10991LakeRd., Pavilion • (585) 584-3841
Full Insured
LUXAIRE
GOULD
NYSCertifiedBackflowTester
Water&Sewer Lines •Water Treatment&ConditioningSystems
Don't waste precious time