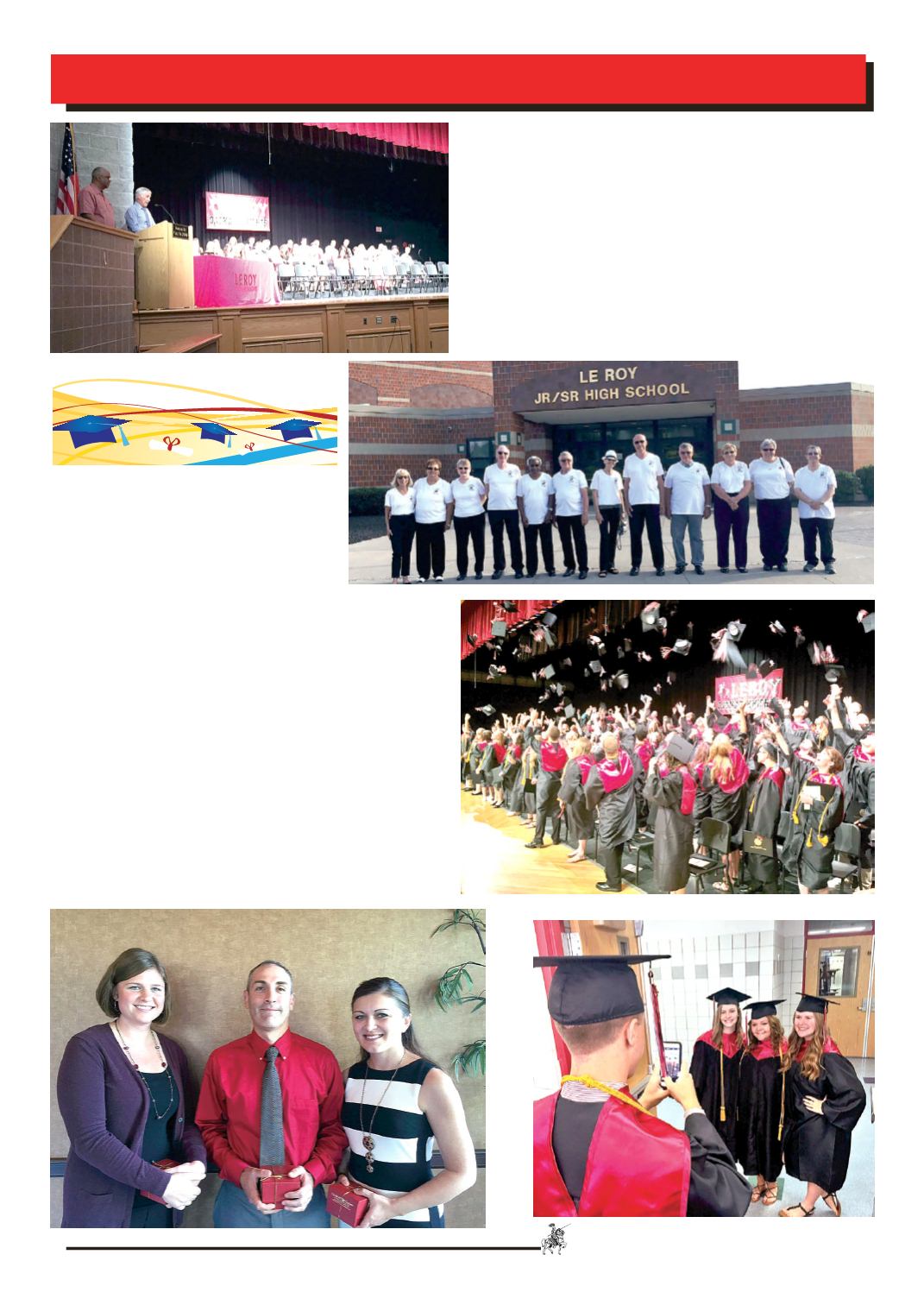 LEROYPENNYSAVER&NEWS - JULY 12, 2015
4 KnightlyNewsQuarterlyNewsletter
HighSchoolHappenings!
MediaCenter atWSS -Draft
THEYMADE IT! Congratulations to the
Classof2015! June28thmarkedour124th
Commencement at Le Roy! A packed au-
ditorium enjoyed an incredible ceremony
and a class act by our graduates. This year's Valedictorian,
with a GPA of 99.03, was DannyWeaver. Danny will at-
tendLehighUniversitywherehewillmajor inBiochemistry
(Pre-Med). This year's Salutatorian, with a GPA of 98.96,
was Emily Graham. Emily will be attending Daemen Col-
lege inAmherst, NY this coming fall where she will major
We want to thank the seniors for their accomplishments
and contributions to our school community.We havemade
manymemories this year in the classroom, in competition,
through activities and performances. Most importantly, the
students have pushed themselves in the classroom to open
manydoorsdown the road.OnceaKnight, always aKnight!
Class of 2015HonorsNight!
June25thmarked theClass of 2015HonorsNight.Wehanded
out over 50 awards worth over $50,000 to our well deserving
students. We welcomed many presenters who came to award
their scholarships; including Gary Scott's brother, David. A
highlight of the night was hosting members of the Class of
1965. The Class of '65 led the Class of 2015 into the audito-
rium and came up onto the stage for a special greeting. Carol
Queal addressed the audience and gave amessage to the class
of 2015.Wewould like to congratulate all of our seniorswho
received an award andwere recognized for their efforts!