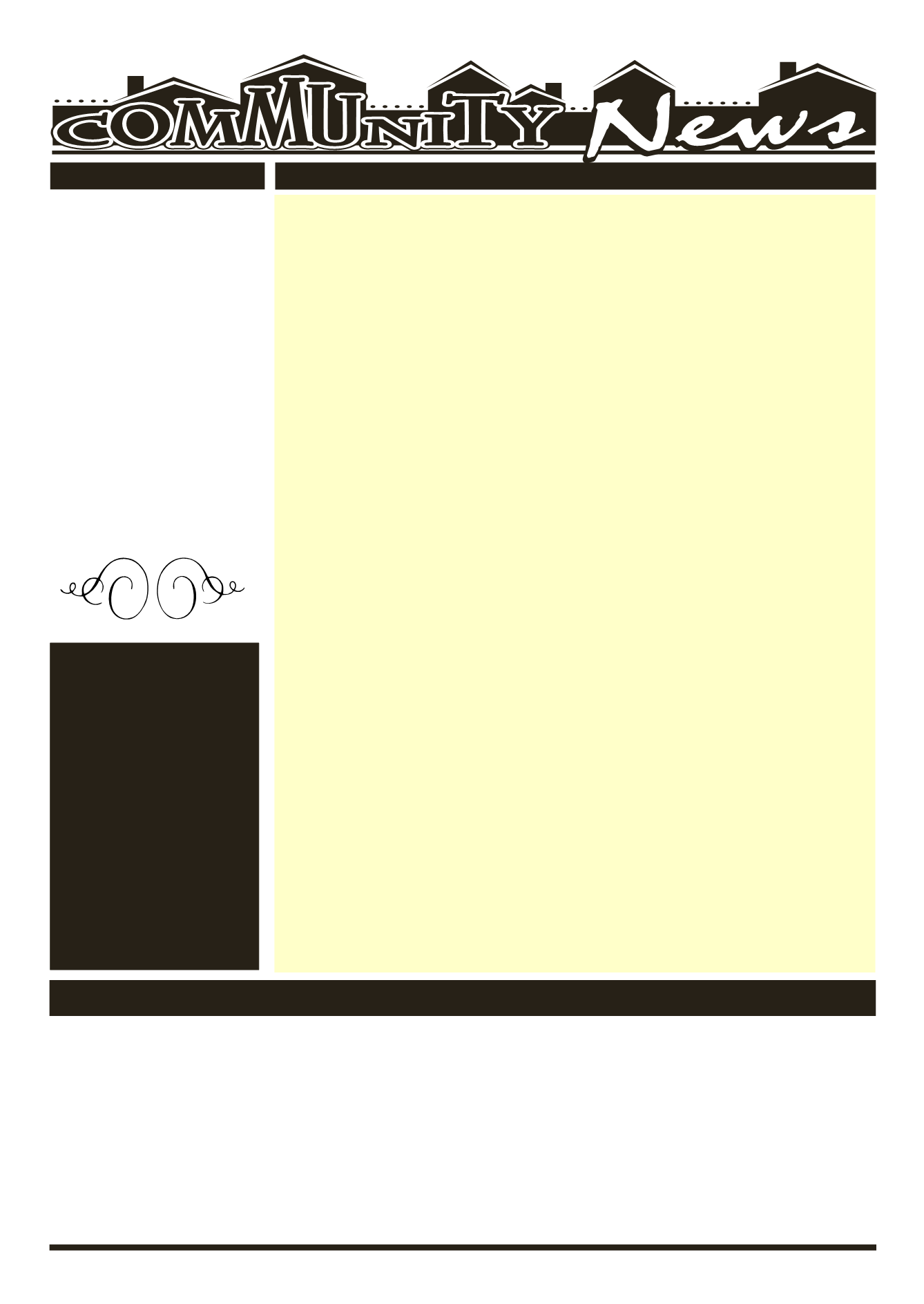 LEROYPENNYSAVER&NEWS - JULY 12, 2015
Le Roy
Pennysaver
All GeneseeCounty residents, 60andolder, can takepart in thisweek'sactivitiesat theBataviaSenior Center, 2BankSt., Batavia. Formore information, call 343-1611.
WEEKLYEVENTS
OBITUARIES
ArthritisExercise
is set tobeginat 9:30a.m.;
Bridge
is scheduled to start at 11:30a.m.
Alzheimer CareMeeting
is scheduled tobegin at 8:30 a.m.;
FarmersMarket CouponDistribution
Cribbage
is scheduled tobeginat 1:00p.m.
QuiltersGroup
is scheduled tomeet at9:00a.m.;
Euchregame
is scheduled tobeginat1:00p.m.;
FarmersMarketCoupon
Distribution
is scheduled from1:00p.m. to4:00p.m.
Cribbage&Bridge
are scheduled tobeginat 1:00p.m.
ArtClassandLineDancing
is scheduled tobeginat 10:00a.m.;
Euchre
is scheduled tobeginat 12:00p.m.
SUNDAY, JULY12
Konnect YouthGroup at LivingWaters Church,
onMain St. LeRoy. Sundays
from6:30 to8:30pm for ages12-18. "BringDownall theWalls! ConnectwithGod
andConnectwithothers." Formore information, checkus out onlineat: livingwa-
tersleroy.org/konnect-youth-ministry/
MONDAY, JULY13
TOPS (TakeOffPoundsSensibly)
meetsMondayevenings at the LeRoyPresby-
terian Church, corner of Clay&Main Streets. Doors open at 6:00 pm andmeeting
is from 6:30-7:15 pm. Visitors are always welcome. Call 585-768-7103 for more
Toddler Time for Twos andThrees
begins at theWoodwardMemorial Library.
ProgramrunseachMondayfromJune29–August10from10:30-10:50am.Toddler
Time isa storytime for childrenwhoare2and3yearsoldandacaringadult. Spend
20minutes listening to stories that feature themes like shapes and colors, singing
songs and dancing, coloring, and playingwith bubbles. Call 768-8300 or register
onlineatwww.woodwardmemoriallibrary.org.
TUESDAY, JULY14
PreschoolStorytime:
EveryTuesdayat11am featuringstories, craftandsongsat
PavilionPublicLibrary, 5WoodrowDr., Pavilion. For info: 584-8843.
LCCP'sGRACE'SKITCHEN:
AFREEdinner everyTuesdayevening, 5-7:00pmat the
Masonic Community Center on 12 Bank St. Plenty of parking. Takeout & delivery
areavailable. Formore info. contact SelbyDavis at 585-738-8882or selbydavis1@
GRACE'S CLOSET: A clothing giveaway program
sponsored by Le Roy United
Methodist Church, 10TrigonPark, LeRoy, 9:30am to11:30ameveryThursday.We
haveclothingforallages.Weneedbeddingofallkindsespeciallyblankets.Donations
canbe dropped off at the house next to the church. Please put all bags INSIDE on
thebackporch. NOELECTRONICS, COMPUTERS,DISHES,etc.
OpenTuesdays5-6:30
pm.
Anyquestions call theoffice768-8980.
WEDNESDAY, JULY15
The LeRoy Stafford Senior Citizensmeet
on the thirdWednesday each
month at theKnights of Columbus Hall behind Save-A-Lot onWestMain St..
Bringagenerousdish topass.Also,bringyourownplacesettingandpreferred
beverage.Coffee, teaanddessertwillbeprovided. Dinner isservedat6:00pm
followedbyaprogram. Thismonthsprogram is"TakeNoteJazz."Anyquestions
please contact JudyRidleyat768-2001or SharonFrost at768-6846.
THURSDAY, JULY16
Genesee Veterans Support Network
(GVSN) supports the development of
Veterans focusedAAmeetings everyThursday, 6-7pm at the First Baptist Church,
306E.MainSt.,Batavia.Meetings ledbyMikeW.&areopentonon-veteransaswell.
Handicapaccessible. For additional information call 585-302-0825.
MorseCodeBraceletsProgram
for teens ingrades 7-12 from1 to2p.m.
Make codedbracelets. UseMorse code, glass beads, and embroideryfloss to
create a bracelet with a secretmessage. Limit 10. Call 768-8300 or register
onlineatwww.woodwardmemoriallibrary.org.
FRIDAY, JULY17
Penuel ChristianFellowship,
OneStep to Freedomaddictionsministry, aChrist
CenteredAddictionsprogram,aweeklymeetingeveryFridayat7pm.CalltheChurch
formore informationat768-6901or594-9575.
Flea&Farmer'sMarketFridays
-GeneseeValleyEMS,3338CaledoniaAvonRd.
(Rte. 5), Caledonia,NY. 11am to6pm -everyFriday,May1st -October30th. Fresh
fruitandvegetables,etc.Hot foodanddrinkswillbeavailable forpurchase.11'x22'
spaces-$20.To reserveaspaceormore info-call585-698-8244.Allproceedsgoto
GeneseeValleyEMS&CaledoniaAmbulance. Come shopandvisitwithus!
Alumnicelebrating50ormoreyearsfromLeRoyHighSchool
the18thAnnual Alumni Reunion.Thiswill beheld from12noon to4p.m. atTerry
HillsCountryClub, ClintonSt. (rt.33), Batavia,N.Y. Anyone interested inattending
and formore information, youmay contact; RoseScott at768-7534
WML Friends Used Book Preview Sale
from 3 to 5 p.m. Friends of the
LibraryMembersonly. Youmay joinat thedoor - singlemembership: $5.00.
SATURDAY, JULY18
Saturday, July 18th a Flea Market
will be held in the St. Mark's Episcopal
Church parking lot. The fleamarket will consist of various items of jewelry, an-
tiques, collectibles andgarden accessories - includingplants. Theparking lotwill
beclose for thiseventduring theOatkaFestival.FleaMkt.hoursare10am to4pm.
Huge Yard Sale During The Oatka Festival!
July 18&19 in front of the First
BaptistChurchat5 E.MainSt.Allproceeds tobenefit thechildrenofLeroyNursery
School. Stopbyour yard sale tofindoutaboutour fall programsandourextended
careoptionor call 768-7700.
Free Food outreach brought to you by Foodlink
in theMill Street parking
lot. Every3rdSaturdayof themonth. 11-1pm. CallPenuel ChristianFellowshipat
585-768-6901withanyquestions.
UsedBook Sale
from 11 a.m. to 5 p.m. and Sunday, July 19 from 12 noon
to4p.m. during theOatka Festival. Bag Sale on Sunday from2 to4p.m. (a
UPCOMINGEVENTS
LCCP'sMommy&MePlaygroup: Every2nd&4thFriday,
Physical Therapy (in thebackgym). Anymoms and their birth-kindergarten chil-
dren arewelcome to come enjoy socialization, lunch, coffee, structuredgames &
TheStaffordUnitedMethodistChurch
isworking inpartnershipwith
Foodlink
of Rochester to sponsor the Foodlink FreeMobile Food Pantry. It will be held on
Tuesday, July21 from5-7p.m. atEmeryPark, locatedat6061Rt. 5 inStafford.The
exact items arenot known, but freshproduce is always available. Food is distrib-
uted on a first-come, first-served basiswhile supplies last. There is no income or
ID requirementbut recipientsmustbe18yearsof ageandprovide their ownbags
InternationalSpyAcademyVacationBibleSchool
day, July 23rd 6-8:15 pm. Children 4-12 years. Fun-filled activities-lively songs,
drama,creativecrafts,excitinggames,BibleStories,missionprojects, tastysnacks.
For informationcall768-2308.SponsoredbyFirstPresbyterian,FirstBaptist,United
Methodist andSt.Mark'sEpiscopal churchesof LeRoy.
ByronKiwanisBBQ
- July25th,HeritageDays. ByronPark, 4pm til gone. $10.
CommunityCalendar Submissions shouldbe sent to:
PERRY/LE ROY—Michael P. Knitter
of Perry and Le Roy died suddenly on
Wednesday (July1, 2015) at age46. In
lieuof flowersmemorialsmaybemade
to the ALS Association Upstate New
York Chapter, 890 7th North St., Ste.
LEROY— Louise L. Sovocool, 74, of
Asbury Road, passed away at home
unexpectedly onFriday (July 3, 2015).
Memorials are suggested to either the
LeRoyUnitedMethodistChurch,10Tri-
gonPark, LeRoy, NY 14482; Lollypop
Farm,99VictorRd.,Fairport,NY14450;
orTheNatureConservancy,4245North
Fairfax Drive, Suite 100, Arlington, VA