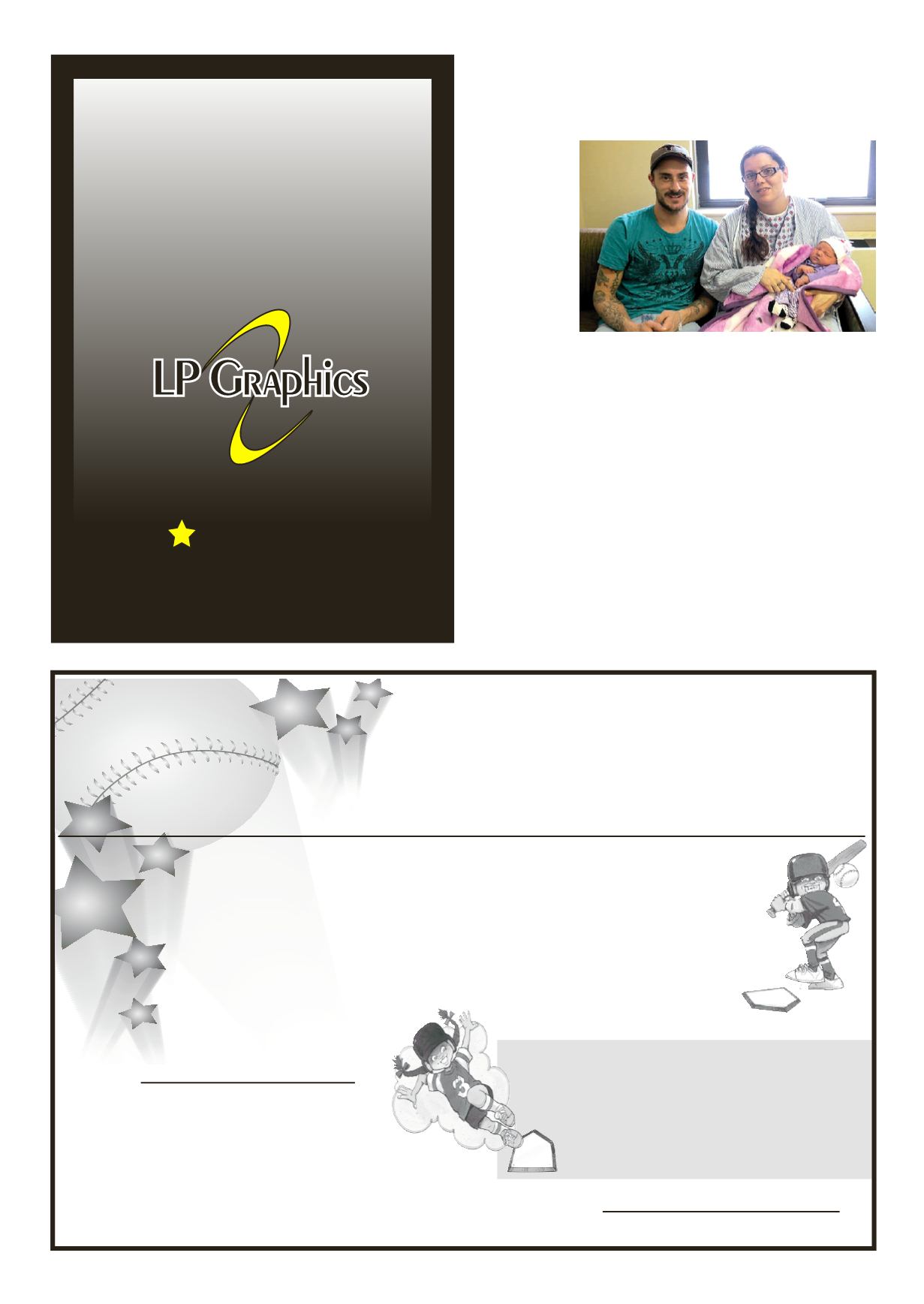 LEROYPENNYSAVER&NEWS - JANUARY 11, 2015
Le Roy Little League Baseball Registration
Saturday, January 17th
9 am-12pm in thehallway outside the
Trigonbuilding gym atLeRoyCentral School
Wednesday, January 21st
6pm-8pm in the hallway outside the
Trigonbuilding gym atLeRoyCentral School
Instructional-ages 4-6 - $50.00per player
T-Shirt – ages 6-9 - $60.00perplayer
LittleLeague – ages 9-12 - $65.00perplayer
JuniorLeague – ages 13& 14 - $65.00per player
SeniorLeague – ages 15&16 - $65.00per player
MonroeCountyBabeRuth - ages 16-19
$125.00perplayer
First time playersmust bringaCOPY
of theplayers'birth certificate.
We are looking for coaches and volunteers.
Please sign up at registration. If you have
any questions, please contact Jeff Strollo
at 750-4049 or Helene Beswick at 746-9480.
Forms are available on our
website
Want to save some time?Fill out the forms
online then print them off and just bring
them to registration. Formswill also be available at registration.
Tryouts forLittleLeague-Feb. 28th, 2015
More informationwill be available
at registration.
ALLPLAYERS ages 9-12
MUSTATTEND theLL tryouts.
All playersmust participate in the candy bar
Allmoney is due at registration.
All LittleLeague, Jr. andSr. League familiesmust pay
a $50.00 refundable concession deposit at time of registration.
There is a family cap at $150.00but it EXCLUDESBabeRuth players, the concession deposit and the candy sale.
NOREFUNDSAFTERMARCH 1st
Seewebsite fornew agedetermination info.
of Pavilion, NY on Thursday,
January 1st at 1:25 am at United
Memorial Medical Center in
Batavia. She was delivered by
certified midwife, Kim Danser,
CNM. Baby Kynlee weighed 7
pounds, 6 ounces and was 19
inches long. She is the second
daughter for thenewparents.She
hasasister,Makennaage6,wait-
ing anxiously for her at home.
Bothparentswork inshipping
and receiving. Mrs. Holland
is employed at Walmart in
Batavia, NY and Mr. Holland
works forQuakerMullerDairy
As theNewYear'sbaby,Kynlee
and her parents received a $200
gift card to Target, an engraved
feedingspoon,booksanda touch-
less thermometer from United
In2014, therewere646babies
delivered atUnitedMemorial.
UMMCWelcomes 2015
NewYear'sBaby
Jonathon andDanielleHollandwith their new
daughter,KynleeLynne.
1CHURCHST, • LEROY, NY • lpgraphics.net
WEHANDLEALLASPECTSOFPRINTING...
PROGRAMS
LETTERHEADS
BILLHEADS
FLYERS
BROCHURES
POSTERS
CARBONLESSFORMS
ENVELOPES
RAFFLETICKETS
NEWSLETTERS
RESUMES
TYPESETTING
RUBBERSTAMPS
ENGRAVEDSIGNS
NAMETAGS
COPIES
LAMINATION
COMMUNITYFAX
NEWSANDPICTURES
ADVERTISING
BUSINESSCARDS
HOURS: Monday thruFriday 8:00 to 5:00