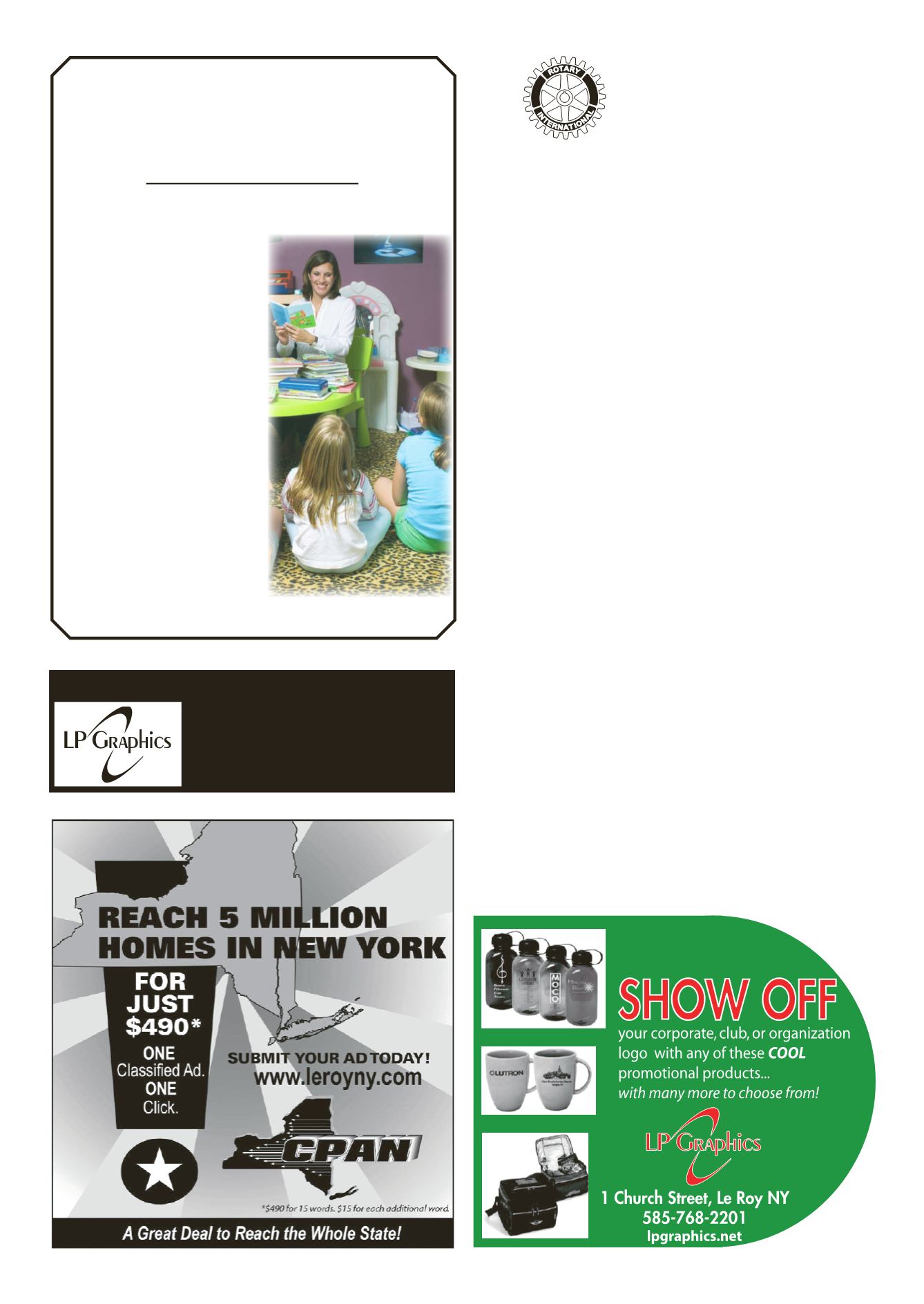 LEROYPENNYSAVER&NEWS - JANUARY 11, 2015
LeRotary
Notes
1ChurchSt., LeRoy, NY14482
585-768-2201
FAX 585-768-6334
WeDo
WeeklyStoryTimes
For Preschoolers
WoodwardMemorial Library
StartingTheWeekOf January 12th!
Toddler Time for Two's!
Mondays
from10:30-10:50 a.m. for two year olds.
WeeklyPrograms
January 12–March 9
Childmust be two-years-old
by the first session and accompanied
by an adult.
Preschool StoryTime!
Tuesdays
for 3, 4, and5 year olds.
WeeklyPrograms
January 13–March 3
Childmust be three-years-old
by the first session.
Stories, games, songs!
Registration is required
for bothstory time
sessions.
Call 768-8300or register
online at
Note 12/31/14
There were snowflakes in the
airasweconvenedour lunchtime
meeting at the LeRoy Country
Club. Attendance was impres-
sive for this New Year's Eve
meeting. Guests included Mary
Margaret Ripley's son Douglas
(celebrating his 13th birthday),
JeffGephartandBobHumphrey.
PastPresidentFranDeYoungwas
in townand took theopportunity
to join us and grab a make-up
meeting.Wewerealso joinedby
DistrictAssistantGovernorMar-
leeDiehl and her husbandBill.
Announcements started with
a big Thank You to Scott Mc-
Cumiskey for organizing our
successful Bell Ringing at Tops
for the Salvation Army. Tracy
Ford isdistributing tickets forour
Annual Super Bowl TV Raffle.
The 55" Samsung LED Smart
HDTVwillbe raffledon theSat-
urday before Super Bowl, that's
January31st.Ticketsare$5each
or 3 for $10 ... see your favorite
Lynne Belluscio, Mary Mar-
garet Ripley, Mary Young, Rob
all called out for missed meet-
ings and everyone was well
prepared with make-ups and a
couple green cards. We finally
got to wish Lynne Belluscio a
HappyBirthday and she paid an
obligatory fine to try and keep
the number secret. Dave Frost
was recognized for 47 years a
The fining session was a bit
lengthydue toHolidayprograms
the last fewmeetings. BobBen-
nettpaid foran8-pointbuck that
wreckedhis truckheadlight and
Anil Sawhney was tapped for
his new, ahem, SUV. TimMoag
has TWO new grandchildren to
brag about, one bornDecember
3rd and the other December
29th. DavidGrayson had a cell
phone mishap stemming from
his 17 month-old grandson and
MarthaBaileypaidforhernearly
perfect bowling score. Larry
Boylanwasaneasymarkhaving
recently celebrated hiswedding
anniversary and his upcoming
trip toTucson. It is reported that
MaryYoung's son can "run like
December is themonthwe set
theupcomingofficers andBoard
of Directors for the next Rotary
year that begins July 1st. The
AscensionCommitteecomprised
of Bob Boyce, Bob Carlson and
Tony Gugino reported that their
efforts were successful in ful-
filling our Club's slate for 2015-
2016 Rotary year. Those names
will be part of these notes when
Rotary!Don' forget to "Like"us