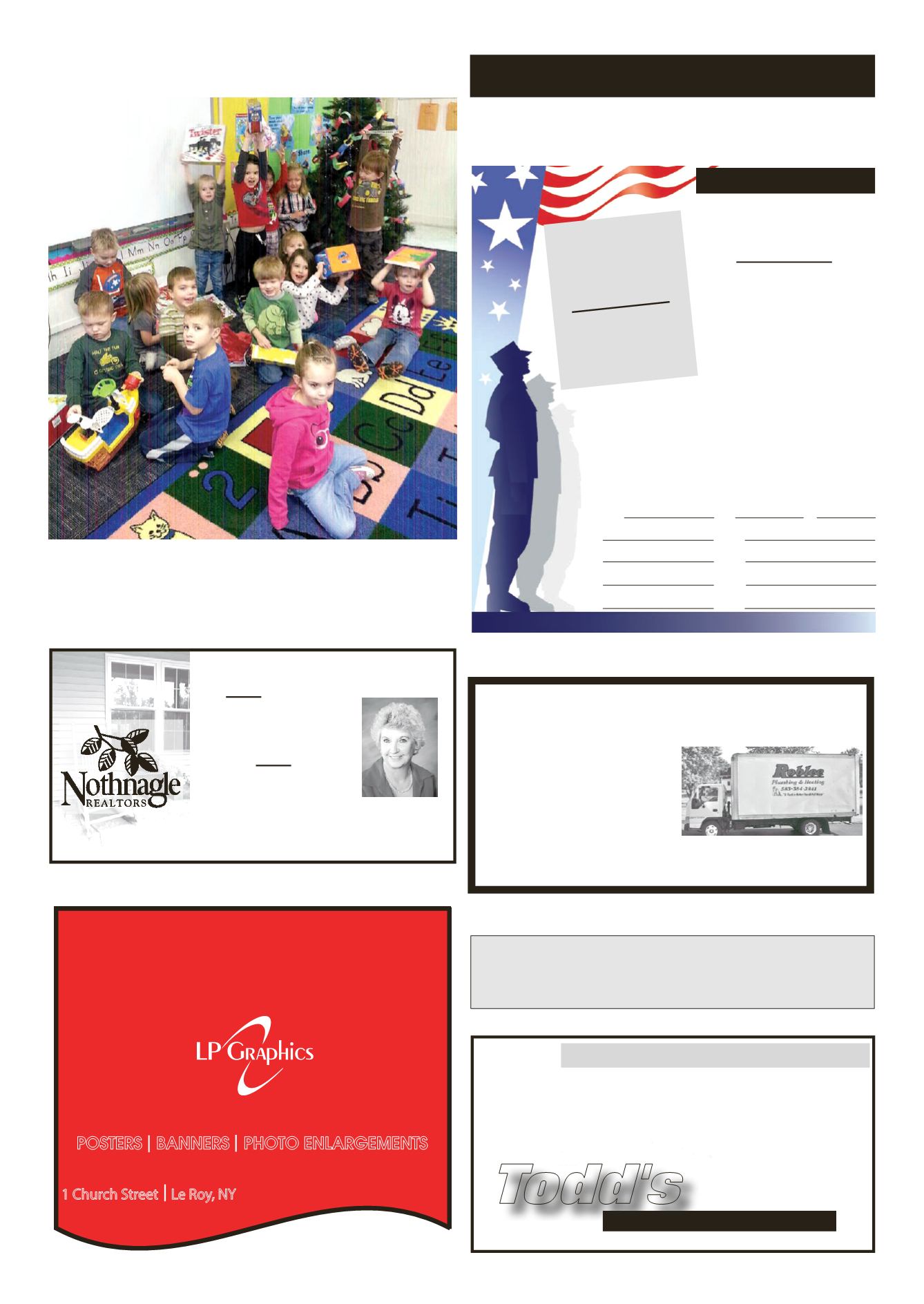 LEROYPENNYSAVER&NEWS - JANUARY 11, 2015
SUPPORTYOUR LOCALADVERTISERS!
They help sponsor the local news section of the Le Roy Pennysaver.
THANKS FORYOUR SUPPORT!
NewHomes •Additions •Garages •PoleBarns
ToddCarli • Phone 703-0964
Todd's
Decks •Windows •Doors
Kitchens •Baths
CeramicTile
Basement Finishing
CustomShelves/Built-Ins
Siding •Remodeling
Roofing • SnowPlowing
FULLY INSURED
Batavia
585-343-6750
NOW is theBEST time
toBUYwith the interest rates
at their lowest!
Don't wait
toBUY -
call
LindaBeaumont
for all your real
estateneeds.
LindaBeaumont
Home (585) 768-6315
LicensedReal Estate
Salesperson
Multi-MillionDollar Producer
ROBLEE
Plumbing&Heating, LLC
10991LakeRd., Pavilion • (585) 584-3841
Full Insured
LUXAIRE
GOULD
NYSCertifiedBackflowTester
Water&Sewer Lines •Water Treatment&ConditioningSystems
ChristmasBlessings
All theclassesatLoveBugsPreschoolwereblessedwithgifts for
their classrooms this holiday season!The families atLoveBugs
Preschool brought in wrapped gifts for the children to open!
What a funway toend theyearandagreatway to start thenew
yearwithnew toys!
Help-R-Hero's
4PersonNo-TapTournament
Proceeds toBenefit
WoundedSoldiersReturningHome
ChineseRaffle
&50/50
&
CashRaffle
Spaghetti
Dinner
SaturdayNight!
1st Place$1,000
Friday, Jan. 23rd
Sat., Jan. 24th
Sun., Jan. 25th
ENTRYFEE: $100PERTEAM
• Open tomen,womenormixed teams
• All Prizes basedon 40 teams
• CashRatio 1out of 6 entries
• Must use last year's average, no average:men use 190;
• Handicapbasedon team average 80%of 840
• May re-enter but cashonlyonce unless changeof twobowlers
Tournament Director: ScottO'Neill, 585.409.0459
POSTERS BANNERS PHOTO ENLARGEMENTS
lpgraphics.net