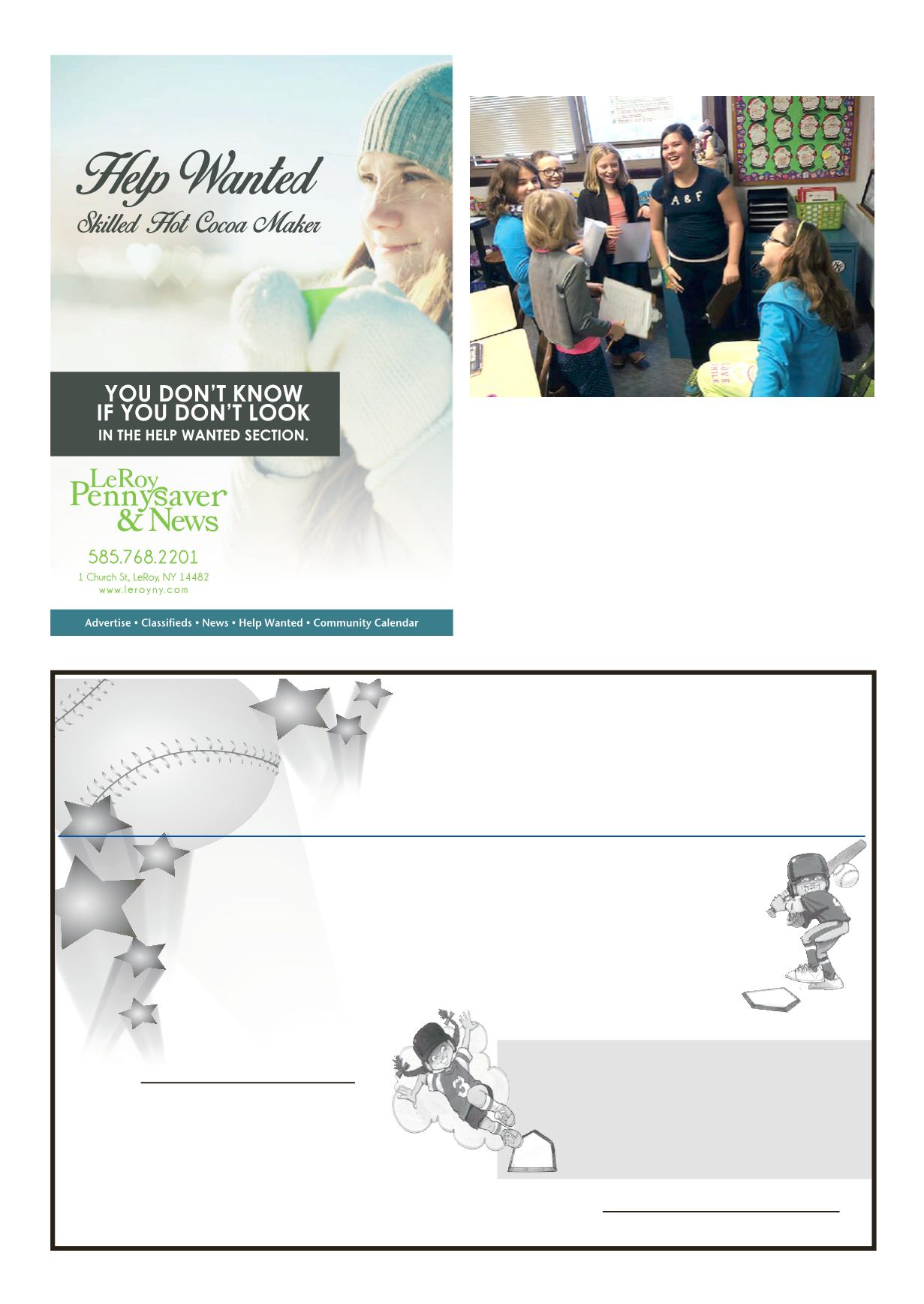 LEROYPENNYSAVER&NEWS - JANUARY 4, 2015
Le Roy Little League Baseball Registration
Saturday, January 17th
9 am-12pm in thehallway outside the
Trigonbuilding gym atLeRoyCentral School
Wednesday, January 21st
6pm-8pm in the hallway outside the
Trigonbuilding gym atLeRoyCentral School
Instructional-ages 4-6 - $50.00per player
T-Shirt – ages 6-9 - $60.00perplayer
LittleLeague – ages 9-12 - $65.00perplayer
JuniorLeague – ages 13& 14 - $65.00per player
SeniorLeague – ages 15&16 - $65.00per player
MonroeCountyBabeRuth - ages 16-19
$125.00perplayer
First time playersmust bringaCOPY
of theplayers'birth certificate.
We are looking for coaches and volunteers.
Please sign up at registration. If you have
any questions, please contact Jeff Strollo
at 750-4049 or Helene Beswick at 746-9480.
Forms are available on our
website
Want to save some time?Fill out the forms
online then print them off and just bring
them to registration. Formswill also be available at registration.
Tryouts forLittleLeague-Feb. 28th, 2015
More informationwill be available
at registration.
ALLPLAYERS ages 9-12
MUSTATTEND theLL tryouts.
All playersmust participate in the candy bar
Allmoney is due at registration.
All LittleLeague, Jr. andSr. League familiesmust pay
a $50.00 refundable concession deposit at time of registration.
There is a family cap at $150.00but it EXCLUDESBabeRuth players, the concession deposit and the candy sale.
NOREFUNDSAFTERMARCH 1st
Seewebsite fornew agedetermination info.
As part of the Character Edu-
cationProgramatWolcottStreet
School, all 5th graders have the
opportunity to participate in a
program entitled "Right Choic-
es". This program includes a
variety of weekly lessons that
help the studentsunderstandand
identify how to make positive
decisions in their own lives.
"RightChoices"
Picturedhere is a roleplay the students inMrs.Caldwell's class
created on "How tomakenew friends".
Guest speakers from theLeRoy
PoliceDepartment andGCASA,
aswellas theschool'scounselors
and administrators participate in
these lessons. They cover topics
such as how to create positive
social interactions, the impacts
of drugs and alcohol, andhow to
handle stress in a healthyway.