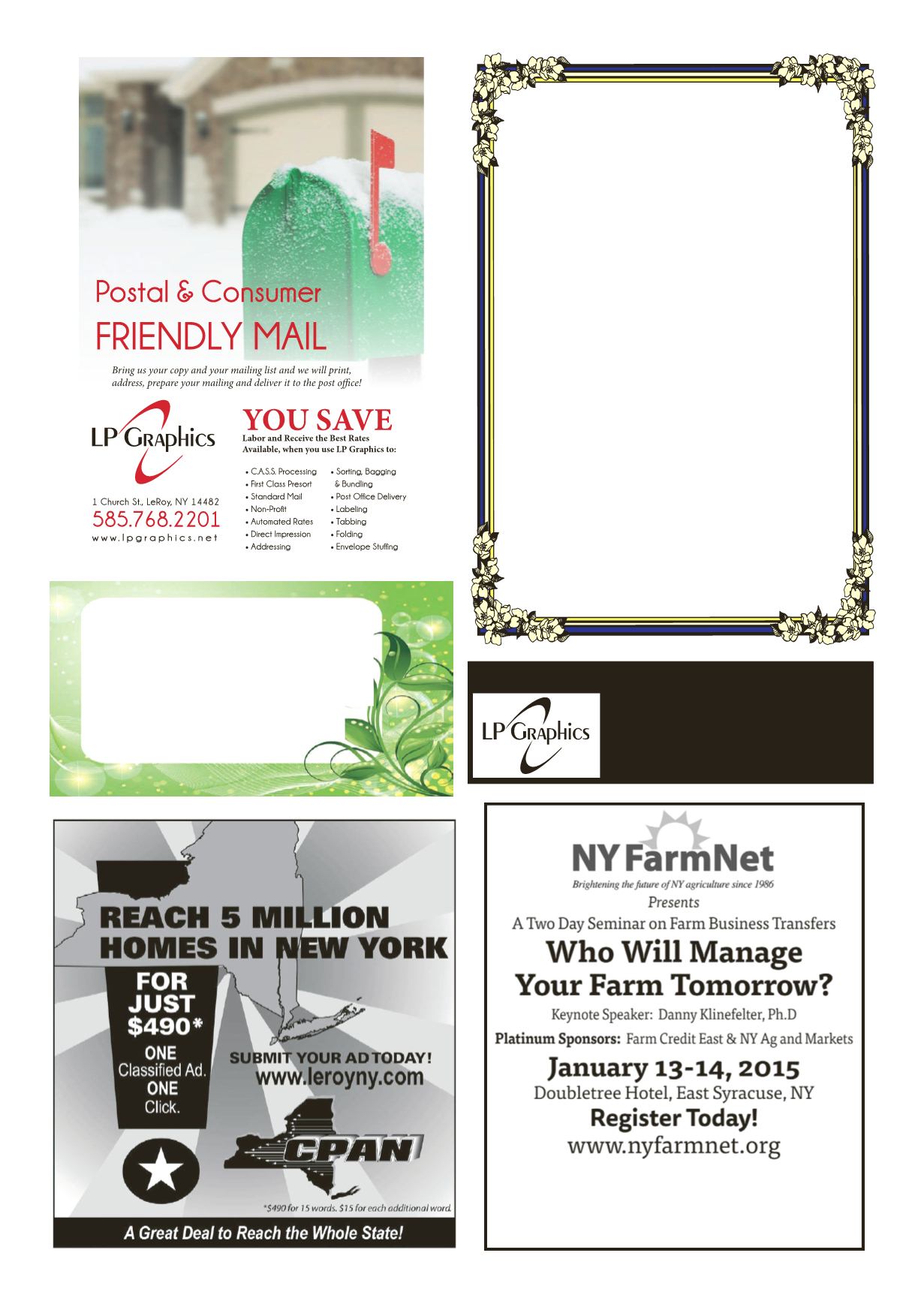 LEROYPENNYSAVER&NEWS - JANUARY 4, 2015
1ChurchSt., LeRoy, NY14482
585-768-2201
FAX585-768-6334
WeDo
FREE
Sponsorships are available!
Includes
all materials
andmeals
VirginiaM.Drews
Byron: Passed away onMondayDecember 22, 2014 at the age
of 93. Predeceased by her loving husband Leslie O. Drews
and grandsonBarry R. Aradine. She is survived by her
daughters JudithDrews andBonnie Behage, her son
Leslie (Joyce) Drews, several grandchildren, great-grandchildren
and great great-grandchildren. Services will be private.
In honor of Virginia please consider a donation to
LeRoy Village Green's Sunshine Club Fund.
Ref: Fowler Funeral Home Inc.
Eveline Aron lost her battle with life and was able to leave this world
peacefully on Friday, December 25, 2014.
Eveline started her life as the youngest child of Amalie and Julius
Hilfriech, antique dealers inBerlin, Germany.Her 3 sisters and1 brother
had the responsibility of raisingEveline after shewas orphanedat an early
age. As a Jew in Berlin during the rise of the Nazi party, Eveline was
sent to a boarding school in the country to protect her from persecution. It
was there thatEvelinemet andmarried the love of her life,Henry. Eveline
was able to escape to Britain on the last train out of Germany before the
Nazis closed the borders in 1939. While in Britain, Eveline worked in
factories to aid the war effort against the Nazis. This included restoring
crashed Spitfire fighter planes.
Eveline, Henry and daughter, Jeanette (Jan) were able to immigrate to
the United States in 1948, the first available date due to U.S. immigra-
tion quotas. In theU.S., Eveline first startedworking as a clerk in a dress
shop and then in a drug store and then prior to retirement, a Librarian at
Cornell University.
Eveline was predeceased by the love of her life for 53 years, Henry, in
1991. She is survived by her daughter, Jan (Dana) Shaw, her son, Gerry
(Joyce) Aron; five grandchildren, Laura (Brian)McGinley, Jeffrey (Beth)
Shaw, Sarah (Jim) Flanary, Jennifer (Eric)HeywoodHouck and Justin
(Lisa) Heywood; ten great-grandchildren and one great-great-grandson
on the way.
Therewill be aCelebration of Life to be held at a future date. In lieu of
flowers, memorial donations may be made to either the LeRoy Historical
Society or the YWCA of Batavia.
Your memories and condolences may be sharedwithMrs. Aron's family
at
Mrs. Aron and her family are being cared for by the Falcone Family
Funeral&Cremation Service, Inc.