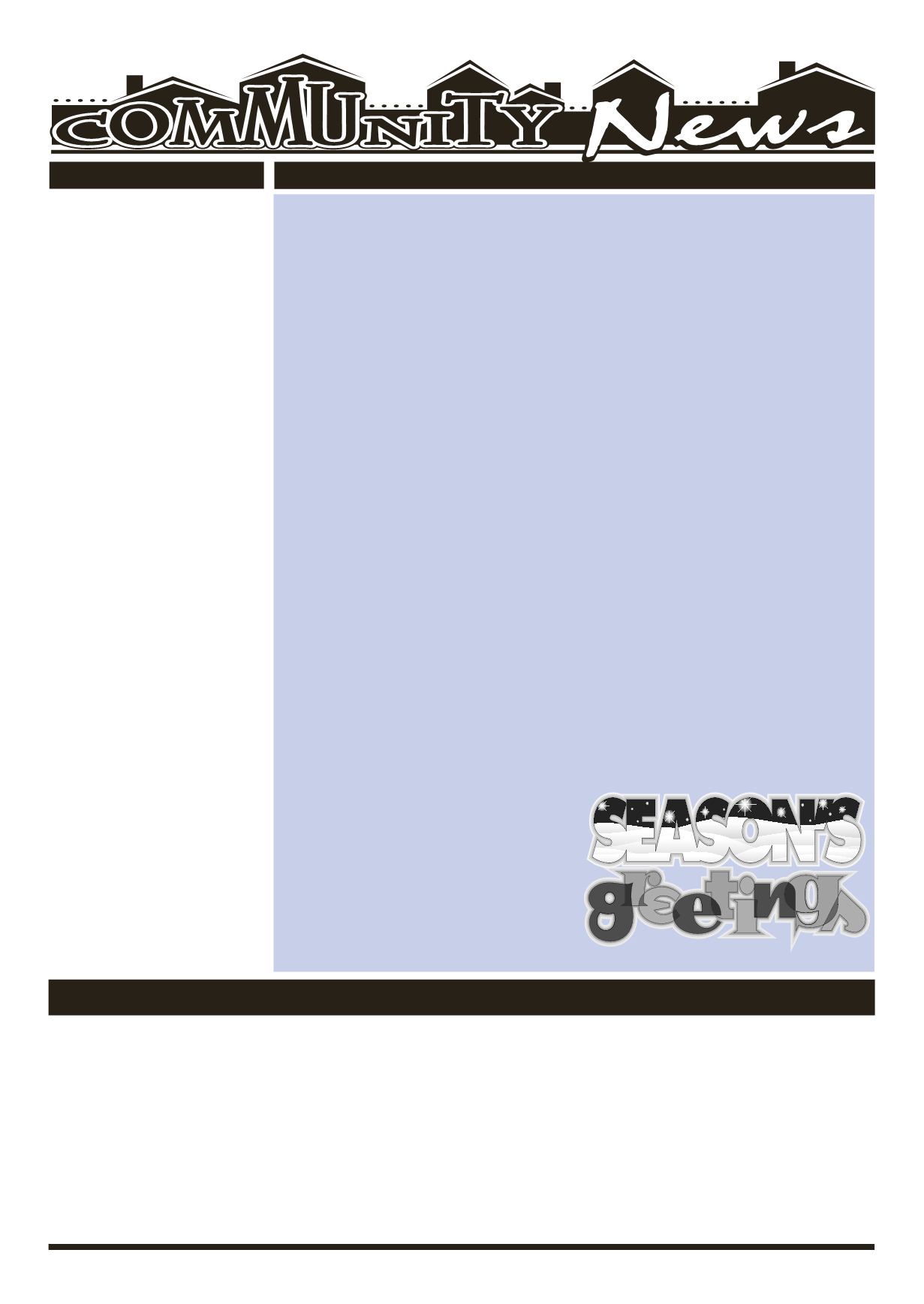 LEROYPENNYSAVER&NEWS - JANUARY 4, 2015
All GeneseeCounty residents, 60andolder, can takepart in thisweek'sactivitiesat theBataviaSenior Center, 2BankSt., Batavia. Formore information, call 343-1611.
(January 5th - January 9th)
WEEKLYEVENTS
OBITUARIES
TaxTrainingClass
ArthritisExercise
isscheduled tobeginat9:30a.m.;
ARepresentative
fromUnivera Insurance
available from10:00am to12:00pm
Bridge
is set tobeginat 11:30a.m.
TaxTrainingClass
Cribbage
is scheduled tobeginat 1:00p.m.
TaxTrainingClass
Euchregame
is scheduled tobeginat 1:00p.m.
TaxTrainingClass
Cribbage&Bridge
are scheduled tobeginat1:00p.m.;
MusicalKey-
boardLessons
are scheduled for 2:30p.m.
TaxTrainingClass
ArtClass
isset tobeginat10:00a.m.;
Euchre
SUNDAY, JANUARY4
AWANA Program at Penuel Christian Fellowship.
Street. Sundays 12:15 to 1:45 pm. Ages 5-17 broken into groups.
Developing friendships. Having fun. Learning about God. Safe envi-
Konnect Youth Group at Living Waters Church,
LeRoy. Sundays from 6:30 to 8:30 pm for ages 12-18. "Bring Down
all theWalls! Connect with God and Connect with others." Formore
information, check us out online at: livingwatersleroy.org/kon-
MONDAY, JANUARY5
TOPS (Take Off Pounds Sensibly)
meets Monday evenings at the
LeRoyPresbyterianChurch, corner of Clay&MainStreets. Doors open
at6:00pmandmeeting is from6:30-7:15pm.Visitorsarealwayswel-
come. Call 585-768-7103 formore information.
TUESDAY, JANUARY6
Preschool Storytime:
Every Tuesday at 11 am featuring stories,
craft and songs at Pavilion Public Library, 5Woodrow Dr., Pavilion.
LCCP's GRACE'S KITCHEN:
A FREE dinner every Tuesday evening,
5-6:30 pm at the LeRoy UnitedMethodist Church, 10 Trigon Park.
ParkingavailableonTrigonPark& the lots to the left andbackof the
Church. Handicapped Entrance in the back of the Church. Takeout &
deliveryareavailable. Formore info. contact SelbyDavisat 585-738-
WEDNESDAY, JANUARY7
PavilionBaptistChurch
youthprograms
wintereveryWednesdayevening.Allcommunitychildrenarewelcome
toattend.AWANA isaprogram foryoungerchildrenPreschool (4year
old) through6thgrade. It is a fun time of Bible Stories, games Bible
memoryandeven refreshments.WordofLifeprogram is for teens7th
through 12th grade.We are easily located at 10956 S Lake Road in
Pavilion. Call 585-584-3179ext. #12 for anyquestions.
THURSDAY, JANUARY8
GeneseeVeterans SupportNetwork
(GVSN) supports thedevel-
opment ofVeterans focusedAAmeetings everyThursday, 6-7pm at
the First Baptist Church, 306 E. Main St., Batavia. Meetings led by
MikeW.&areopen tonon-veteransaswell.Handicapaccessible. For
additional information call 585-302-0825.
Town of LeRoy Board Meeting,
7 pm at the Town Hall Board
GRACE'S CLOSET: A clothing giveaway program
Le Roy United Methodist Church, 10 Trigon Park, Le Roy, 9:30 am
to 11:30 am every Thursday.We have clothing for all ages. FALL &
WINTER clothingnowbeingput inplace.Weare inneedofWARMER
clothingespeciallycoats, jacketsboots,pajamas. Weneedbeddingof
all kinds especially blankets.We accept donations be dropped off at
thehousenext to the church. Pleaseput all bags INSIDEon theback
porch. NOELECTRONICS, COMPUTERS,DISHES,etc. Anyquestionscall
FRIDAY, JANUARY9
Penuel Christian Fellowship,
One Step to Freedom addictions
ministry, a Christ Centered Addictions program, a weeklymeeting
every Friday at 7 pm. Call the Church formore information at 768-
SATURDAY, JANUARY10
Veterans Only Social Club -
Genesee Veterans Support Network
announces a newmeeting location at Scooter's Family Restaurant,
3711West Main Street Road, Batavia, NY - for the once a month
VeteransOnlySocial Club.Meetings areheld the secondSaturdayof
eachmonth from7:00 to8:30PM.Veterans of all eras are invited to
attend. GVSN is locatedat 3837WestMainStreet Road, Batavia, NY.
Formore information, contactGVSN,POBox541,Batavia,NY14021-
UPCOMINGEVENTS
LCCP's Mommy &Me Playgroup: Every 2nd & 4th Friday,
12:00-1:30, LeRoyPhysicalTherapy (in thebackgym).Anymoms
and their birth-kindergarten childrenarewelcome to comeenjoy
socialization, lunch, coffee, structuredgames& freeplay.
CommunityCalendar Submissions shouldbe sent to:
PAVILION—JuneE. (Nichols)Drillingpassed
away suddenly onMonday (Dec. 22, 2014) at
age82.Memorial contributionsmaybemade to
theMultipleSclerosisFoundation, 1650South
Ave. Ste 100, Rochester, NY14620.
EAST BETHANY— Lee Hendershott, 66, of
EastBethanydiedWednesday (Dec.24,2014)
at home, surrounded by his family. In lieu of
flowers,memorialsmaybemade to the family.
LE ROY— Maureen A. Weatherbee, 65, of
Genesee Street passed away unexpectedly
Thursday afternoon (Dec. 25, 2014). Memori-
alsmay bemade to the family c/oMr.William
Weatherbee, POBox 187, LeRoy, NY14482.
LEROY—EvelineAron lost her battlewith life
andwas able to leave thisworldpeacefully on
Friday (Dec. 26, 2014). In lieu of flowers, me-
morial donationsmaybemade toeither theLe
RoyHistoricalSocietyor theYWCAofBatavia.
BYRON—WarrenA. Leaton, 90, of Byron, a
former owner of Lea-ViewFarm inByron, died
Friday, Dec. 19, 2014, at his home, in Byron.
In lieu of flowers, memorials may bemade to
Byron Presbyterian Church, 6293 West Main
St., POBox206, Byron, NY14422or toSouth
Byron Volunteer Fire Company, PO Box 30,
PAVILION— John P. Strathearn, 61, of Starr
Road, Pavilion died Friday (Dec. 26, 2014)
at Strong Memorial Hospital in Rochester. In
lieuof flowers,memorialsmay bemade to the
Pavilion Fire Department, Pavilion, NY 14525
or theWyomingHook&LadderCo.,Wyoming,
LEROY—OliverP.CooperJr.,91,ofGenesee
StreetpassedawaySundayafternoon (Dec.28,
2014) at the home of his son, surrounded by
his loving family. In lieu of flowers, memorials
aresuggested to theVeteransOutreachCenter
Inc., 459SouthAve., Rochester, N.Y. 14620.
BYRON— Ida ''Lucille''Capamaggio,87,ofBy-
rondiedpeacefullyMondaymorning (Dec. 29,
2014)atStrongMemorialHospital inRochester.