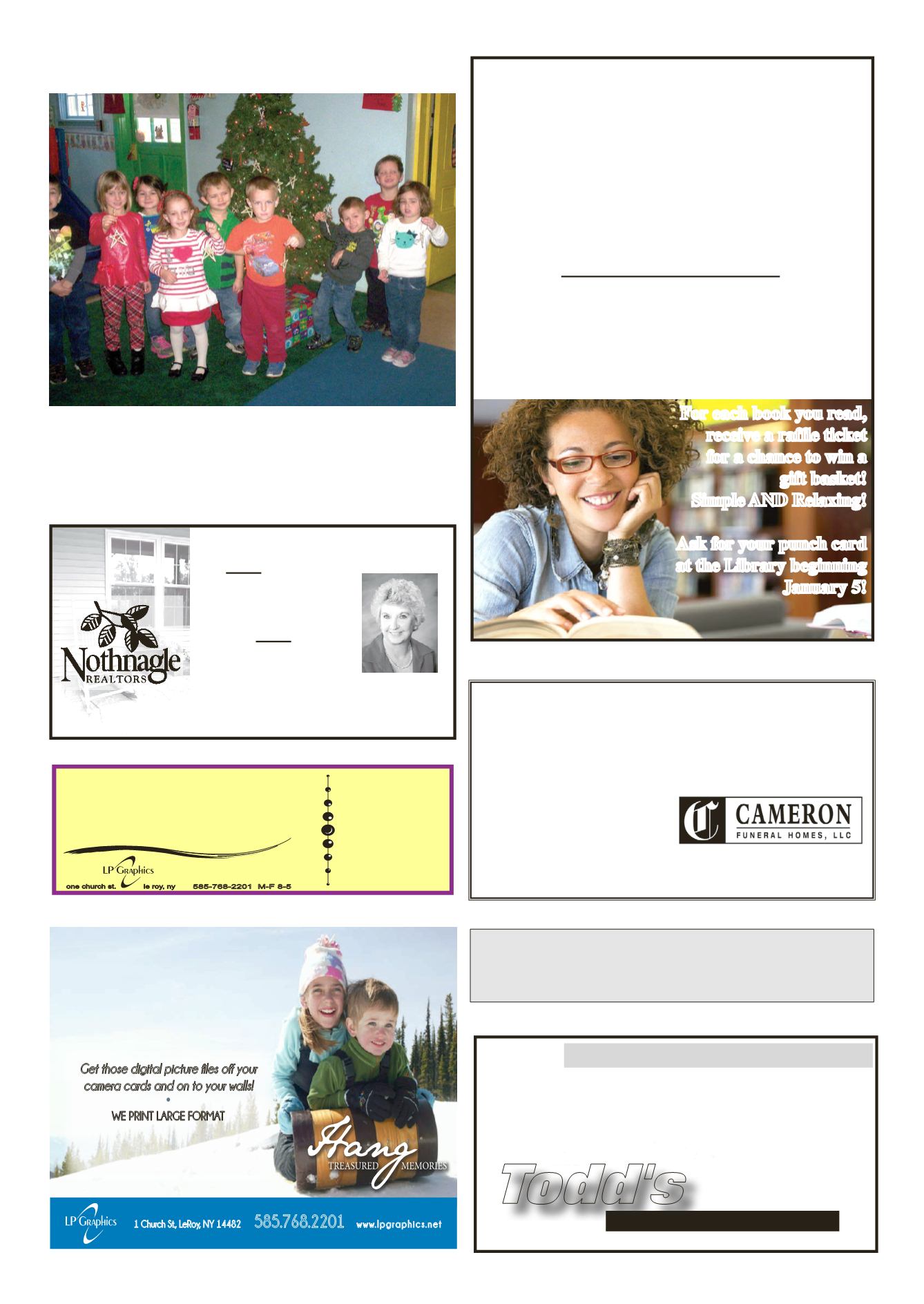 LEROYPENNYSAVER&NEWS - JANUARY 4, 2015
HelpingFamiliesCelebrateaLifeLived
"Our FamilyServingYours Since 1907"
Trusted•Honest •Proven
Cameron, Brady&Steuber
FuneralHome
111Wolcott Street
LeRoy,NY14482
(585) 768-6800 •
Likeus onFacebook
SUPPORTYOUR LOCALADVERTISERS!
They help sponsor the local news section of the Le Roy Pennysaver.
THANKS FORYOUR SUPPORT!
NewHomes •Additions •Garages •PoleBarns
ToddCarli • Phone 703-0964
Todd's
Decks •Windows •Doors
Kitchens •Baths
CeramicTile
Basement Finishing
CustomShelves/Built-Ins
Siding •Remodeling
Roofing • SnowPlowing
FULLY INSURED
Batavia
585-343-6750
NOW is theBEST time
toBUYwith the interest rates
at their lowest!
Don't wait
toBUY -
call
LindaBeaumont
for all your real
estateneeds.
LindaBeaumont
Home (585) 768-6315
LicensedReal Estate
Salesperson
Multi-MillionDollar Producer
As crispas theday
they weremade.
1ChurchSt., LeRoy, NY14482
585.768.2201
Get thosedigital picture files off your
cameracards andon to your walls!
WE PRINT LARGE FORMAT
Our state-of-the-art wide format color
printer allows prints up to42" wide
by any length youdesire!
AmnestyWeek
- January 5-10
WoodwardMemorial Library
Return your overdue items...WithNOfines!
All overduematerials returned between
Saturday, January 10 are not fined.
Fines for items already returned and
fines on books from libraries other thanWoodward
Memorialwill not bewaived.
AdultWinterReadingProgram
WoodwardMemorial Library
BECALMANDREADON!
January 5 –February 28
For eachbook you read,
receive a raffle ticket
for a chance towin a
gift basket!
SimpleANDRelaxing!
Ask for yourpunch card
at theLibrarybeginning
January 5!
LeRoy Nursery School children get ready for their Christmas
Partyandavisit fromSanta.Picturedhereare the2Daychildren
standingby the tree theydecoratedwith special starornaments
theymade.Theywerepracticing singing for theirparty.Avery
special day they've prepared for. It's such a fun time of year
for them!
LNSChristmasParty
one church st. le roy, ny
one church st. le roy, ny