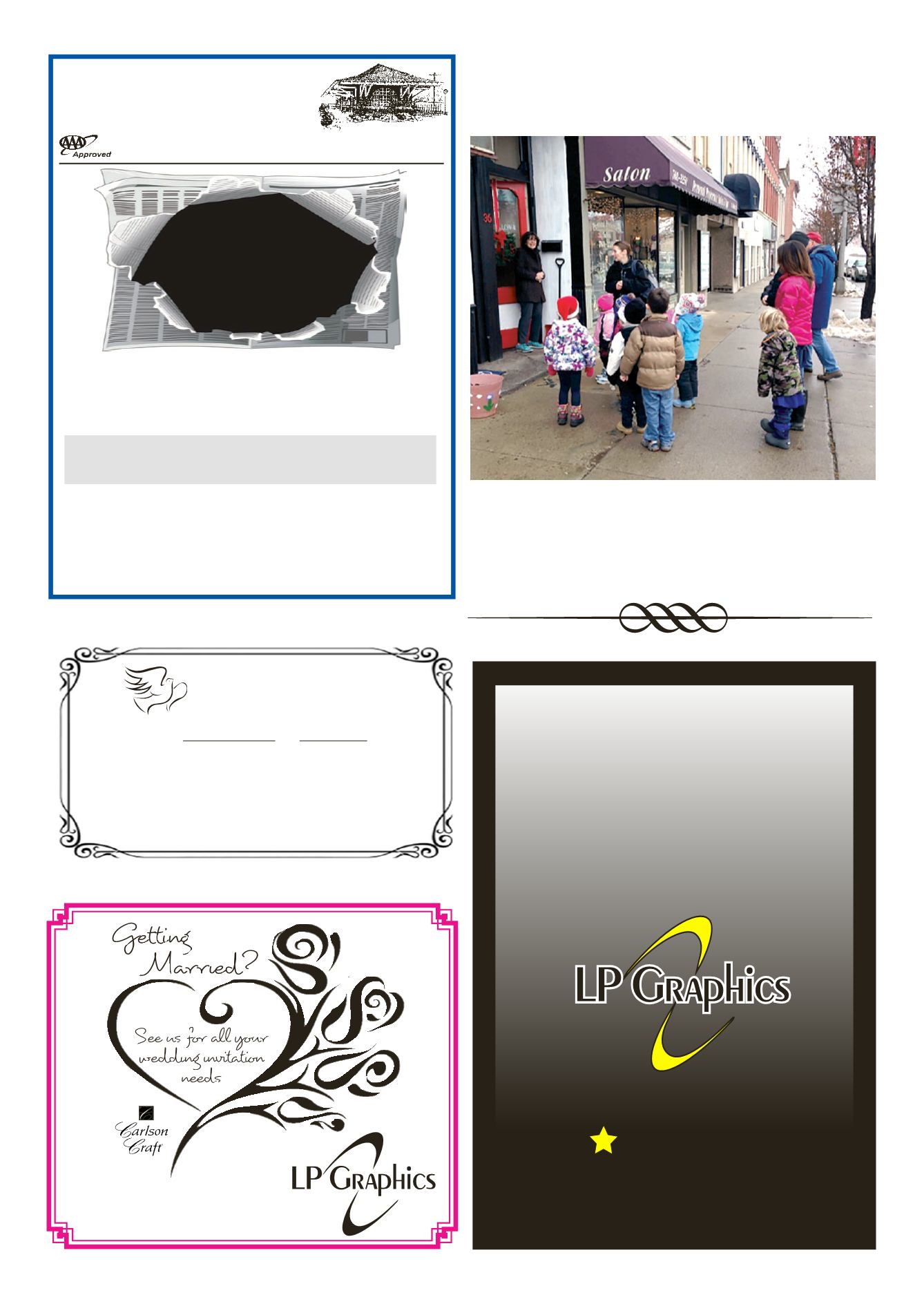 LEROYPENNYSAVER&NEWS - JANUARY 4, 2015
D&RDepot
63LakeSt. (Rt. 19), LeRoy• 768-6270
Let'sMeetAt The ...
OpenForBreakfast, Lunch&Dinner - 7DaysAWeek 7am-9pm
Director /Owner
FuneralDirector
F
ALCONE
F
AMILY
Funeral&Cremation Service, Inc.
Director/Owner
"ALOCALFAMILY
CARINGFORLOCALFAMILIES"
SUNDAY, JANUARY 11th
enjoyBRACIOLLE (tender stuffedflank steak)
withPASTA andhomemade red sauce, soup or salad
and finishwith homemadeCannolis cake for ... $
OURCOUNTINGCONTESTWINNERS
ANNOUNCED
OnSUNDAY, JANUARY 18th
come for something special –SHEPHERD'SPIE
toppedwith homemademashed potatoes, including soup
or salad, and a raspberry trifle for just one
easy payment of ...
They're Baaaack!
OurAll - Inclusive
SundayDinners
start againJanuary 4th!
All of our SundayDinners
include soupor salad, entrée,
dessert&
bakery basket.
SunshineSings
ForMainStreet
SunshineNurserySchool'sPre-Kclassvisitedseveralbusinesses
onMainStreet spreadingChristmascheer!Afterenjoying some
old fashionedChristmas caroling, the children returned to the
school towarmupwith a cup of delicious hot cocoa!
1CHURCHST, • LEROY, NY • lpgraphics.net
WEHANDLEALLASPECTSOFPRINTING...
PROGRAMS
LETTERHEADS
BILLHEADS
FLYERS
BROCHURES
POSTERS
CARBONLESSFORMS
ENVELOPES
RAFFLETICKETS
NEWSLETTERS
RESUMES
TYPESETTING
RUBBERSTAMPS
ENGRAVEDSIGNS
NAMETAGS
COPIES
LAMINATION
COMMUNITYFAX
NEWSANDPICTURES
ADVERTISING
BUSINESSCARDS
HOURS: Monday thruFriday 8:00 to5:00