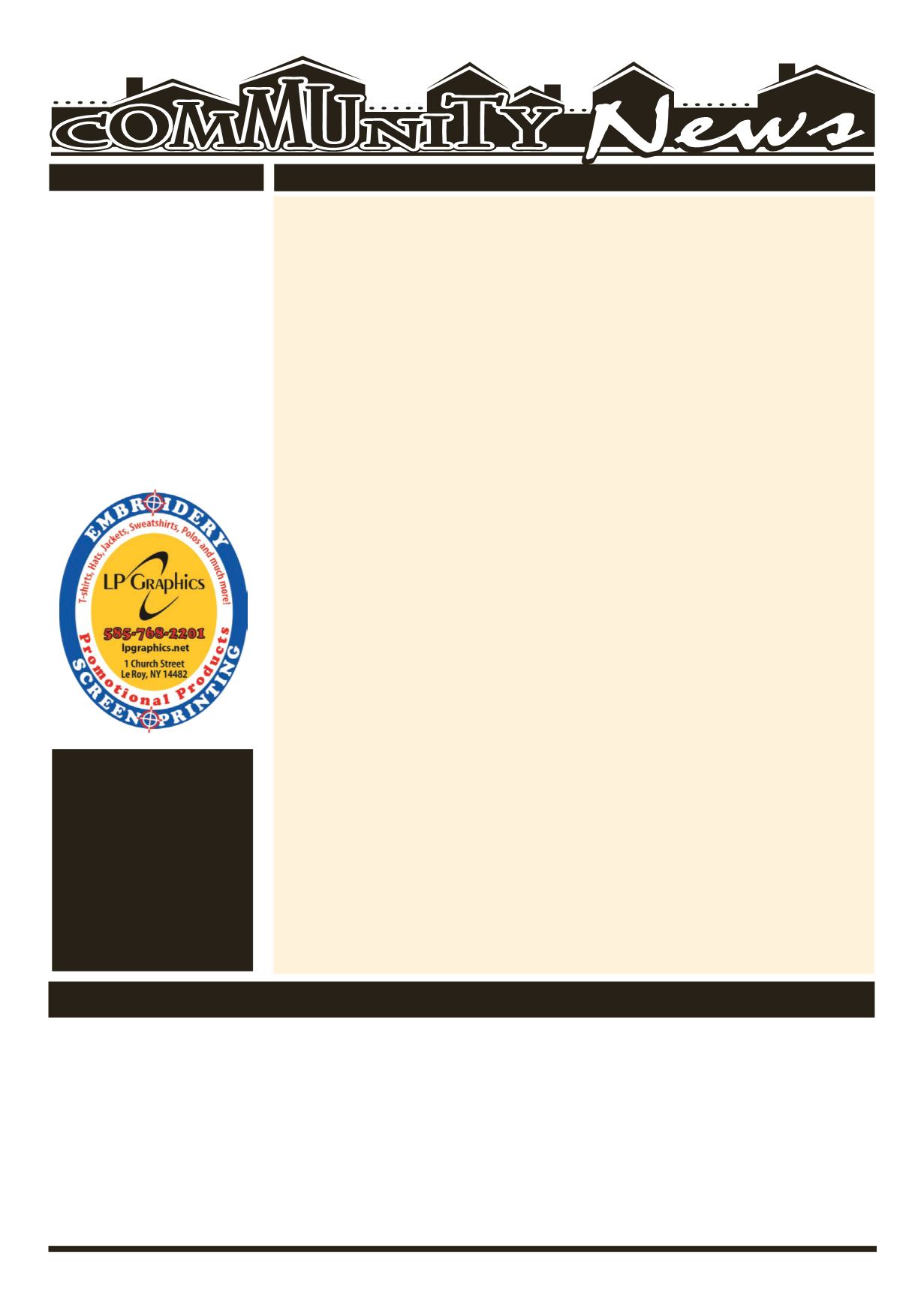 LEROYPENNYSAVER&NEWS - SEPTEMBER 28, 2014
Le Roy
Pennysaver
All GeneseeCounty residents, 60andolder, can takepart in thisweek'sactivitiesat theBataviaSenior Center, 2BankSt., Batavia. Formore information, call 343-1611.
(September 29 -October 3)
WEEKLYEVENTS
OBITUARIES
ArthritisExercise
is scheduled tobeginat 9:30a.m.;
Bridge
is scheduled tobeginat 11:30a.m.
MedicareSignUp
will beheld from12:00pm to2:00pm.;
Cribbage
Quilters
are scheduled tomeet at 9:00a.m.;
Euchregame
is scheduled tobeginat 1:00p.m.
TaiChiClass
GentleFitness
CribbageandBridge
MusicalKeyboardingLessons
LineDancingandArtClass
is set tobeginat 10:00am.
SUNDAY, SEPTEMBER28
AWANA Program at Penuel Christian Fellowship.
Sundays 12:15 to 1:45 pm. Ages 5-17 broken into groups. Developing
friendships.Having fun. LearningaboutGod. Safeenvironment.
Konnect YouthGroup at LivingWaters Church,
Sundays from6:30 to8:30pm for ages12-18. "BringDownall theWalls!
ConnectwithGodandConnectwithothers." Formore information, check
usoutonlineat: livingwatersleroy.org/konnect-youth-ministry/
MONDAY, SEPTEMBER29
TOPS (TakeOffPounds Sensibly)
meetsMonday evenings from 6:30-
7:15pm at the LeRoy Presbyterian Church, corner of Clay&Main Streets.
Visitorsalwayswelcome. Call 768-2933 formore info.
TUESDAY, SEPTEMBER30
LCCP'sGRACE'SKITCHEN:
(will be closedSept. 9th, andwill reopenSept.
AFREEdinner everyTuesdayevening, 5-6:30pmat theLeRoyUnited
Methodist Church, 10TrigonPark. ParkingavailableonTrigonPark& the
lots to the left andbackof theChurch.HandicappedEntrance in theback
oftheChurch.Takeout&deliveryareavailable.Formore info.contactSelby
FoodlinkFreeMobileFoodPantry:
MorganvilleUnitedChurchofChrist
ispartneringwithFoodlinkofRochestertohosta freemobile foodpantry,
4:30-6:30 pm at Morganville United Church of Christ, 8466Morganville
Road (off Rt 237, 1mile north of Stafford). The exact food items and
quantityavailablearenotknown,butfreshproducewillbeavailable. Must
be18 years of age, no income requirement or ID required. Must provide
own bags/vehicle to transport items to your home. Food provided on a
first come, first servebasiswhile supplies last.
WEDNESDAY,OCTOBER1
THURSDAY,OCTOBER2
Genesee Veterans Support Network
(GVSN) supports the develop-
ment of Veterans focused AAmeetings every Thursday, 6-7 pm at the
First Baptist Church, 306 E. Main St., Batavia. Meetings led by MikeW.
& are open to non-veterans aswell. Handicap accessible. For additional
information call 585-302-0825.
GRACE'SCLOSET:AClothingGiveawayProgram
UnitedMethodist Church, 10 Trigon Park, Le Roy. 9:30 am to 11:30 am
every Thursday. We have clothing for all ages. Spring& Summer cloth-
ing now being put in place. We are in need of lighter coats, clothing,
shoes, pajamas, bedding, sheets inall bed sizes. Weaccept donations be
droppedoffat thehousenext to thechurch.Pleaseputallbags INSIDE on
thebackporch. Noelectronics,TV's, computers,dishes,etc. Anyquestions
FRIDAY,OCTOBER3
PenuelChristianFellowship,
OneSteptoFreedomaddictionsministry,
aChrist CenteredAddictions program, aweeklymeetingevery Fridayat
7pm. Call theChurch formore informationat768-6901or406-3863.
SATURDAY,OCTOBER4
UPCOMINGEVENTS
LCCP'sMommy&MePlaygroup: Every2nd&4th Friday,
1:30, Le Roy Physical Therapy (in the back gym). Anymoms and their
birth-kindergarten children arewelcome to come enjoy socialization,
lunch, coffee, structuredgames& freeplay.
Office for the Aging Presentation at Stone
ChurchPresbyterianChurch
, 7549S. LakeRd,Bergen forolderadults
andtheircaregivers.Lunch (nocharge)willbeprovidedatnoon followed
by a presentation by Dorian Ely from the Genesee County Office for the
Aging. Shewill discuss programs available such as the Handyman Pro-
gram, Transportation Services, HomeVisitation, Financial Management
andCaregiver Counseling. CallMarkat356-4847 formore information.
The CovingtonUnitedMethodist Church is having their Annual
HamDinner,
Bazaar, and Bake-sale on Saturday, October 11th from 4
to 7pm. The church is located at 1557 Simmons Road, north of Perry in
WyomingCounty.Themenu includesham,potatoes,rolls,squash,beans,
applesauce, andhome-madepie.Donation is$9.00 for adultsand$4.50
for children5-12. Takeoutsareavailable.
The Genesee Valley Civil War Roundtable
son-Hoveyon"St.Alban'sRaid"onOctober15, 2014at7PMat theLeRoy
UnitedMethodistChurchonTrigonPark inLeRoyNY.Pleaseuse the front
door on the far right at the end of the sidewalk. Discussion periodwill
follow. Newmembers always welcome. It will be a most interesting
program.Doorswill openat6:30.
TheMonthlyMeeting OfTheLeRoy-StaffordSeniorCitizens
beheldonOctober 15, 2014. at 6:00p.m. At theKOf CMeetingHall on
WestMainSt. BehindSave-A-Lot. Thiswill beapot luck supper andyou
shouldbringyourownplacesettingandagenerousdish topass. Dessert
CommunityCalendar Submissions shouldbe sent to:
LE ROY — Salvatore LaRosa,
87, formerly of Pleasant Street,
passed away early Fridaymorn-
ing (Sept.19,2014)at theLeRoy
Village Green Nursing Home.
Memorials are suggested to a
charity of the donor's choice.
Linwood died Sunday (Sept. 21,
2014)atage87.Donations inher
memory may be made to York
Ambulance, PO Box 95, Retsof,