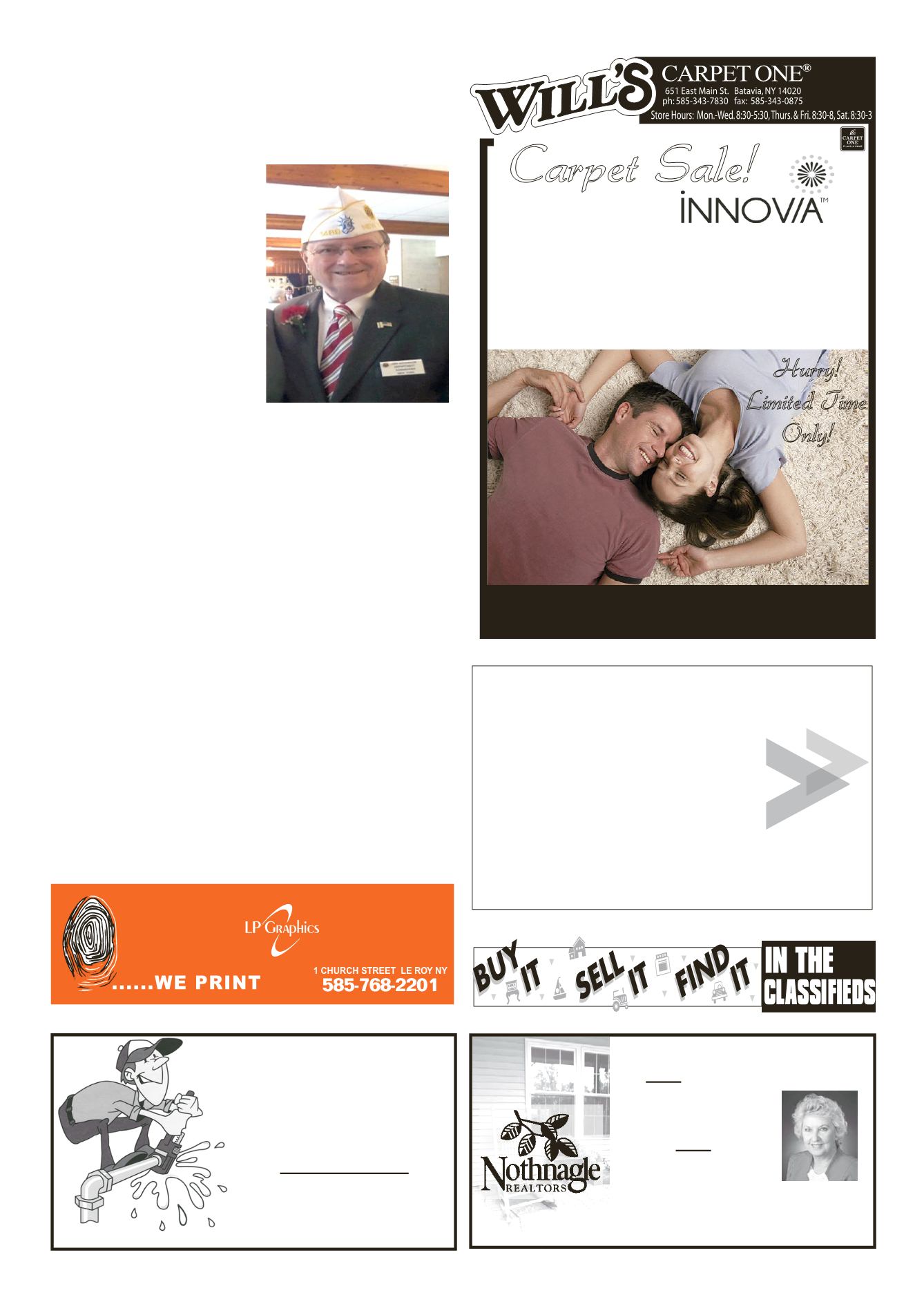 LE ROY PENNYSAVER & NEWS - MARCH 16, 2014
FLOOR
& HOME
The ONE store for your perfect floor.
Batavia
585-343-6750
NOW is the BEST time
to BUY with the interest rates
at their lowest!
Don't wait
to BUY -
call
Linda Beaumont
for all your real
estate needs.
Linda Beaumont
Home (585) 768-6315
Licensed Real Estate
Salesperson
Multi-Million Dollar Producer
Move
Medical & orthopedic
Dave Salway
Plumbing LLC
7100 Quinlan Road
Le Roy, NY 14482
Cell Phone: 585-721-8446
Home Phone: 585-768-8446
When you call Dave, you get Dave!
On Sunday, March 2 the Le Roy
American Legion Post hosted a
luncheon honoring Mr. Kenneth
Governor, current Commander of
the Department of NewYork. The
event, held at the Post home at 53
West Main Street, was attended by
75 guests and Legion members.
The Department of New York
Commander is the highest rank-
ing officer of the American Le-
gion in the state. This visit is
part of the annual visitation to
all Districts within the state. The
LeRoy Post hosted the event at
the request of the Genesee Coun-
ty American Legion Commander,
The formal program consisted
introductions and several very
moving and meaningful address
by the featured speakers. The fi-
nal address by Commander Gov-
ernor emphasized the message of
"Service First" to our fellowman
and in particular, service to vet-
erans, and their dependents. The
commander reminded the group
that during the recent government
shutdown, it was the American
Legion Department of New York
who came forward and offered
to help cover death benefits for
Empire State families that were
suspended during the shutdown.
One of the highlights of the
program was a presentation of
plaques for outstanding and
dedicated service to two long-
time members from Genesee
County. Mr. Don Nagle, Genesee
County Chaplain and Mr. Jim
Neider, Genesee County Adjutant
were awarded the commendation
awards and a sincere congratula-
tions and thanks from the Depart-
Guests, along with the De-
partment Commander, included
Department of New York Aux-
iliary President Barbara Corker,
Department of NewYork Detach-
ment Commander-Sons of the
Legion, John Chang, 8th District
(Genesee County's district) Com-
mander John Long, 8th District
auxiliary President Linda Garner,
8th District S.A.L. Commander
Ronald Kuczenski, Genesee
County Commander David Hen-
ry, Genesee County Auxiliary
President Jane Fox along with
Schafer and Auxiliary President
The Ladies Auxiliary, Unit
#576, provided the luncheon
meal along with desserts and
Botts-Fiorito Post #576
Host Department of
New York Commander
18 Months Financing Available For Innovia Products Only
•Free Estimates • Professional Installation Available
OFF
50
%
lpgraphics.net