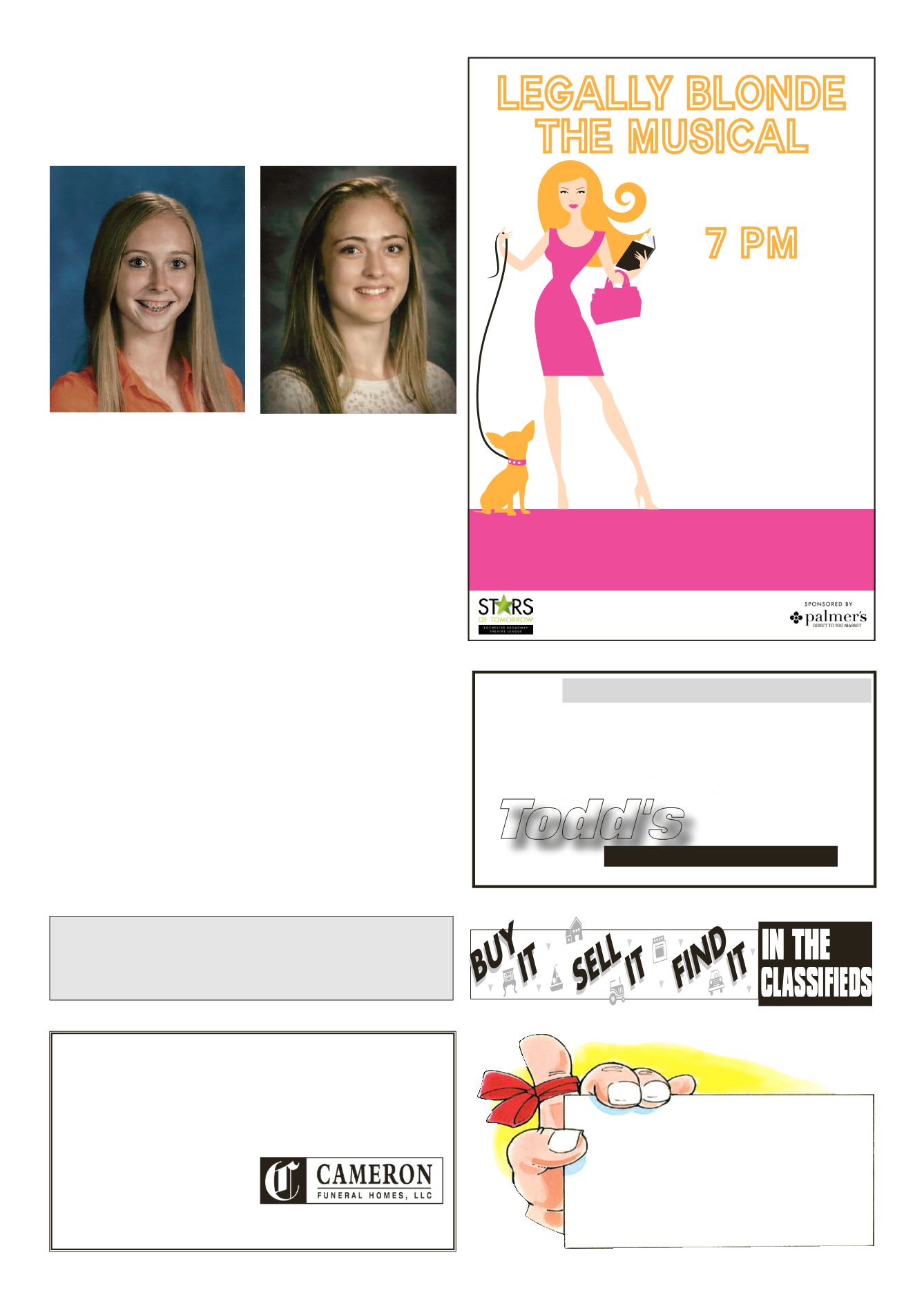 LE ROY PENNYSAVER & NEWS - MARCH 16, 2014
Helping Families Celebrate a Life Lived
"Our Family Serving Yours Since 1907"
Trusted • Honest • Proven
(585) 768-6800 • LeRoyFuneralHome.com
Cameron, Brady & Steuber
Funeral Home
111 Wolcott Street
LeRoy, NY 14482
SUPPORT YOUR LOCAL ADVERTISERS!
They help sponsor the local news section of the Le Roy Pennysaver.
THANKS FOR YOUR SUPPORT!
New Homes • Additions • Garages • Pole Barns
Todd Carli • Phone 703-0964
Todd's
Decks • Windows • Doors
Kitchens • Baths
Ceramic Tile
Basement Finishing
Custom Shelves/Built-Ins
Siding • Remodeling
Roofing • Snow Plowing
FULLY INSURED
Heimlich, both fromLeRoy, have
been selected to attend the 2014
American Legion Auxiliary Girls
State Program, representing Botts
Fiorito Unit 576, Le Roy, NY.
Representing their state as leg-
islators, Heimlich and Graham
will study local, county, and
state government processes in
this nonpartisan political learning
experience. Every spring, the
American Legion Auxiliary Girls
State Program provides approx-
imately 25,000 young women
with a hands-on educational
opportunity designed to instruct
tomorrow's leaders in the priv-
ileges and duties of responsible
Kayla is the daughter of Jason
and Crystal Heimlich of Le Roy.
Kayla is a straight A student who
participates in Student Council
and is a member of the National
Honor Society. She donates
much of her time volunteering.
Le Roy Student's Headed To
American Legion Auxiliary
Girls State
Emily Graham
Kayla Heimlich
She plays high school soccer and
basketball at Le Roy Jr./Sr. High
School as well as AAUBasketball
for the Genesee Valley Pride.
Kayla is interested in University
of Georgia and the University of
Alabama and majoring in pre-
Emily is a junior at Le RoyHigh
School and the daughter of Daniel
and Diane Graham. She has many
scholastic achievements. Among
these she has attained the highest
overall average in chemistry and
has been awarded the Chemistry
Achievement Award from the
American Chemical Society.
Emily has also received a perfect
score on the National Latin Exam
and has been the Latin student of
the year twice. She has participat-
ed in varsity soccer. As a member
of the National Honor Society
she has participated in several
community service activities.
She plans to major in chemistry
and later attend medical school.
Class Of 1974
40
th
Class Reunion!
July 18th
LeRoy Country Club
For more information Contact:
LEGALLY BLONDE
THE MUSICAL
LEROY
JUNIOR SENIOR
HIGH SCHOOL
7 PM
Thursday, March 20
Friday, March 21
Saturday, March 22
Pre-sale Tickets $8.00
At the Door Tickets $10.00
Tickets can be purchased at the
Le Roy Jr./Sr. High School Main Office
Music and Lyrics by Laurence O'Keefe
Based on the novel by Amanda Brown and
the Metro-Goldwyn-Mayer motion picture
Legally Blonde the Musical Is presented through special
arrangement with Music Theatre International (MTI).
All authorized performance materials are also supplied by MTI.
421 West 54th Street, New York, NY 10019
LeRoy Jr.-Sr. High School is proud to participate
in the RBTL's Stars of Tomorrow program.