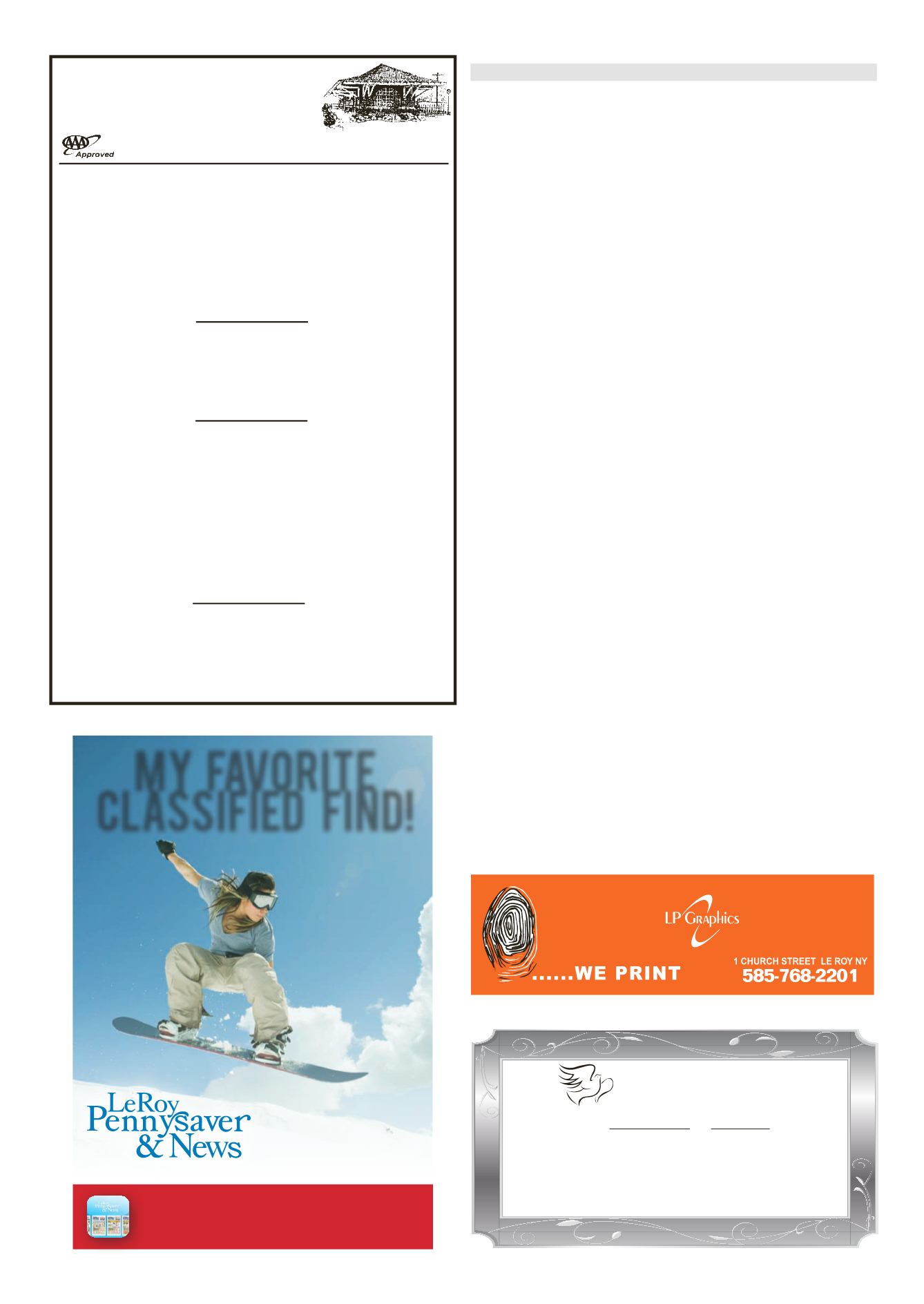 LE ROY PENNYSAVER & NEWS - MARCH 16, 2014
D & R Depot
63 Lake St. (Rt. 19), LeRoy • 768-6270
Let's Meet At The ...
Open For Breakfast, Lunch & Dinner - 7 Days A Week 7 am-9 pm
The Depot's new sister company,
Double L Rental
heaters, bars, linens, dishes & catering supplies for your special occasions!
10% DISCOUNT when you use both the
D & R Catering Services and Double L Rental for your event.
Visit doublelrental.com, or call us at (585) 344-0023
F
ALCONE
F
AMILY
Funeral & Cremation Service, Inc.
Director/Owner
Director / Owner
Funeral Director
SUNDAY MARCH 16th/MONDAY MARCH 17th
Featuring CORNED BEEF and CABBAGE DINNER
Enjoy vegetable barley soup, our famous corned beef round,
parsley potatoes, carrots and onions dinner.
Available for lunch or dinner on
Sunday, March 16 and Monday, March 17
(don't forget to save room for our famous
grasshopper pie or a Crème de menthe sundae)
SUNDAY, MARCH 23rd dinner special
ROAST TURKEY DINNER
with Jen's homemade dressing - $14.99
(includes soup or salad, real mashed potatoes, gravy, beverage,
and pumpkin pie)
SUNDAY, MARCH 30TH DINNER SPECIAL
OLD FASHIONED POT ROAST DINNER
with carrots and onions - $14.99
(includes soup or salad, potatoes, beverage, and dessert)
5 pm –Dinner Show - By Reservation Only
Special Appearance – String Of Pearls
With Jerry Curry, Nancy Drum
Guest Appearance By Al Mastrolio
(there is a $5.00 cover charge for the benefit of the musicians)
AROUND TOWN
by Stephen R. Barbeau
Supervisor
A couple of quick notes before
the main topic of this month's
column. First, some meeting
date changes. The Planning
Board will meet on March 25
(instead of 3/18) and Zoning
Board of Appeals on April 1 (in-
stead of 3/25). Both are at their
regular 7:30 pm times. Also,
congratulations to our Justice
Dept., Judges Sehm and Welsh,
Clerks Hiscutt and Viveralli, for
securing a Justice Court Assis-
tance Program grant of $5,000.
This will be used for securi-
ty upgrades to our courtroom/
building. Securing this grant
means we will not have to bud-
get for these necessary expens-
Speaking of expenses, next
month (all ready!) the Board
will adopt its 2015 Budget De-
velopment Calendar. But, before
we get to that (and the usual fo-
cus on expenditures), it might be
nice to reflect on what services
town residents receive for their
.90 per thousand tax rate ($90 on
1. The aforementioned court
system- dispensing local justice
and receiving fine revenue
2. Town Board- setting policy,
code (local laws), overseeing
finances, disseminating commu-
3. Assessor services- determin-
ing true market property values
4. Town Clerk - day-to-day op-
erations of the Town and issuing
5. Highway Dept. - plowing/
paving/striping roads, mow-
ing roadsides/cemeteries, storm
ditch repair, tree removal
6. Transfer Station - a conve-
nience somewhat rare in today's
municipal landscape - allowing
for self disposal of most refuse
7. Code enforcement- along
with necessary Planning and
adult)- parks, pool, camps, trips,
9. Historian services - histori-
cal research, information, com-
10. Community support- home
to LeRoy Food Pantry and fi-
nancial support to LeRoy Am-
bulance, LeRoy Historical So-
ciety, Veterans, Genesee County
Chamber of Commerce, LeRoy
Business Council, Oatka Festival
When viewed as a total pack-
age and compared with the cost,
it looks like a solid "rate of re-
turn"! Our job (ever the chal-
lenge) continues to be seeking
greater efficiencies to maintain
(or increase) this level of service
while maintaining (or lowering)
the current tax rate. We hope
Thank you very much and see
1 Church St., LeRoy, NY 14482 |
Advertise • Classifieds • News
Help Wanted • Community Calendar
lpgraphics.net