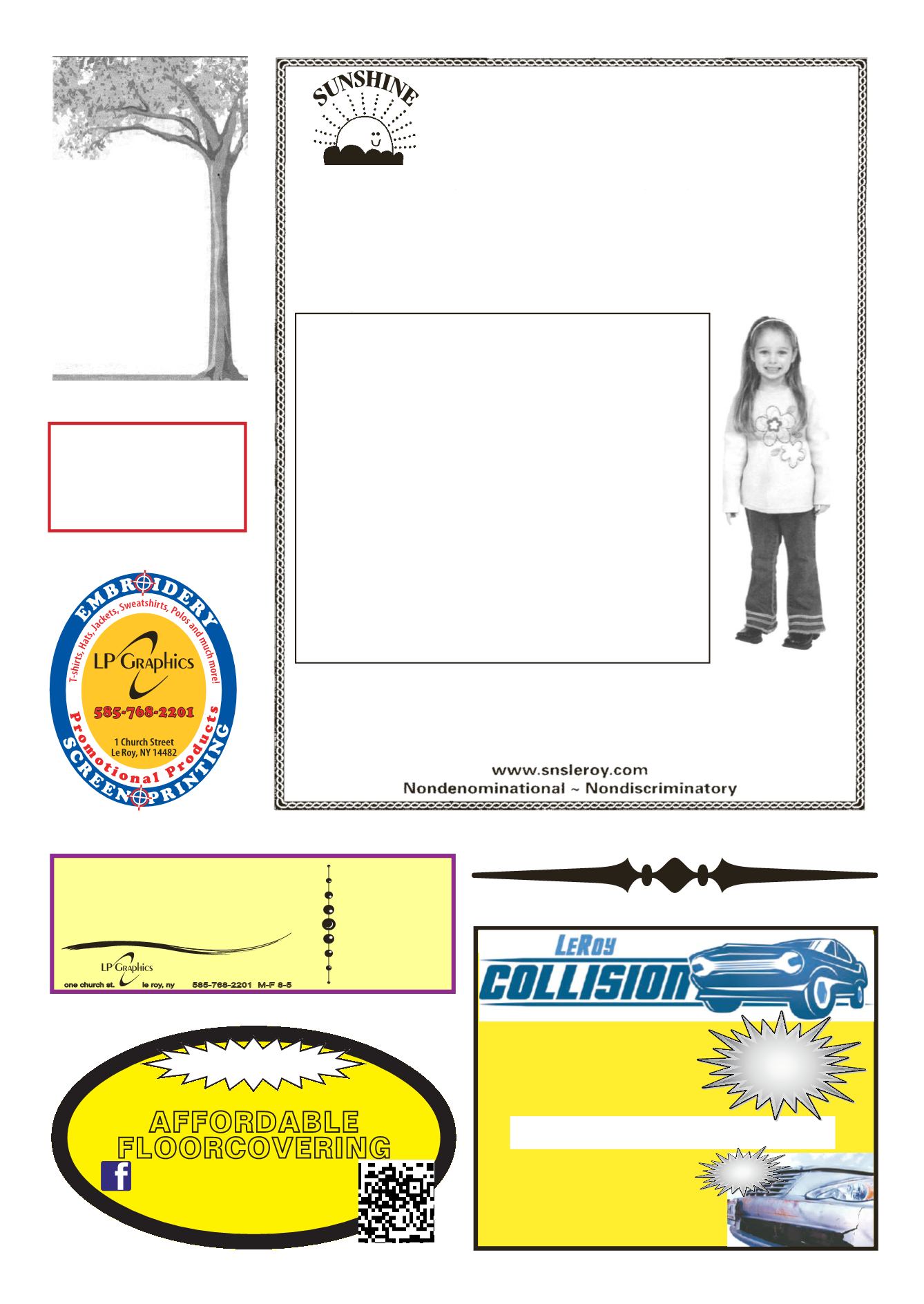 LE ROY PENNYSAVER & NEWS -FEBRUARY 9, 2014
Please note that class sizes are limited and fill quickly.
There is a $35.00 non-refundable fee due upon registration.
MUST
accompany each child with the exception of siblings.
For further information regarding class openings or registration policies
please contact our Registrar:
Renee Johnson - 585-704-8472
Registration Options:
Funshine Playgroup Class Schedule:
2-3 yr. olds (Do not need to be potty trained)
Playgroup - Wed., 10:00 am-11:30 am
Nursery Program Class Schedule:
3-4 yr. olds
AM Class - 9:10 am-11:30 am
Pre-K Program Class Schedule:
4-5 yr. olds
Mondays, Wednesdays & Fridays
Or 5 Day Extended Program
Monday-Friday 9:00-11:30 am
NURSERY SCHOOL
(for the 2014-2015 school year)
Saturday, Feb. 22nd, 2014
9 am-9:30 In-House Registration • 9:30 am-11:00 am Open Registration & Open House
St. Mark's Church, corner of Main & Church St., LeRoy
Register for Fall Classes Now!! Registration is on a first come, first serve basis.
Meet our teachers, view our classroom and make a craft to take home.
Sunshine Nursery School
Open Registration
& Open House
Malovich
Environmental
FREE ESTIMATES
Fully Insured
(585) 409-6509
TREE SERVICE
• Auto body collision repair
• All insurance companies
• All makes all models
• Glass replacement/ repair
• Auto detailing
• Restoration
• Rentals and loaners available
Formally LeRoy Motors Collision …Same Great Service,
Same Ownership, Same Location Just A New Name!
768-7877
7000 W. Main Rd.
LeRoy NY 14482
Open
Saturdays
8 am-noon
Free
Estimates!
VALU HOME PLAZA • WEST MAIN • BATAVIA
AFFORDABLE
FLOORCOVERING
F
AFFORDABLEFC . COM
585-345-1108
Tuesday-Friday 9-6
Saturday 9-2
10
%
OFF
CASH &
CARRY
one church st. le roy, ny
one church st. le roy, ny
lpgraphics.net
Don't waste precious time