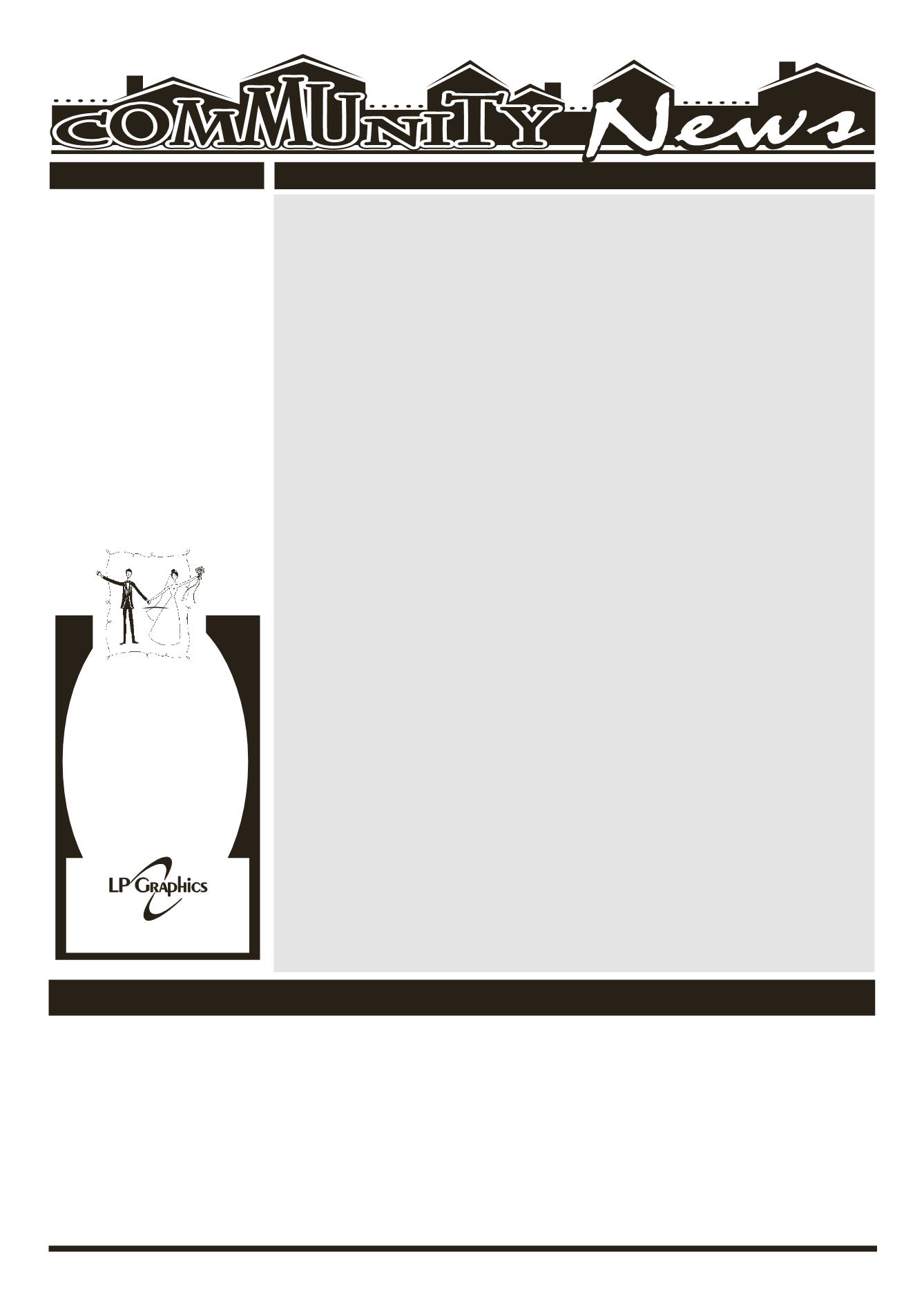 LE ROY PENNYSAVER & NEWS -FEBRUARY 9, 2014
All Genesee County residents, 60 and older, can take part in this week's activities at the Batavia Senior Center, 2 Bank St., Batavia. For more information, call 343-1611.
SENIOR CITIZENS ACTIVITIES
(February 10th - February 14th)
WEEKLY EVENTS
OBITUARIES
Tax Preparation
is available by appointment beginning at 9:00 a.m. ;
Arthritis Exercise Class
Bridge
Alzheimer's Association Meeting
is scheduled to begin at 8:30 a.m.;
Cribbage
Tax Preparation
is available by appointment beginning at 9:00 a.m.;
Quilters
are scheduled tomeet at 9:00 am. and
Euchre
Strong Bones Class
Cribbage & Bridge
is scheduled for 1:00 pm,
Genesee Senior Foundation Meeting
Musical Keyboard Lessons
are scheduled to begin at 2:30 p.m.
Legal Services
are available by "Appointment Only" from 8:30 a.m. to 4:00 p.m.;
Art Class and Line Dancing
Univera Insur-
ance representative
will be available from 10:00 a.m. to 12:00 p.m.;
Tai Chi
Card Group
Advertising Templates
Entire contents copyrighted by Carlson Craft ® .
All rights reserved. 12-07
Invitations, Save the Date Cards,
Wedding Accessories, Ceremony,
Reception Essentials, Bridal Party
Visit us today!
with wedding invitations and accessories
Stop in today to view our extensive collection
for every style and budget!
lpgraphics.net, Hours: Mon.-Fri. 8-5 p.m.
1 Church St., Le Roy • 768-2201
SATURDAY, FEBRUARY 8
Byron-Bergen Music Boosters Rummage Sale
Byron-Bergen High School Cafeteria, 6717West Bergen Road, Bergen, NY
- Cans and Bottle Drive too!
SUNDAY, FEBRUARY 9
AWANA Program at Penuel Christian Fellowship.
Sundays 12:15 to 1:45 pm. Ages 5-17 broken into groups. Developing
friendships. Having fun. Learning about God. Safe environment.
MONDAY, FEBRUARY 10
TOPS (Take Off Pounds Sensibly)
meets Monday evenings from 6:30-
7:15 pm at the LeRoy Presbyterian Church, corner of Clay & Main Sts.Visi-
tors always welcome. Call 768-2933 for more info.
Make a Valentine
at the Woodward Memorial Library for chil-
dren in kindergarten and 1st grade, from 3:15 – 4:15 p.m. Reg-
istration is required. Call 768-8300 or register online at
TUESDAY, FEBRUARY 11
LCCP's GRACE'S KITCHEN:
A FREE dinner everyTuesday evening, 5-7 pm
at the LeRoy United Methodist Church, 10 Trigon Park. Parking available
on Trigon Park & the lots to the left and back of the Church. Handicapped
Entrance in the back of the Church. Takeout & delivery are available. For
Make a Valentine
at the Woodward Memorial Library for chil-
dren in 2nd and 3rd grade, from 3:15 – 4:15 p.m. Registration is
WEDNESDAY, FEBRUARY 12
Village of LeRoy Board Meeting
, 7 pm at theVillage Hall, 3West Main
Woodward Memorial Library Board of Trustees Meeting
THURSDAY, FEBRUARY 13
Genesee Veterans Support Network
(GVSN) supports the develop-
ment of Veterans focused AA meetings every Thursday, 6-7 pm at the
First Baptist Church, 306 E. Main St., Batavia. Meetings led by Mike W.
& are open to non-veterans as well. Handicap accessible. For additional
information call 585-302-0825.
GRACE'S CLOSET: a clothing giveaway
at Le Roy United Methodist
Church, 10 Trigon Park, Le Roy Thursdays 9:30 - 11:30 am. Handicap en-
trance at rear of Church. Enter by west entrance & proceed to basement.
We have clothing for all sizes from infants to adults, shoes,boots,coats,-
jackets,etc. Blankets, comforters, sleepwear. We are accepting all warm
items. Please leave inside on the back porch of the house next to Church.
We do not accept any electrical items, computers, dishes or other house-
hold items. Any questions, call 768-8980.
Town of LeRoy Board Meeting
, 7 pm at the Town Hall Board Room,
All Is Lost - Movie Showing at the Woodward Memorial Library
in Le Roy, at 6:30 p.m. Watch All Is Lost in the Community Room at the
Library on a big screen with surround sound. Free popcorn provided.
Rated PG-13; 114 minutes. Register for this program online at
all the Library at 768-8300.
FRIDAY, FEBRUARY 14
Penuel Christian Fellowship,
One Step to Freedom addictions minis-
try, a Christ Centered Addictions program, a weekly meeting every Friday
at 7 pm. Call the Church for more information at 768-6901 or 406-3863.
UPCOMING EVENTS
LeRoy Fire Department's Oatka Hose Chicken Barbecue
sold out, February 16th at Oatka Hose Company Rooms, 11 North Ave.,
LeRoy. Cost $9.00, to get tickets, call 768-8050 or 768-7424.
The Byron Ladies Auxiliary
Pancake Breakfast &
Chinese Auction
on Sunday, February 16th from 9:00 am – noon at the
Byron Fire Hall on Rt. 262. Drawings will be at noon. For more informa-
tion call Laura Platt 548-2245.
BREAKFAST - American Legion Post 576
, 53W. Main St., LeRoy. Sun-
day, Feb. 16th, 8 am to noon. Eggs, bacon, sausage, home fries, toast,
biscuits & gravy, French toast, pancakes, waffles & syrup, juice & coffee.
The Compassionate Friends
is a nonprofit, self-help support orga-
nization for families who have experienced the death of a child of any
age, from any cause. There are no religious affiliation or membership
requirements. Chapter Leader - Pat Wheeler - 585-861-0525, 25 Liberty
St., Batavia. February 18th, 7:00 pm to 8:15 pm.
Wyoming Hook & Ladder
All You Can Eat Breakfast
ruary 16th, Wyoming Fire Hall, 8 am - 12:30 pm
February Meeting Of The Le Roy-Stafford Senior Citizens
Be Held OnWednesday, February 19 at 6:00 pm, K Of C Meeting Hall On
West Main St. Behind Save-A-Lot. This Will Be A Pot Luck Supper And
You Should Bring Your Own Place Setting And A Generous Dish To Pass.
DessertWill Be Provided. Program ForThis EveningWill Be A Bingo Game
For Those Attending The Meeting.
Community Calendar Submissions should be sent to:
PAVILION — Charles A. ''Charlie''
Dumbleton, 75, of Covington passed
away Friday (Jan. 31, 2014) at his
home. Memorial contributions may be
made in Charlie's name to the Pavilion
Fire Department at PO Box 156 Pavil-
ion 14525 or to the Alzheimer's Asso-
PAVILION/LE ROY — Douglas S.
Poole, 55, died Friday (Jan. 31, 2014).
Memorials may be made to the York
United Presbyterian Church or the Ol-
ive Branch Masonic Lodge 39 F&AM,
12 Bank St., Le Roy, NY 14482.
PAVILION — Frederick R. Hackett,
93, passed away Monday morning
(Feb. 3, 2014) at Unity Hospital in