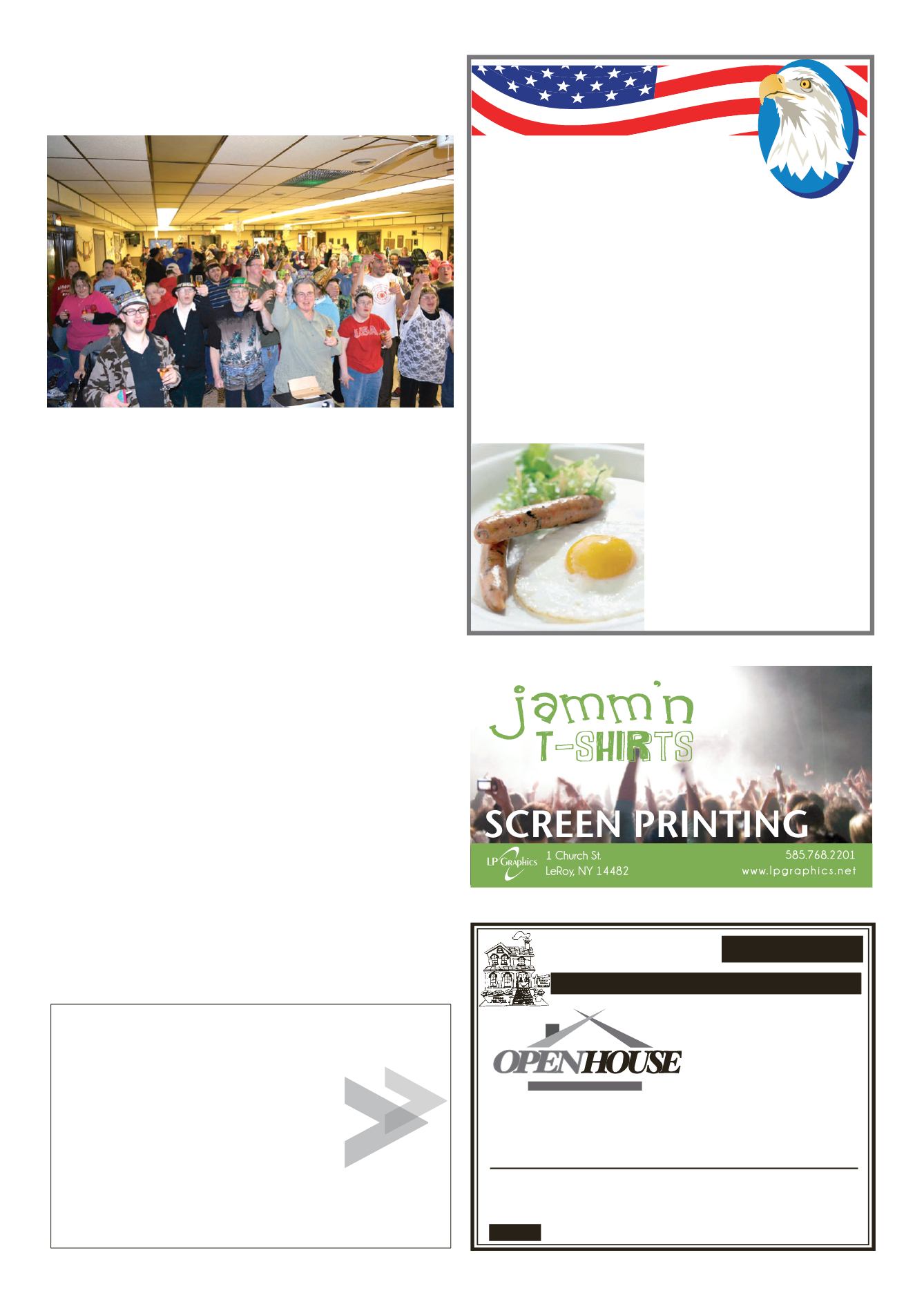 LE ROY PENNYSAVER & NEWS - FEBRUARY 9, 2014
LE ROY: 8411 East Main Rd. -
Mint 3 bedroom Ranch home.
Large country lot, 12 course finished basement, eat-in kitchen,
formal diningroom, hardwood floors, fireplace in livingroom and
Rider Real Estate Not The Biggest - Just The Best!
Move
Medical & orthopedic
Le Roy
Servicemen's Club
Sunday, February 16, 2014
8:00 am – Noon
American Legion Post, 576
53 West Main St., Le Roy, NY
home fries, toast, biscuits &
gravy, French toast, pancakes,
waffles & syrup, juice & coffee.
Also serving a good time
with your local Veterans.
On Thursday, January 16th
at the Byron Fire Hall, 65 plus
attendees brought in 2014 with
style. The Genesee County's
Adults with Developmental
Disabilities New Year's Dance
Attendees entered the Byron
Fire Hall and were given their
choice of holiday hats to wear
throughout the evening. They
entered a hall decorated with
brightly colored banners and
hanging starbursts. As usual, folks
danced to their favorite songs and
enjoyed the usual snacks. Uncle
Joe stepped in as our guest DJ
and he added some favorite music
videos on a big screen for all to
'midnight,' volunteers popped
the corks and handed out crystal
glasses of bubbly and assorted
noisemakers. Moments before
'midnight,' the DJ called
everyone near and readied the
crowd for the traditional New
Year's countdown. With glasses
Dance Brings In The
New Year With Style!
in hand it began, ten-nine…
three-two-one!! Cheers, noise
makers, hugs, kisses continued
for several minutes as Auld Lang
Syne played in the background.
The next dance, a Valentine's
Day Dance will be held on
Thursday, February 13th. The
dates for the dances through
May are as follows: St. Patrick's
Dance is Thursday, March 13, the
April dance is a Pajama Dance on
Thursday, April 17, and the last
day of the season is on Thursday,
May 15, a Hawaiian-themed
dance. All dances are 6:30 pm
to 8:30 pm at the Byron Fire
Hall on Rt. 262 near the Rt. 237
by Byron Ladies Auxiliary,
and are open to all folks with
developmental disabilities ages
13 and up living in Genesee
County, adequate supervision is
required. Anyone wanting more
information may call Pat Iamon
at 245-2918 or Laura Platt at