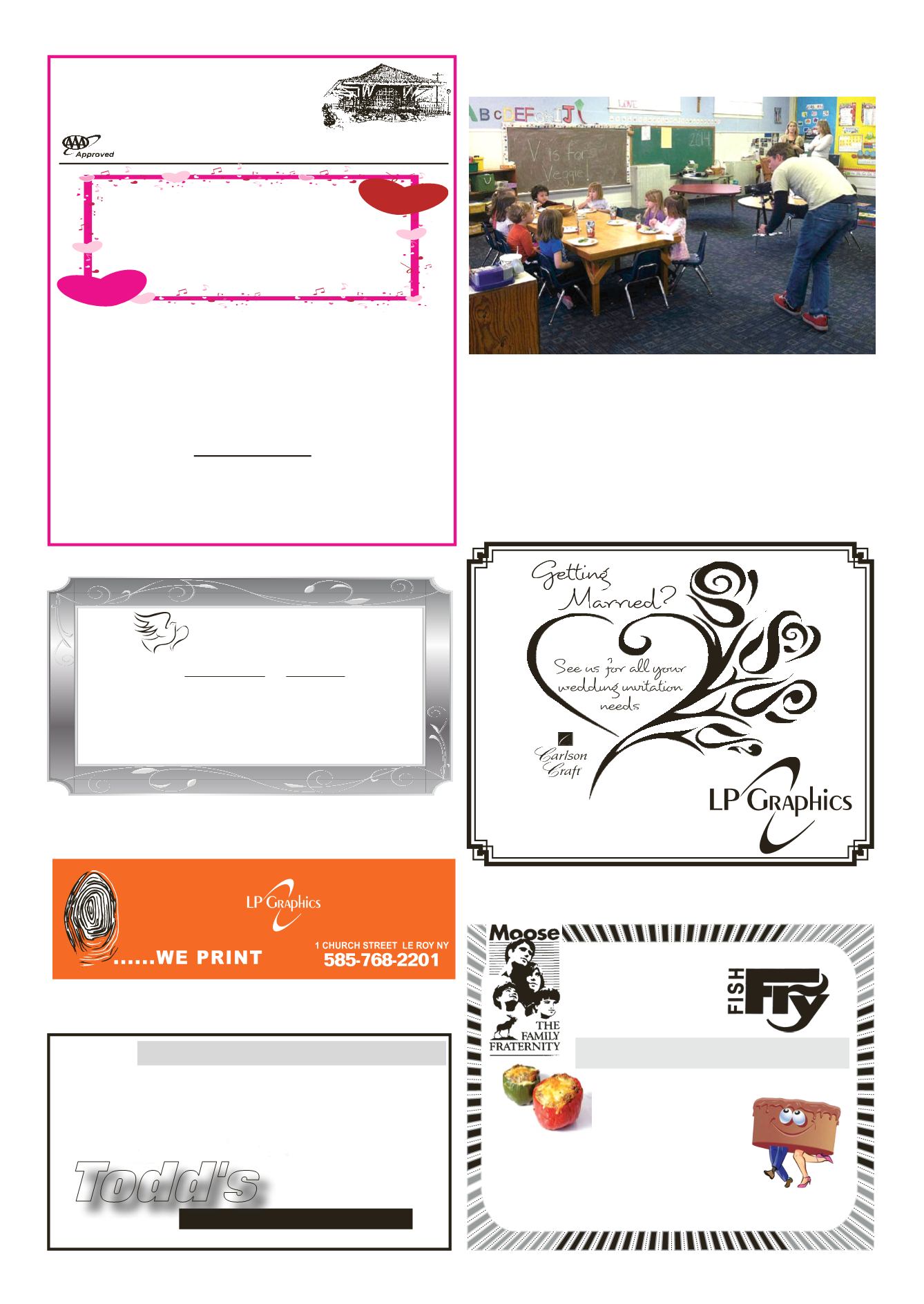 LE ROY PENNYSAVER & NEWS -FEBRUARY 9, 2014
D & R Depot
63 Lake St. (Rt. 19), LeRoy • 768-6270
Let's Meet At The ...
Open For Breakfast, Lunch & Dinner - 7 Days A Week 7 am-9 pm
The Depot's new sister company,
Double L Rental
heaters, bars, linens, dishes & catering supplies for your special occasions!
10% DISCOUNT when you use both the
D & R Catering Services and Double L Rental for your event.
Visit doublelrental.com, or call us at (585) 344-0023
F
ALCONE
F
AMILY
Funeral & Cremation Service, Inc.
Director/Owner
Director / Owner
Funeral Director
New Homes • Additions • Garages • Pole Barns
Todd Carli • Phone 703-0964
Todd's
Decks • Windows • Doors
Kitchens • Baths
Ceramic Tile
Basement Finishing
Custom Shelves/Built-Ins
Siding • Remodeling
Roofing • Snow Plowing
FULLY INSURED
VALENTINE'S DAY WEEKEND
February 14,15,16
Time to make your reservations for this
The Depot will be offering special dinners for 2,
as well as the regular menu
SUNDAY, FEBRUARY 23rd DINNER SPECIAL
Homemade SHEPHERD'S PIE –
topped with real mashed potatoes
- $14.99
(includes soup or salad, beverage & raspberry Trifle for dessert)
5 pm - by reservation only -
Special Appearance – Jerry Curry, Al Mastrolio,
featuring the Kelly Brothers
There is a $5.00 cover charge for the benefit of the musicians
Open To Qualified
Members & Guests
Every Friday
s
Stuffed Pepper
Dinner
5 pm to 7 pm
Cake Walk - 8:00 pm
(Cake Donations Needed)
Men's Fashion Show
To Follow Cake Walk
Entertainment To Be Announced
February 15th
The Pre-K class at Love Bugs Preschool have learned about the
importance of eating vegetables. Eve Hens from the Genesee
County Business Education Alliance visited our classroom
and shared her knowledge about all the yummy veggies grown
right here in our community. The children enjoyed a snack of
vegetables while being videoed for a short film which will be on
the Genesee County BEA website and on YouTube!
V Is For Veggie
lpgraphics.net