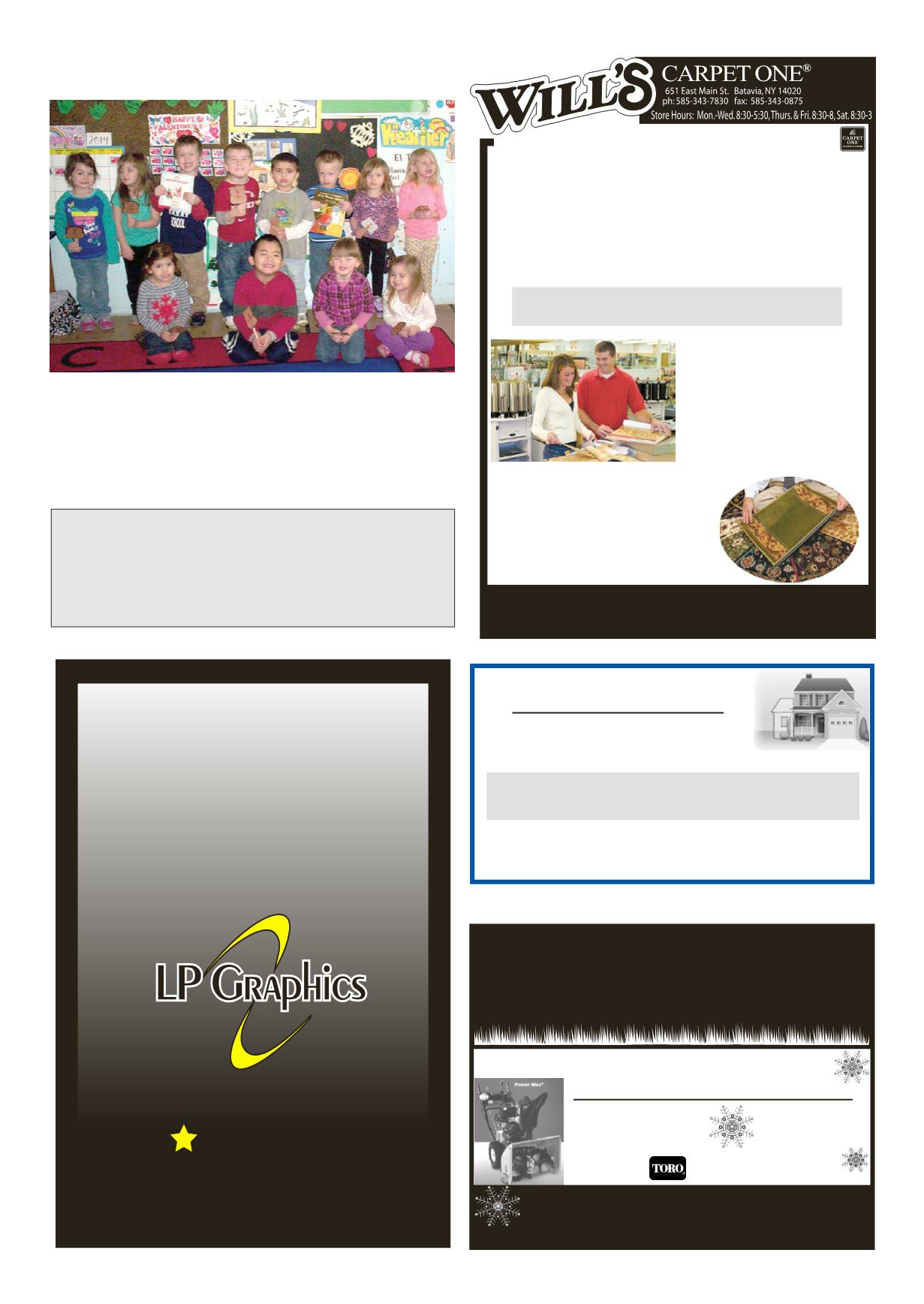 LE ROY PENNYSAVER & NEWS - FEBRUARY 9, 2014
We've got way too many
CARPET SAMPLES!
We're Giving Them Away
For FREE! (limit 6) Great For
Dog Beds, Boots or Car Mats.
"Complete Carpentry Service"
Custom Homes • Remodeling • Additions
LeRoy Nursery Schools 2 Day Class is doing a unit on puppets.
So to tie it in with February 2nd, Ground Hog Day they made a
groundhog stick puppet. They are now able to check the weather
with their stick puppets and see if it's a cloudy day or a sunny
one. They learned that the Ground Hog saw it's shadow and we
have 6 more weeks of winter.
Ground Hog Day
REMNANTS! REMNANTS!
REMNANTS!
We have a large selection of
Remnants in a variety of sizes.
Purchase a Remnant and get
"Service Is Our Specialty"
1818 Linwood Rd., Linwood, NY
HOURS: Mon.-Fri. 8 am-5:00 pm, Sat. 8 am-12:00 noon
LINWOOD
0
%
Financing
Available!
Parts • Sales • Service -
We Service ALL Brands!
End Of Season Clearance
On ALL Remaining Snowblowers!
SUPPORT YOUR LOCAL ADVERTISERS!
They help sponsor the local news section of the Le Roy Pennysaver.
THANKS FOR YOUR SUPPORT!
1 CHURCH ST, • LE ROY, NY • lpgraphics.net
WE HANDLE ALL ASPECTS OF PRINTING...
PROGRAMS
LETTERHEADS
BILL HEADS
FLYERS
BROCHURES
POSTERS
CARBONLESS FORMS
ENVELOPES
RAFFLE TICKETS
NEWSLETTERS
RESUMES
TYPESETTING
RUBBER STAMPS
ENGRAVED SIGNS
NAME TAGS
COPIES
LAMINATION
COMMUNITY FAX
NEWS AND PICTURES
ADVERTISING
BUSINESS CARDS
HOURS: Monday thru Friday 8:00 to 5:00