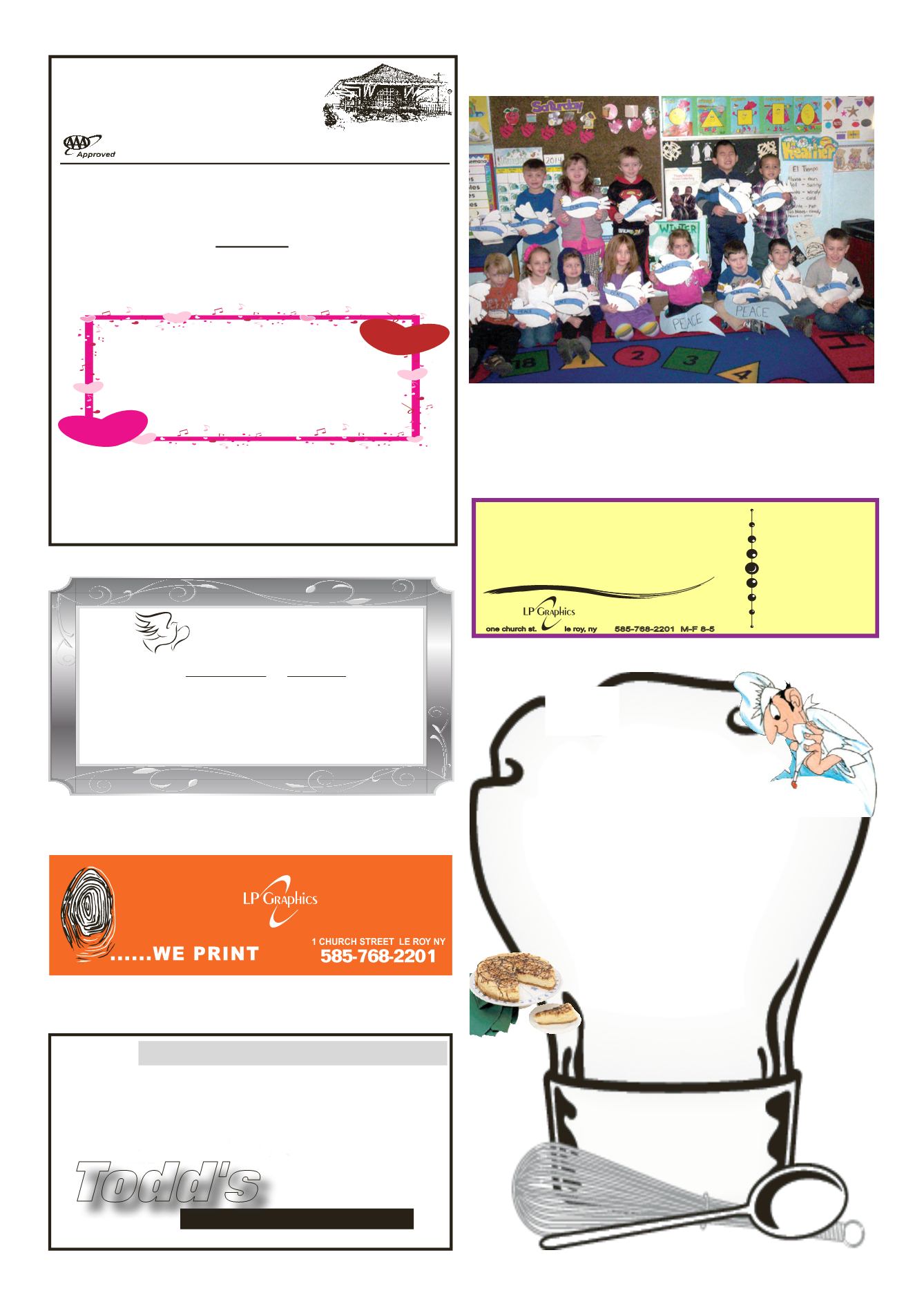 LE ROY PENNYSAVER & NEWS -FEBRUARY 2, 2014
D & R Depot
63 Lake St. (Rt. 19), LeRoy • 768-6270
Let's Meet At The ...
Open For Breakfast, Lunch & Dinner - 7 Days A Week 7 am-9 pm
The Depot's new sister company,
Double L Rental
heaters, bars, linens, dishes & catering supplies for your special occasions!
10% DISCOUNT when you use both the
D & R Catering Services and Double L Rental for your event.
Visit doublelrental.com, or call us at (585) 344-0023
F
ALCONE
F
AMILY
Funeral & Cremation Service, Inc.
Director/Owner
Director / Owner
Funeral Director
SUNDAY, FEBRUARY 2nd DINNER SPECIAL
Old Fashioned GROUND HOG DAY Dinner - $14.99
(actually we'll be offering pot roast)
(includes soup or salad, beverage and dessert)
SUNDAY, FEBRUARY 9th DINNER SPECIAL
ROAST PORK Dinner - $14.99
(includes soup or salad, real mashed potatoes, beverage, apple pie)
New Homes • Additions • Garages • Pole Barns
Todd Carli • Phone 703-0964
Todd's
Decks • Windows • Doors
Kitchens • Baths
Ceramic Tile
Basement Finishing
Custom Shelves/Built-Ins
Siding • Remodeling
Roofing • Snow Plowing
FULLY INSURED
VALENTINE'S DAY WEEKEND
February 14,15,16
Time to make your reservations for this
The Depot will be offering special dinners for 2,
as well as the regular menu
Call 768-8300
for information
Woodward Memorial Library
Friday, Feb. 7th
- 7:00 - 8:30 p.m.
Sample desserts from restaurants,
bakeries and caterers!
Listen to music from the
Genesee Symphony Flute Quartet!
These are just a few of the delicious treats to
sample: Crème Puffs, Chocolate & Peanut Butter
Pies, Chocolate & Vanilla Cakes,
Chocolate Candies, Cupcakes,
Tickets available
at the Library!
$5.00 each - Presale Only!
LeRoy Nursery School enjoyed a day off from school in
celebration of Dr. Martin Luther King, Jrs. January 15th
birthday. They learned songs about freedom and peace. They
made a dove as a sign of peace as a symbol of this special man.
Pictured here is the 3 Day Class.
Celebrating A Birthday
one church st. le roy, ny
one church st. le roy, ny
lpgraphics.net
Dessert
In The Stacks