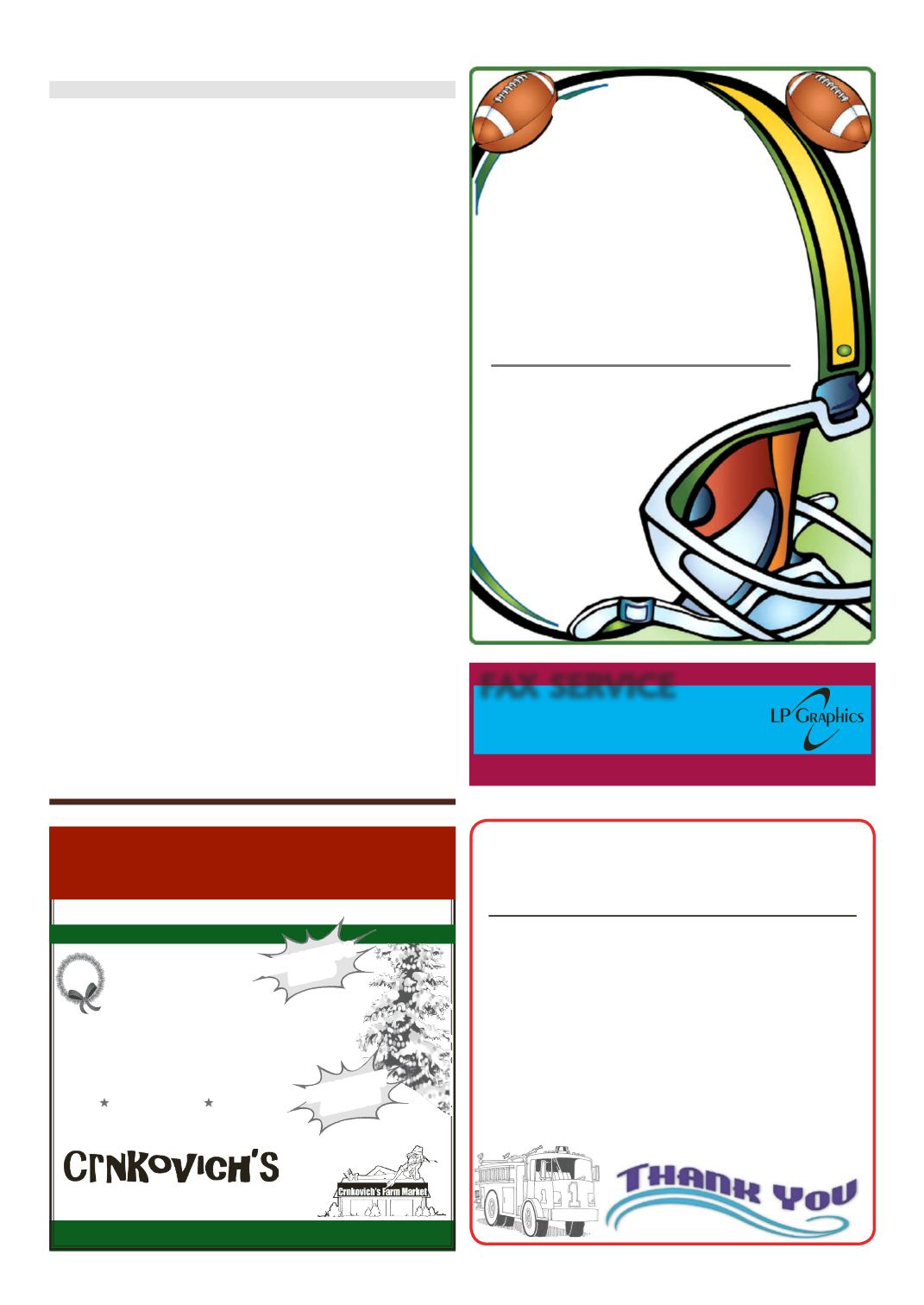 LE ROY PENNYSAVER & NEWS - DECEMBER 4, 2016
LeRoy Plastics
Cameron Funeral Home
Orcon Industries
McQuillen's
LeRoy Federal Credit
Union
Tompkins Bank of Castile
Stella Collision
John Rider Real Estate
Falcone Family Funeral
Home
CH Wright
Red Osier
Smokin Eagle
The Ridge
Super Cuts
Pully's Farm Market
Loyal Order of the Moose
D&R Depot
LP Graphics
Tom McGinnis Excavating
7S Cycle
Members of the LeRoy
Fire Department
by Kim Cox
Superintendent of
Schools
It seems impossible that we are
already talking about developing
the 2017-18 school year budget.
As we begin this process, we
always look for ways to gather
input for our community. This
year we will offer a couple of
options for input. One way is
to complete the online survey
posted on our website, at
www.
leroycsd.org a
nd click on the
District Tab
and scroll down to
the
Budget Information
link.
At this link, you will also see
a PowerPoint entitled
"Setting
the Stage-2017-18 Budget
Development"
that outlines
the board and administration's
budget development goals.
These include creating a budget
that:
• Supports student
achievement
• Maintains and expands
current programs &
offerings
• Meets the goals identified
by the Board of Education
& Superintendent
• Allows for equitable pupil
allocations
• Creates long-range fiscal
stability
• Maintains tax rate
consistency
• Stays within the tax levy
limit (Tax Cap)
If you are not able to access
the online survey, paper copies
will be available at many of the
upcoming concerts and events,
or you can complete one in any
of the school offices through
December 23rd. In addition, my
d
oor is always open for those
who wish to speak in person.
While we can all agree that
a high quality education is
the best tool to bring positive
change in society and to de-
velop the next generation of
responsible and productive cit-
izens, we must do so in a fis-
cally responsible fashion. Each
year the Board of Education
and the administration careful-
ly and dutifully engage in this
process in a thoughtful way.
It is, however, a daunting task
especially with the complexity
that comes with some of these
parameters. It is our goal to
effectively balance all parts
of this process as we proceed
through creating the budget for
our 2017-18 school year.
We welcome your input to the
budget process. Thank you again
for your ongoing support!
The members of the
LEROY FIRE DEPARTMENT AUXILIARY
would like to thank the following for their
donations and support
of our Annual Turkey Raffle
Superintendent ' Column
s
FRESH CUT CHRISTMAS TREES
Open Daily 9 am–9 pm
Cemetery Wreaths
& Stands
Grave Blankets
Window & Door Swags
Kissing Balls
Specialty Shapes & Sizes
Stars Candy Canes Crosses
Unique Christmas Decorations
8041 E. Main Rd. (Rt. 5) 1 Mile East of Le Roy
LITTLE CHRISTMAS SHOP
Fresh Cut/ Handcrafted
Wreaths
Please call ahead
for large orders and
specialty items
FREE DRILLING &
BAILING
PHONE:
768-7259
768-7813
FREE DELIVERY
AVAILABLE
FAX SERVICE
1 Church St. | LeRoy, NY 14482 | 768-2201
Fax 585-768-6334
Thank
YOU!
coaches
players and
cheeleaders
on another successful season
LeRoy Youth Football
2017 Board Elections
December 7 at 7:30 pm
Masonic Temple
Bank Street
If anyone has any
questions feel free
to contact Chris Kemp
1-716-510-5059
or Amanda Gallo
585-813-7711