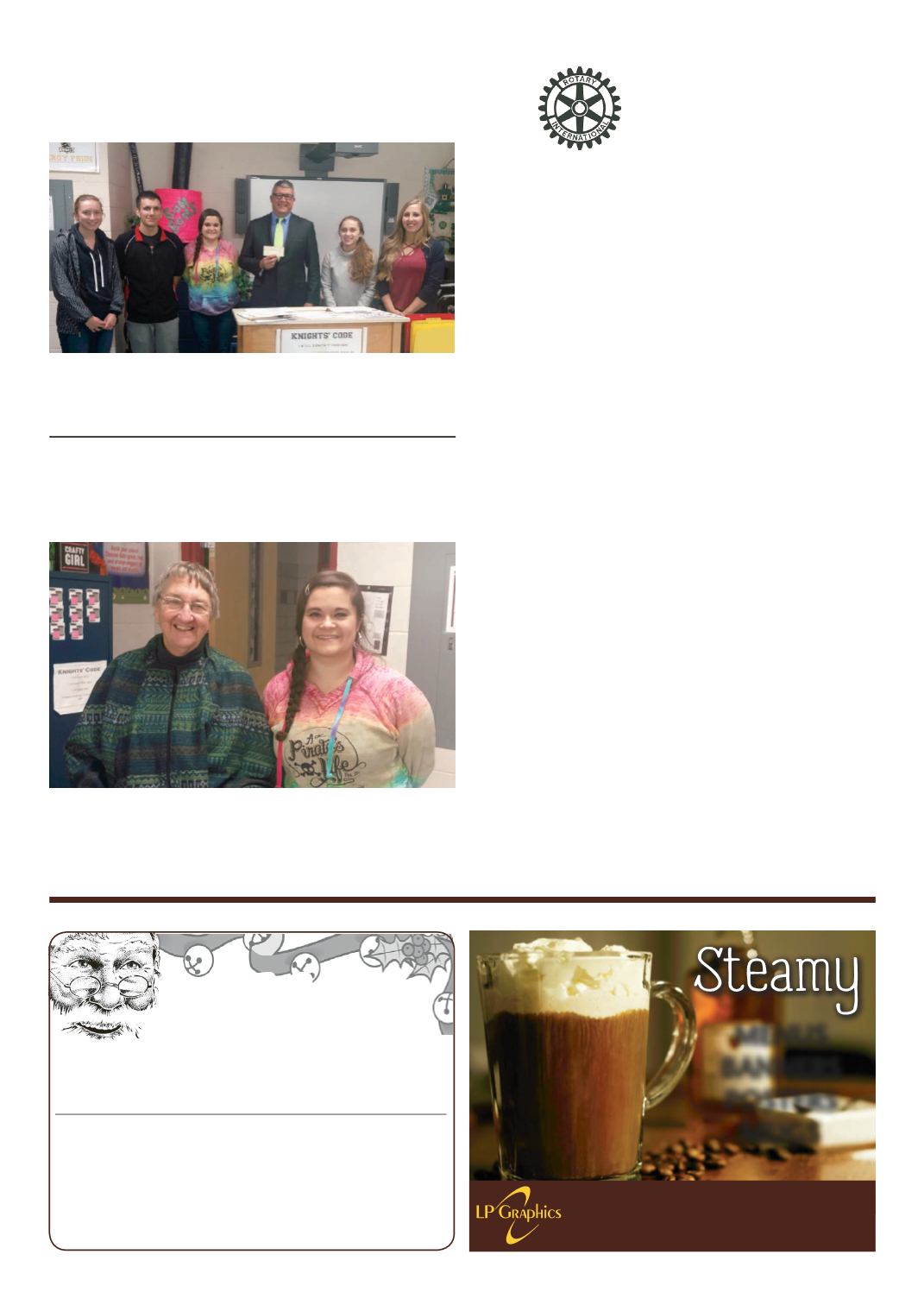 LE ROY PENNYSAVER & NEWS - DECEMBER 4, 2016
This chilly Thanksgiving
Eve we have a light group
and no guests, but plenty of
announcements:
First Night Raffle tickets
are available from any LBC
member. The Eastern Cities
dinner is Tuesday, December
6th. The club Christmas par-
ty will be December 13th at
President David's house. The
Area 14 Christmas party will
be January 7th at Terry Hills.
The lasagna dinner was de-
licious. . Thanks to all that
helped out. The LeRoy His-
torical Society candle light
tour is December 3rd and
4th.
Upcoming Programs:
11/30- Christine Gephart,
12/7 Sully, 12/14 Cookie
auction, 12/21 Santa visits
Rotary, 12/28 Casper Farms.
Please let President David
know what your programs
are so the Polio Plus certif-
icates can be made in ad-
vance.
Missed
Meetings:
Lynne, Ben, Lauren and
Bruce. Busy people.
Fines: Bruce and Randy
walked in late. Lynne was
fined for President David in-
tercepting a bad photo that
LeRotary
Notes
was going to be in the Pen-
ny saver. Bob Carlsen for his
Daily News picture online
for the Veterans Ceremony.
Ben's sister will be home
for Thanksgiving, and then
they are all going shopping
after dinner. Tracy and Ran-
dy were given a nice photo
from the United Way Day
of Caring… there is a ques-
tion about who is wearing
pants? Lauren is settling into
her new Chamber office on
Park Rd…sort of…not quite
finished yet. She was also ac-
cepted into Leadership Gen-
esee. Sully is a world cham-
pion lasagna cutter and also
announced that he and Grace
are going to the Big Tree Inn
for Thanksgiving alone. Phil
was fined for false reporting
of a homicide location in
Livingston County. And he
admitted he's a little scared.
Bruce received the GCA-
SA Lifetime Achievement
Award. Congratulations!
But he still paid.
The 50/50 winner was
Jake.
We meet every Wednes-
day at the Greens of LeRoy.
Like us on Face book or visit
www.leroyrotary.org.
Machpeleah Cemetery
Association accepts check
Strengthen the Arm of
Liberty Project
Mark Boylan, President of Machpeleah Cemetery
Assocaition, accepts a check for $300.00 from LeRoy
Interact. The money will be used towards upkeep of the
historical cemetery.
Lynne Belluscio from the Historical Society accepts
a check from Michaela Mesiti, President of LeRoy
Interact, for the Strengthen the Arm of Liberty Project.
The money was raised at last month's Cemetery Walk in
Machpelah Cemetery.
MENUS
BANNERS
POSTERS
MUGS
1 Church St. | LeRoy, NY 14482
768-2201 |
www.lpgraphics.net
Breakfast
with
SANTA
Dec. 10, 2016
9:00 - 10:30 AM
First Baptist Church 5 East Main St., LeRoy
Come and enjoy a FREE breakfast with your family and
visit with Santa. A small gift will be given to each child in
attendance. The breakfast menu will include scrambled eggs,
pancakes, donuts, coffee, tea, juice, and milk. Reservations
may be made by calling 768-8958. Please leave your name and
the number of adults and the number of children attending.
SPONSORED BY F IRST BAPT I ST CHURCH