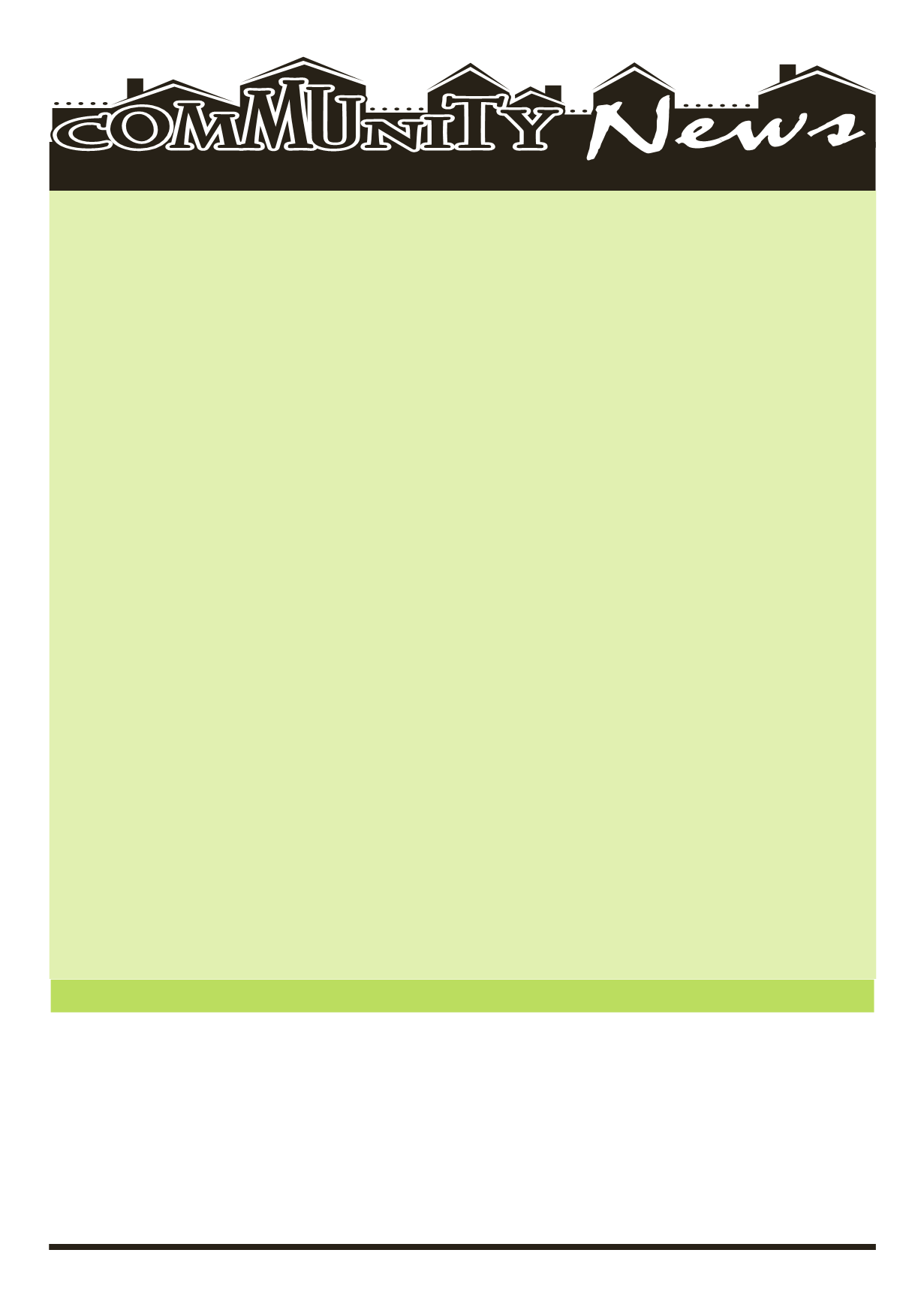 LE ROY PENNYSAVER & NEWS - OCTOBER 16, 2016
All Genesee County residents, 60 and older, can take part in this week's activities at the Batavia Senior Center, 2 Bank St., Batavia. For more information, call 343-1611
SENIOR CITIZENS ACTIVITIES (October 17 - October 21)
Monday:
Arthritis Exercise
is scheduled to begin at 9:30 a.m.;
Bridge
is scheduled to begin 11:30 a.m.;
Tai Chi
is scheduled to begin
at 1:30 p.m.
Tuesday:
Newsletter Assembly is scheduled to begin at 8:45 a.m.; Cribbage is scheduled to begin at 1:00 p.m.
Wednesday:
Quilter's Group
is scheduled to begin at 9:00 a.m.;
Euchre
is scheduled to begin at 1:00 p.m.
Thursday:
Tai Chi
is scheduled to begin at 9:30 a.m.;
Gentle Fitness
is scheduled to begin at 10:30 a.m.;
Cribbage
is scheduled to begin
at 1:00 p.m.;
Bridge
is scheduled to begin at 1:00 p.m.
Friday:
Art Class
is scheduled to begin at 10:00 a.m.;
Line Dancing
is scheduled to begin at 10:00 a.m.;
Euchre
is scheduled to begin
at 1:00 p.m.
SUNDAY, OCTOBER 16
Annual Turkey Dinner, Byron Presbyterian Church, West Main St.,
Sunday Oct. 16, 11:30 AM to 2 PM. Adults $10; children $5; under
5 free. Takeouts available; handicap accessible.
MONDAY, OCTOBER 17
TOPS (Take Off Pounds Sensibly) meets Monday evenings at the Le-
Roy Presbyterian Church, corner of Clay & Main Streets. Doors open
at 6:00 PM and meeting is from 6:30-7:15PM. Visitors are always
welcome. Call 585-768-7103 for more information.
ToddlerTimeforTwosandThreesattheWoodwardMemorialLibrary,
everyMondaythroughNovember14from10:30-10:50AM.Toddler
Time is a storytime for children who are 2 and 3 years old and a
caring adult. Rhymes, stories, music, flannel boards, coloring, and
bubbles! Call 768-8300 or register on-line at www.woodwardme-
moriallibrary.org
.
TUESDAY, OCTOBER 18
PreschoolStorytime :EveryTuesdayat11am featuringstories,craft
and songs at Pavilion Public Library, 5 Woodrow Dr., Pavilion. For
info call: 584-8843.
PreschoolStorytimeForchildrenages3,4,5and6attheWoodward
Memorial Library. Every Tuesday through November 15 from 6:30-
7:00 PM. Stories, music, flannel board stories, fingerplays, nursery
rhymes, coloring, sign language, games and bubbles! Children
must be 3 by the starting date. Call 768-8300 or register on-line at
www.woodwardmemoriallibrary.org
.
GRACE'SCLOSET:AclothinggiveawayprogramsponsoredbyLeRoy
United Methodist Church, 10 Trigon Park, LeRoy, 9:30 to 11:30AM
every Thursday. We have clothing for all ages. We are in need of
boy'sclothingsizes0-3T.Donationscanbedroppedoffatthehouse
nexttothechurch.Pleaseputallbags
INSIDEonthebackporch.NO
ELECTRONICS, COMPUTERS,DISHES, etc. OpenTuesdays 5-6:30 pm.
Any questions call the office at: 768-8980.
Town of LeRoy Planning Board Meeting (as necessary) 7:30 at the
TownHall,48MainSt.LeRoy.Forfurther infocall:768-6910Ext.223.
WEDNESDAY, OCTOBER 19
Spaghetti Dinner at Stone Church Presbyterian Church, 7549 Lake
Rd. S. Bergen, NY 14416 , Oct. 19th. @ 4:30pm. through 6:30pm.
Village of LeRoy Board Meeting, 7PM at the Village Hall, 3 West
Main Street, LeRoy.
WEDNESDAY, OCTOBER 19 (con't.)
The Genesee Valley Civil War Roundtable presents Kevin Pawlak
on"Shepardstown - In The Civil War", Wednesday, October 19th at
7:00 pm at LeRoy United Methodist Church, 3rd door on right end
of long sidewalk. 10Trigon Park, LeRoy. Discussion period will fol-
low program. New members are welcome! Kevin will be speaking
on one vast confederate hospital. Doors open at 6:30pm.
The Senior Citizens of Le Roy and Stafford meet the third Wednes-
day of the month from March through December for dinner and a
plannedprogram. Wemeet intheKnightsofColumbusHallbehind
Save-A-Lot on West Main Street. Each person attending brings a
generous dish to pass or pays $4.00 each for a nice buffet meal and
social. Bring your own place setting and beverage. Coffee, tea and
dessert are provided. Dinner is served at 6:00 pm followed by a
program. Please join us for an enjoyable evening. Any questions,
please contact Judy Ridley, Director @ 768-2001, or Sharon Frost
at: 768-6846.
THURSDAY, OCTOBER 20
TheAmericanRedCrosswillbeconductingtheKatyStoneMemorial
Blood Drive on Thursday at the American Legion on W. Main St.,
LeRoy. The hours of donation are 2 until 7pm. You may register at
theAmericanRedCrossSiteorWalk-inwhen it'sconvenientforyou.
Any questions, please contact Sharon Frost at 768-6846.
2016 Anti-Rabies Immunization Clinic - 4:00 to 7:00 PM on October
20, at the LeRoy Village Highway Garage, 58 North Street, LeRoy.
Each dog, cat and ferret vaccinations are free. Voluntary donations
areaccepted.Newavailable,savetimebyfillingoutyourregistration
form beforehand at:
www.co.genesee.ny.us/departments/health/
index.html. Bring two copies for each pet! Genesee County Health
Department, Division of Environmental Health.
FRIDAY, OCTOBER 21
Penuel Christian Fellowship, One Step to Freedom addictions
ministry, a Christ Centered Addictions program, a weekly meeting
every Friday at 7 pm. Call the Church for more information at:
768-6901 or 594-9575.
Penuel Christian Fellowship is organizing a young adult fellowship
and Bible study. Ages: 12 and up,Time: Fridays from7-9 pm, Study:
the book of Romans (a 16 week course), taught by Josiah Gariboldi.
Place: 7115West Main Street.
FallCraftsattheWoodwardMemorialLibrary forchildren inkinder-
garten through grade 2 , from 3:15 to 4:15 p.m. Use paper, candy,
and your imaginations to create fall-themed crafts like owls and
turkeys! Registration is required! Call 768-8300 or register on-line
at
www.woodwardmemoriallibrary.org
.
SATURDAY, OCTOBER 21
Free Food outreach brought to you by Foodlink in the Mill Street
parking lot. Every 3rd Saturday of the month. 11-1pm. Call Penuel
Christian Fellowship at: 585-768-6901 with any questions.
Fall Fest at the Pavilion Library: Book Sale, Fri., Oct. 21, 1 to 5 p.m.
Sat., Oct. 22, Book Sale & Bake Sale, 10 a.m. to 12:30 p.m. Sat.
Book Sale - $1/bag; Bag Sale for books continuing the following
week - 24th to 28th. Woodrow Dr., Pavilion. Info call: 584-8843.
SUNDAY, OCTOBER 22
DriveThru Pulled Pork Dinner at North Bergen Presbyterian Church
7068 North Bergen Rd., Bergen on Saturday,
October 22
.
The
menu includes: Pulled Pork Sandwich, Baked Beans, Salt Potatoes,
Cabbage Salad, and Dessert. Serving from 4:30 pm - 6:30 pm. Take
outs only. Call (585) 494-1815 for more info.
UPCOMING EVENTS
Foodlink Free Mobile Food Pantry: Morganville United Church of
Christ is partnering with Foodlink of Rochester to host a free mobile
food pantry, Tuesday,
October 25
, 3:30-5:30 pm at Morganville
United Church of Christ, 8466 Morganville Road (off Rt 237, 1 mile
north of Stafford). The exact food items and quantity available are
not known, but fresh produce will be available. Must be 18 years
of age, no income requirement or ID required. Must provide own
bags/vehicle to transport items to your home. Food provided on a
first come, first serve basis while supplies last.
TheAnnualFallHarvestAuctionoftheStaffordHistoricalSocietywill
be held onWednesday,
October 26
at 7:00 P.M. in the Court Room
of the Stafford Town Hall. The hall is located at 8903 Route 237.
Stone Church Rural Cemetery Association annual business meeting
willbeheldat7pm,Tuesday,
November8
attheStoneChurchPres-
byterianChurch,Route19,Bergen.Themeeting isopentothepublic.
Community Calendar Submissions should be sent to:
c a l enda r@l e r oyny. c om
WEEKLY EVENTS