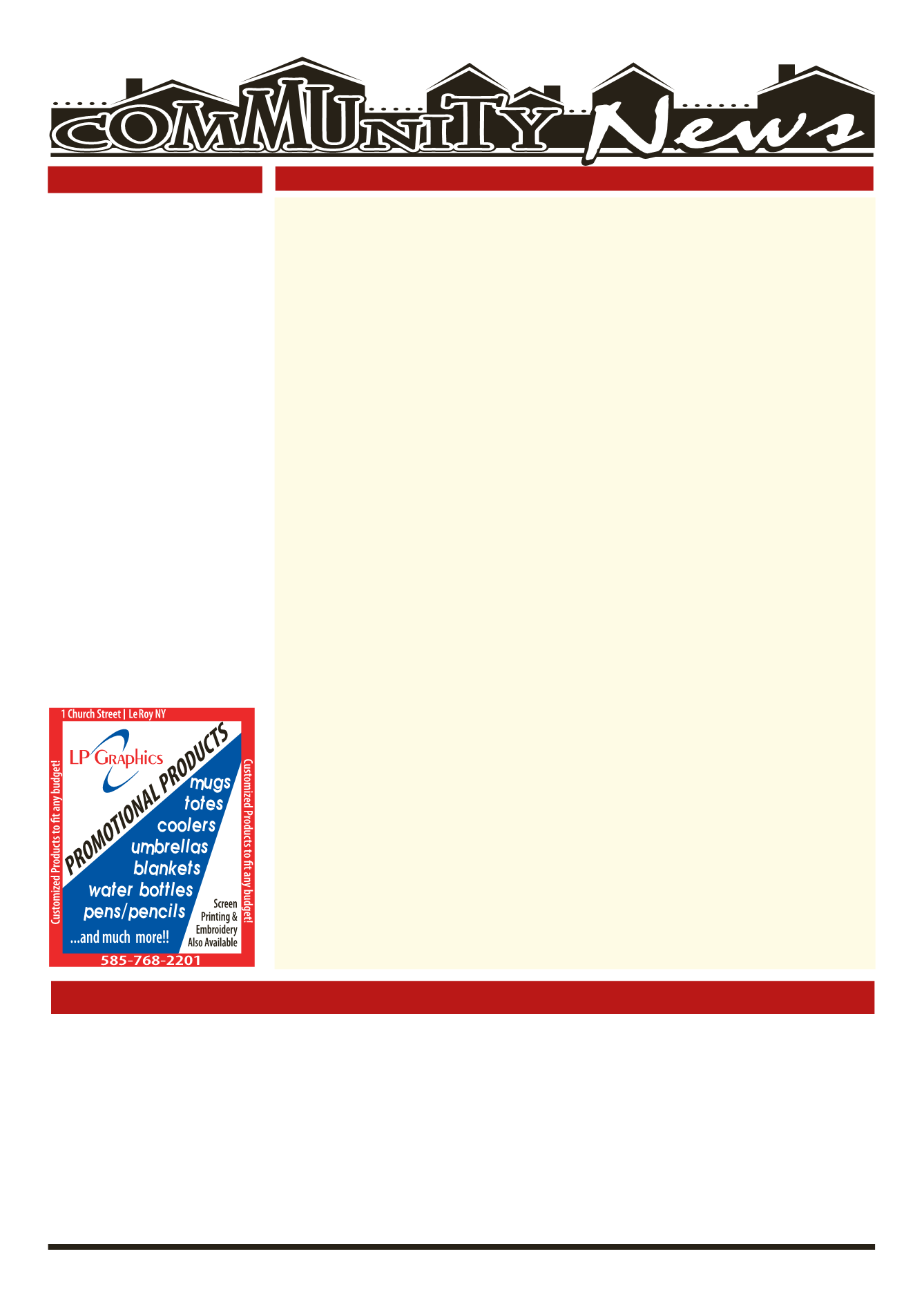 LE ROY PENNYSAVER & NEWS - OCTOBER 2, 2016
lpgraphics.net
All Genesee County residents, 60 and older, can take part in this week's activities at the Batavia Senior Center, 2 Bank St., Batavia. For more information, call 343-1611.
SENIOR CITIZENS ACTIVITIES (October 3rd - October 7th)
WEEKLY EVENTS
OBITUARIES
Monday:
Arthritis Exercise
is scheduled to begin at 9:30 a.m.;
Bridge
is scheduled to begin at 11:30 a.m;
Tai Chi
is scheduled to begin at
1:30 p.m.
Tuesday:
Defensive Driving Class
is scheduled to begin at 9:00 a.m.;
Cribbage
is scheduled to begin at 1:00 p.m.
Wednesday:
Alzheimer's Association Meeting
is scheduled to begin at 9:00 a.m.;
Quilter's Group
is scheduled to begin at 9:00 a.m.;
Marshall
Fund Planning Teammeeting
is scheduled to begin at 10:00 a.m.;
Euchre
is scheduled to begin at 1:00 p.m.
Thursday:
Tai Chi
is scheduled to begin at 9:30 a.m.;
Gentle Fitness
is scheduled to begin at 10:30 a.m.;
Cribbage
is scheduled to begin at
1:00 p.m.;
Bridge
is scheduled to begin at 1:00 p.m.
Friday:
Art Class
is scheduled to begin at 10:00 a.m.;
Line Dancing
is scheduled to begin at 10:00 a.m.;
Euchre
is scheduled to begin at
1:00 p.m.
SUNDAY, OCTOBER 2
MONDAY, OCTOBER 3
TOPS(TakeOffPoundsSensibly)
meetsMondayeveningsattheLeRoyPresby-
terian Church, corner of Clay & Main Streets. Doors open at 6:00 PM and meeting
is from 6:30-7:15PM. Visitors are always welcome. Call 585-768-7103 for more
information.
Toddler Time for Twos and Threes
at theWoodward Memorial Library.
Program runs each Monday, October 3 through November 14 from 10:30
- 10:50AM. Toddler Time is a storytime for children who are 2 and 3 years
old and a caring adult. Rhymes, stories, music, flannel boards, coloring,
and bubbles! Call 768-8300 or register online at www.woodwardme-
moriallibrary.org
.
Village of LeRoy Board Meeting
- Work session at 7 PM, Village Hall,
3West Main St.
TUESDAY, OCTOBER 4
Preschool Storytime :
EveryTuesday at 11 am featuring stories, craft and
songs at Pavilion Public Library, 5 Woodrow Dr., Pavilion. For info: 584-8843.
GRACE'S CLOSET:
A clothing giveaway program sponsored by Le Roy United
Methodist Church, 10Trigon Park, Le Roy, 9:30 to 11:30AM
everyThursday.We
haveclothing forallages.Weare inneedofboy'sclothingsizes0-3T.Donations
can be dropped off at the house next to the church. Please put all bags INSIDE
on the back porch. NO ELECTRONICS, COMPUTERS,DISHES, etc. Open Tuesdays
5-6:30 pm. Any questions call the office 768-8980.
Open House! Democrat Committee Moves to LeRoy!
An official open house
will be heldTuesday the 4th at7 pm. The Genesee County Democratic Committee
has opened their new headquarters in the Village of LeRoy. Located at 43 Main
Street, they will be opening their doors on October 1st during the Fall for Leroy
event.They invite the public to join them to learn about local candidates,register
tovoteandenjoy lightrefreshments.Theofficewillbeoperatedentirelybyvolun-
teers and will operate phone banking and canvassing events. Literature and yard
signs for various campaigns will be available as well. They welcome anyone who
is interested in helping or learning about their local government to contact them
through their website at
GeneseeDemocrats.net
WEDNESDAY, OCTOBER 5
THURSDAY, OCTOBER 6
FRIDAY, OCTOBER 7
PenuelChristianFellowship,
OneSteptoFreedomaddictionsministry,aChrist
Centered Addictions program, a weekly meeting every Friday at 7 pm. Call the
Church for more information at 768-6901 or 594-9575.
Penuel Christian Fellowship
is organizing a young adult fellowship and Bible
study. Ages: 12 and up, Time: Fridays from 7-9 pm, Study: the book of Romans
(a 16 week course), taught by Josiah Gariboldi. Place: 7115West Main Street.
SATURDAY, OCTOBER 8
TheCovingtonUnitedMethodistChurch
ishavingtheirannualHamDinner
with Bazaar and Bake-sale on Saturday, October 8th from 4 - 7PM.The menu
will includeham,rolls,potatoes,squash,beans,applesauce,andseveralkinds
ofhome-madepies. Thechurch is locatedonSimmonsRoad,betweenPavilion
and Perry, inWyoming County.
Veterans Only Social Club -
Genesee Veterans Support Network announces
a newmeeting location at Scooter's Family Restaurant, 3711West Main Street
Road, Batavia, NY - for the once a month Veterans Only Social Club. Meetings
are held the second Saturday of each month from 7:00 to 8:30 PM.Veterans of
all eras are invited to attend. GVSN is located at 3837 West Main Street Road,
Batavia, NY. For more information, contact GVSN, PO Box 541, Batavia, NY
14021-0541
Director@gvsn.net
www.GVSN.net
585-302-0825
Wyoming Hook & Ladder's Annual Harvest Dinner
at 26 Maple Street,
Wyoming 5pm – 7:30pm. Menu includes: Turkey, mashed potatoes, gravy,
cranberry sauce, squash, dressing, peas & carrots (mixed)pickled beets, cole-
slaw, pickles, olives, roll & butter, apple crisp, coffee, tea, milk.
UPCOMING EVENTS
Preschool Storytime
begins on Tuesday, October 4 for children ages 3,
4, 5 and 6 at theWoodwardMemorial Library. Program runs eachTuesday
through November 15 from 6:30-7:00 PM. Stories, music, flannel board
stories, fingerplays, nursery rhymes, coloring, sign language, games and
bubbles!Childrenmustbe3bythestartingdate.Call768-8300orregister
online at
www.woodwardmemoriallibrary.org
.
2016 Anti-Rabies Immunization Clinic
- October 20th from 4:00 to 7:00 pm
at the LeRoy Village Highway Garage, 58 North Street, LeRoy NY. Each dog, Cat
andferretvaccinationsarefree.Voluntarydonationsareaccepted.Newavailable,
save time by filling out your registration form beforehand at: www.co.genesee.
ny.us/departments/health/index.html.
Bring to copies for ech pet! Genesee
County Health Department, Division of Environmental Health.
The Genesee Valley Civil War Roundtable
presents Kevin Pawlak on "Shep-
ardstown - In The Civil War", Wednesday, September 19th at 7:00 pm. The meeting
will take place at LeRoy United Methodist Church, 3rd door on right end of long
sidewalk, 10 Trigon Park, LeRoy, NY. Discussion period will follow program. New
members are welcome. Kevin will be speaking on one vast confederate hospital.
Doors will open at 6:30pm.
Community Calendar Submissions should be sent to:
calendar@leroyny.com
LEROY ~ John W. Purcell, age
66, of South Street Road, passed
away on Thursday, September 22,
2016. Family and friends may call
on Friday, September 30, from
3 - 7 P.M. at the Falcone Family
Funeral & Cremation Service Inc.,
8700 Lake Road (Rt. 19). Services
will be private. In lieu of flowers,
memorials are suggested to the
Michael J. Fox Foundation for Par-
kinson's Research, P.O. Box 5014,
Hagerstown, MD 21741-5014.
BERGEN ~ George W. Taylor, Jr.,
74, of Bergen, passed away on
Thursday (September 22, 2016) at
the New York State Veteran's Home
in Batavia. Services will be at 7:00
p.m. on Tuesday at the conclusion
of calling hours also at the funeral
home. Memorials may be made to
a charity of the donor's choice.