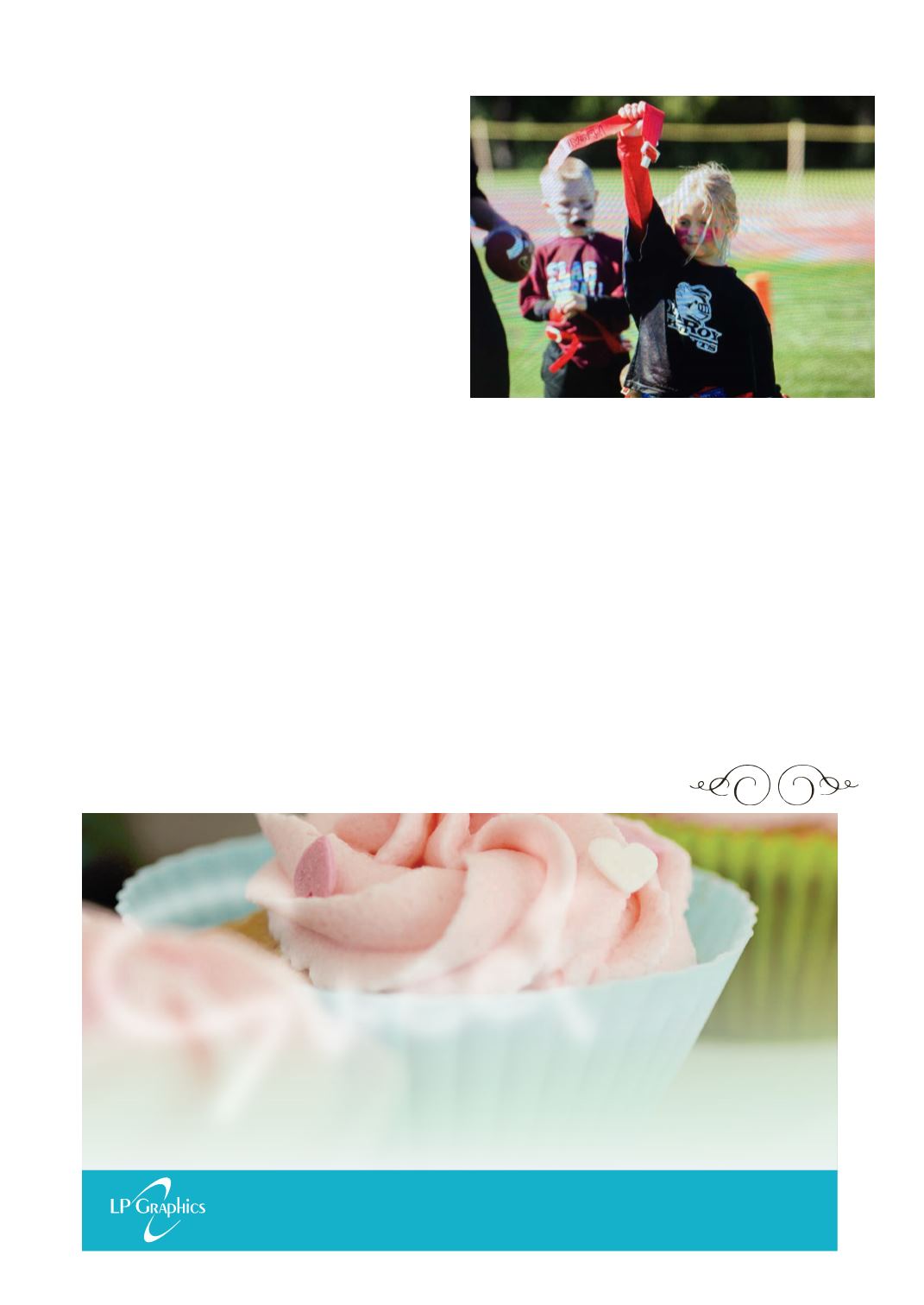 LE ROY PENNYSAVER & NEWS - OCTOBER 2, 2016
LeRoy Red & Black Flag Football Team
The LeRoy RED & BLACK
flag football teams hosted their
respected rival Cal-Mum on
Sunday at the new and improved
facilities at Hartwood Park.After
two tough weeks away from the
friendly confines of Hartwood,
the RED& BLACK teams repre-
sented their home field and new
facility with a defensive mind
set and an attitude that their
rival, who is known for a rug-
ged defense that spans multiple
decades could not match. The
LeRoy defense would not allow
a first down the entire game.
This effort and attitude was
the perfect opening game that
this storied football school and
facility deserved.
The RED team started out
on defense with their interior
lineman grabbing flags in the
backfield of Cal-Mum. Kade
Olivani picked up where he left
off last week against Avon by
grabbing the first flag, 5 yards
behind the line of scrimmage.
Young Upstart, Jacob Koch-
manski would follow Olivani's
lead and do the same on the very
next play. Jacob Keller, the left
defensive end who is always out-
sized, beat his man on the very
next play making it 4th down and
forever. Cal-mum with no room
to run, passed up the middle on
4th down as middle linebacker
Chandler Hall broke it up im-
mediately. This first series on
homecoming weekend,in a new
facility, against your greatest ri-
val could not have been scripted
any better for the Knights.
On the first offensive pos-
session for LeRoy, quarterback
Ryder Stiles threw a dart to Don-
ovan "pocket Hercules" Gaillard
for the score. Stiles and Gaillard
would hook up for 3 touchdowns
on the day. Stiles was on point all
morning, completing 5 passes on
5 attempts with 3 touchdowns.
Carson "Nutter" Stiles would
catch the other 2 passes on the
day.
Andreas Condidorio had a day
of football that he may never
forget as he scored on a nice run
and played on the early success
of the interior line play from
Kochmanski, Keller, Olivani and
Hall. Cal-Mum with nowhere
to run or pass on the interior
forced a throw that Condidorio
would intercept and run into the
end zone. Andreas a true gamer,
scores his first defensive touch-
down of his career. He would
intercept another pass later in the
game that was over his arms and
behind his head reminiscent of
a Madden play to end a perfect
home opener for LeRoy.
The BLACK team defensive
effort and results mimicked
the RED teams but with even
more bravado and swagger.
Jon "hawk -eye" Bogan, Peyton
Privitera and Marin Kemp all
had early flag grabs for a loss.
Cameron Dunaway had 2 pass
deflections that set up a fanta-
sy day for Jude Christ. Christ
vowed not to let Cal-Mum get a
first down as he has 2 intercep-
tions with 1 resulting in a PICK
6 TOUCHDOWN! Christ was
well prepared, as he was up and
dressed to play at 6:30am on
game day for the 1030am kick
off. Early bird gets the pick 6!
On offense the BLACK team
was lead by Quarterback Peyton
Privitera who threw his first
TOUCHDOWN pass to Jude
Christ."The road-grader", Grady
Kanaley broke off 2 long runs
resulting in TOUCHDOWNS.
Kanaley's first TD was a cut-
back run with a burst of speed
that left him 15 yards ahead of
any Cal-Mum defender.
Brennan Weber found success
running behind a crushing text
book blocks by Brayden Wilson
and Caleb Schutt. Weber just
missed his first TD by one yard
as the gritty Cal-Mum defense
never quit.
FIrst & Goal and Marin Kemp
gets the call on a 22 dive and you
can count on her decimating a
defense as she exploded into
the end zone as another "Kemp
Quake" TOUCHDOWN!
The Youth teams play this
Sunday against a rugged York
team that is unbeaten on the
season.
Sweet
1 Church St., LeRoy, NY 14482
585.768.2201
www. l pg r aph i c s. ne t
Baby Shower, Party & Wedding
INVITATIONS