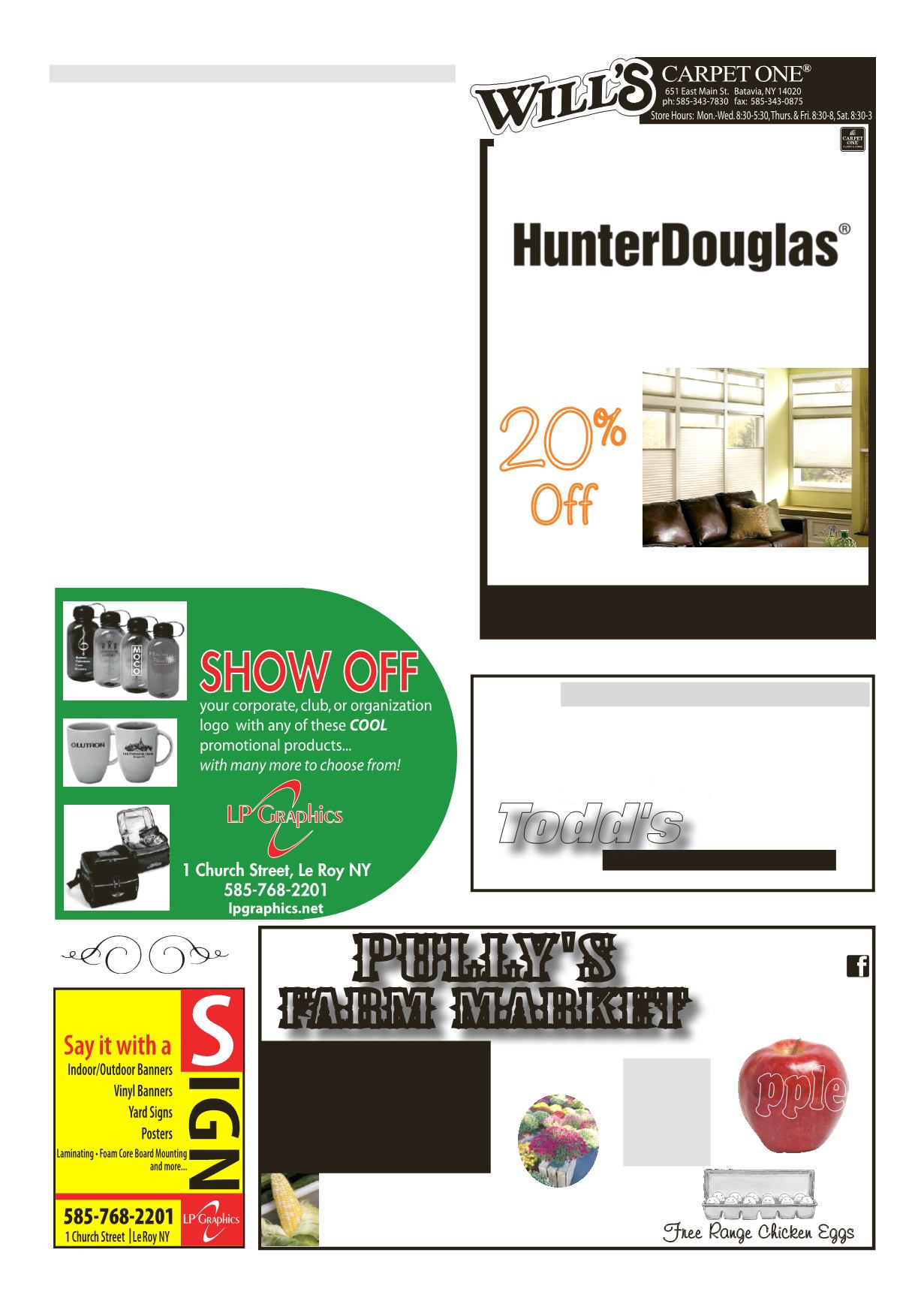 LEROYPENNYSAVER&NEWS - SEPTEMBER 11, 2016
lpgraphics.net
TheONE store for your perfect floor.
FLOOR
&HOME
8160LakeRd. (Rt. 19)
LeRoy, NY
1/2mile south of Thruway
768-2280 • 704-1157
Hours:Mon.-Sat. 9-6, Sunday 9-5
pullysfarmmarket.com
Jams • Jelly
Honey • Syrup
Gift CertificatesAvailable!
NowAvailable!
Cantaloupe • Peppers
Pears • Fall Squash
ZucchiniOnions •Tomatoes
•Professional InstallationAvailable • FreeEstimates
•FinancingAvailable forQualifiedCustomers
Sale!
"Applause"
HoneycombShades
byGreg "Porp"Rogers
Mayor
Summer is coming to a close
and school is back in session.
The school'smulti-milliondollar
renovationproject isprettymuch
complete. This project just adds
to the momentum of the whole
community, and will separate
LeRoy from other places, as the
greatest place to live and raise
a family. Please drive carefully
with the opening of school and
The Summer Recreation Pro-
gram had record numbers this
year. The pool had 8,325 people
inattendance. Inaneffort tohave
everybodyworking together, four
ofourpoliceofficersvolunteered
to do camps for the students
throughout the summer. The
campswere: Baking -EmilyMc-
Namara, Archery - Eric Miller,
Automotive-DarylRobb,andCSI
- John Condidorio. These types
of activities go along way with
the children and their perception
of police officers. Thanks to all
for your timeand sharing. Jackie
Whitingandherstaffof35young
adults all from LeRoy did an
outstanding job, thanks toyouall.
The DPW spent most of its
time on catch basins and streets,
with anew top forHilltopDrive,
oil and stoned East Ave. Along
withall theeverydaymowingand
all theotherwork,witha limited
On a sad note two of our full
time officers have decided to
leave here and go elsewhere,
Daryl Robb and Jared Dent,
both are great officers and will
be missed. The Village Board
is looking to fill these positions
"Success is not measured by
money or power or social rank-
ing.Success ismeasuredbyyour
disciplineandyour innerpeace".
Notes From TheMayor's Office
NewHomes •Additions •Garages •PoleBarns
ToddCarli • Phone 703-0964
Todd's
Decks •Windows •Doors
Kitchens •Baths
CeramicTile
Basement Finishing
CustomShelves/Built-Ins
Siding •Remodeling
Roofing • SnowPlowing
FULLY INSURED