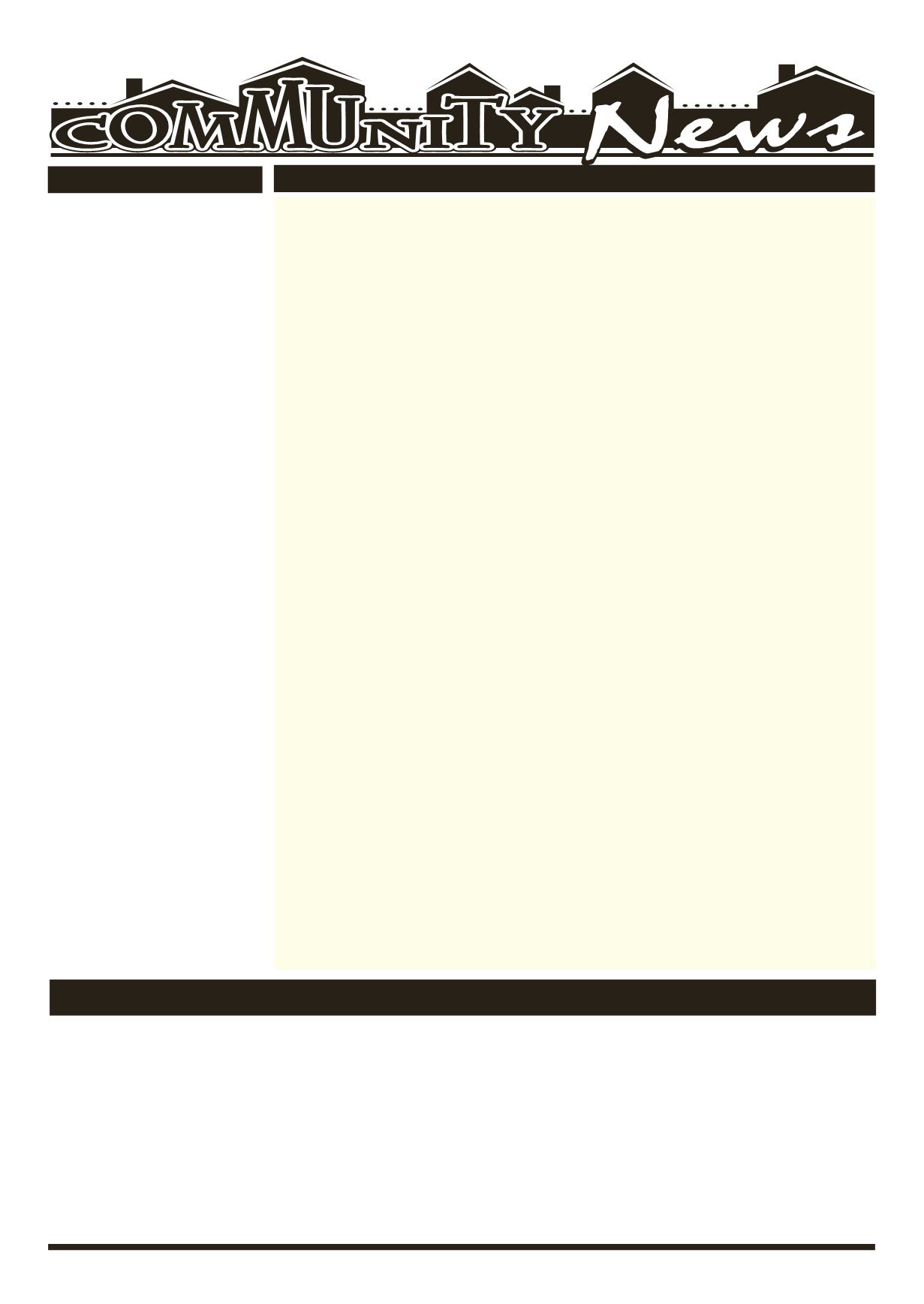 LEROYPENNYSAVER&NEWS - SEPTEMBER 11, 2016
All GeneseeCounty residents, 60andolder, can takepart in thisweek'sactivitiesat theBataviaSenior Center, 2BankSt., Batavia. Formore information, call 343-1611.
SENIORCITIZENSACTIVITIES (September 12th - September 19th)
WEEKLYEVENTS
OBITUARIES
Arthritis Exercise
is scheduled tobegin at 9:30 a.m.;
A representative fromUniveraHealth Insurance
Bridge
is scheduled tobeginat11:30a.m;
RSVPBoardMeeting
is scheduled tobeginat12:00p.m.;
Tai
Chi
is scheduled tobeginat1:30p.m.
Cribbage
is scheduled tobeginat1:00p.m.
Quilter'sGroup
isscheduled tobeginat9:00a.m.;
OmbudsmanMeeting
isscheduled tobeginat9:00a.m.;
Euchre
TaiChi
isscheduledtobeginat9:30a.m.;
GentleFitness
isscheduledtobeginat10:30a.m.;
Cribbage
Bridge
isscheduled tobeginat1:00p.m.
ArtClass
is scheduled tobeginat 10:00a.m.;
LineDancing
is scheduled tobeginat 10:00a.m.;
Euchre
SUNDAY, SEPTEMBER11
MONDAY, SEPTEMBER12
TOPS (TakeOffPounds Sensibly)
meetsMonday evenings at the LeRoy
Presbyterian Church, corner of Clay&Main Streets. Doors open at 6:00 pm
andmeeting is from 6:30-7:15 pm. Visitors are always welcome. Call 585-
768-7103 formore information.
TUESDAY, SEPTEMBER13
Preschool Storytime :
EveryTuesdayat11am featuring stories, craft and
songsatPavilionPublicLibrary,5WoodrowDr.,Pavilion.For info:584-8843.
GRACE'S CLOSET: A clothing giveaway program
UnitedMethodist Church, 10TrigonPark, LeRoy, 9:30am to11:30amevery
Thursday.Wehaveclothing forall ages. Weare inneedofboy'sclothingsizes
0-3T.Donationscanbedroppedoffatthehousenexttothechurch.Pleaseput
allbags INSIDEonthebackporch. NOELECTRONICS, COMPUTERS,DISHES,etc.
OpenTuesdays5-6:30pm.
Anyquestions call theoffice768-8980.
WEDNESDAY, SEPTEMBER14
The September LeRoy Town & Country Garden Clubmeeting
be held at 6:00 pm at AnnWalter's barn tomake cement stepping stones.
ContactAnnWaltersat768-8130 formore informationon supplies tobring
and to lether know that you're coming.
THURSDAY, SEPTEMBER15
FRIDAY, SEPTEMBER16
TheStaffordUnitedMethodist Church isworking inpartnership
with Foodlinkof Rochester to sponsor the Foodlink FreeMobile
FoodPantry.
Itwillbeheld from4to5:30p.m.,atEmeryPark, locatedat
6061Route5 inStafford.Theexact itemsarenotknown,but freshproduce
isalwaysavailable. Food isdistributedonafirst-come, first-servedbasis
while supplies last. There is no income or ID requirement but recipients
mustbe18yearsof ageandprovide theirownbagsand transportation.
PenuelChristianFellowship,
OneStep toFreedomaddictionsministry,a
ChristCenteredAddictionsprogram,aweeklymeetingeveryFridayat7pm.
Call theChurch formore informationat768-6901or594-9575.
Penuel ChristianFellowship
is organizinga youngadult fellowshipand
Bible study. Ages: 12andup,Time: Fridays from7-9pm, Study: thebookof
Romans (a 16week course), taught by Josiah Gariboldi.Place: 7115West
SATURDAY, SEPTEMBER17
Free Food outreach brought to you by Foodlink
parking lot. Every 3rd Saturday of the month. 11-1pm. Call Penuel
ChristianFellowshipat585-768-6901withanyquestions.
ChickenandBiscuitDinner
, beginningat 4:30pm, RigaChurch, 7057
ree, veggies, cole slaw, beverages
andyummyPIES fordessert !
UPCOMINGEVENTS
TheBataviaPhotoClub,
servingmembers fromGeneseeCounty, and the
countiessurrounding it,willbegin its30thyearonSeptember19.Themeet-
ingwill beheldat 7:00 in theRichmondMemorial Libraryat 19RossStreet
inBatavia, with informal photo critiques beginning at 6:30. If youhave an
interest inphotography andperhapswant to take that interest to thenext
level, comeandseewhatweareallabout.Allarewelcome toattend,even if
you thinkyouwon'twant to join.
TheGeneseeValleyCivilWarRoundtable
Upton -TheFormationofModernAmerica",Wednesday, September 21st at
7:00pm.Themeetingwill takeplaceatLeRoyUnitedMethodistChurch,3rd
door on right end of long sidewalk, 10 Trigon Park, LeRoy, NY. Discussion
periodwill followprogram.Newmembersarewelcome.
St.Mark'sEpiscopalChurch
,1EastMainSt inLeRoywillhold it's
Second
AnnualTakeoutRoastPorkDinner
,onSaturday,September24thfrom
11amtilsoldout.Pre-saleticketsarerecommendedandcanbepurchased
from any parishioner or the church office. St. Paul's Episcopal Church,
Stafford, will be offeringwhole or by the slice fruit pies for sale during
thepickuphours. Please call StMark'swithanyquestions; 768-7200.
TheSeniorCitizensofLeRoyandStafford
of themonth fromMarch through December for dinner and a planned
program. Wemeet in the Knights of Columbus Hall behind Save-A-Lot
onWestMain Street. Each person attending brings a generous dish to
passorpays$4.00each foranicebuffetmeal andsocial. Bringyourown
place settingandbeverage. Coffee, teaanddessertareprovided.Dinner
isservedat6:00pmfollowedbyaprogram.Please joinusforanenjoyable
evening. Anyquestions,pleasecontactJudyRidley,Director@768-2001,
Foodlink FreeMobile Food Pantry:
Morganville United Church of
Christ ispartneringwithFoodlinkofRochester tohosta freemobile food
pantry, Tuesday, Sept 27, 3:30-5:30pmatMorganvilleUnitedChurchof
Christ, 8466MorganvilleRoad (offRt 237, 1milenorthof Stafford). The
exact food itemsandquantityavailablearenotknown,but freshproduce
will be available. Must be 18 years of age, no income requirement or
ID required. Must provide own bags/vehicle to transport items to your
home. Foodprovidedonafirstcome,firstservebasiswhilesupplies last.
StaffordUnitedMethodistChurch,
6134MainRoad(Route5)Stafford.
Chicken&BiscuitDinner,
Thursday,September29, takeoutsavailable
4:30pm, serving5:00pmuntil soldout.Menu: chicken&biscuitswith
gravy,realmashedpotatoes,babycarrots,cranberrysauce,cabbagesalad,
homemadedessertsandbeverages.
CommunityCalendarSubmissions shouldbe sent to:
LEROY ~ Arlene J. (Corcimiglia)
Cichocki,age94,passedawayearly
Fridaymorning (September2,2016)
at theLeRoyVillageGreenNursing
Home in the loving presence of her
family. Thecourtesyof no flowers is
requestedwithmemorials suggest-
ed toGeneseeCancer Assistance,
16BankSt., Batavia, NY 14020.
PAVILION - BerniceDemingGreer,
age 90Rockingham, NC: Formerly
of Pavilion, NY: Died at home in
Rockingham, NC, August 30, 2016.
As requested, calling hours and
BERGEN - Martin J. Murray, 86, of
Bergen, a retireeofEastmanKodak
passedawayThursday, (September
1, 2016) at the Batavia VAMedical
Center, inBatavia. In lieuof flowers,
memorialsmay bemade toBergen
Rescue Squad or Bergen Fire
Department, P.O. Box 428, Bergen,
LeRoy ~ Alice M. Macaluso, age
88, passed away, surrounded by
her loving family, Saturdaymorning
(Sept.3,2016)at theNewYorkState
Veterans Home in Batavia. The
courtesy of no flowers is requested
withmemorialssuggested toCross-
roadsHouse,P.O.Box403,Batavia,