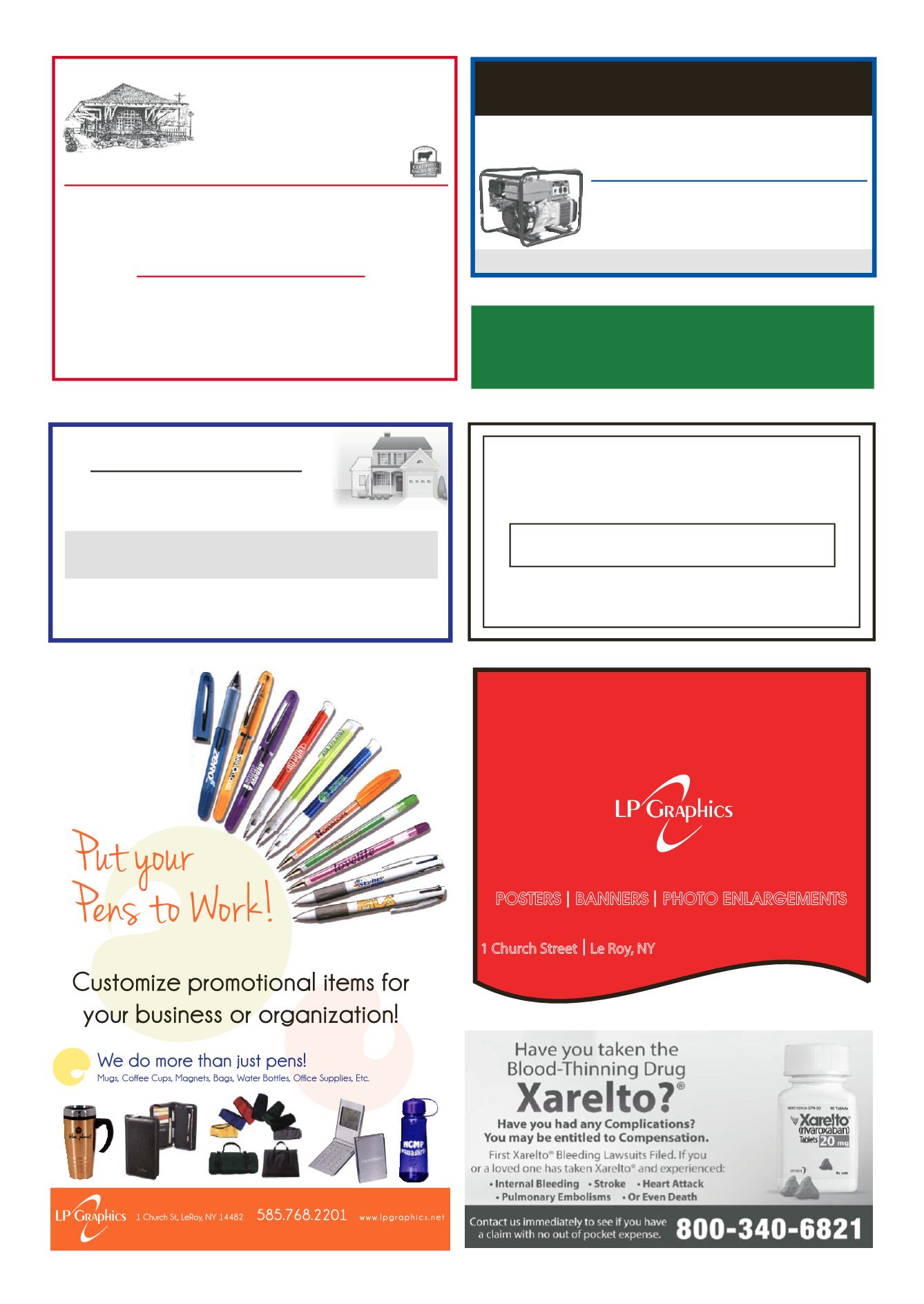 LEROYPENNYSAVER&NEWS - SEPTEMBER 11, 2016
POSTERS BANNERS PHOTO ENLARGEMENTS
lpgraphics.net
"CompleteCarpentry Service"
M
ILLER
B
ROTHERS
B
UILDERS
CustomHomes •Remodeling•Additions
Roofing• Siding
DANIEL
MICHAEL
ATV's • Snowmobiles •Generators • Snowblowers
Tuesday-Friday, 10 am to 4 pm, OtherTimesByAppt.
8525Rt. 237, Stafford, NY
Service&Repairs -ALLMAKES&MODELS
PickUp&DeliveryAvailable
AllMajorCredit CardsAccepted
SUPPORTYOUR LOCALADVERTISERS!
They help sponsor the local news section of the Le Roy Pennysaver.
THANKS FORYOUR SUPPORT!
Plumbing • Heating
Installation&Repair Service
For All Residential &Commercial Work
LakeSt. (Rt. 19), LeRoy•768-6270
... AGreatAmericanBrasserie
OpenForBreakfast, Lunch&Dinner
Sun.-Thurs. 7-7, Fri. &Sat. 7-9
&
SUNDAY, SEPTEMBER 11th
SHOREDINNER
Includes homemade SeafoodBisque, lobster tail, crab cakes,
broccoli salad, and fresh strawberry pie $23.99
SUNDAY, SEPTEMBER 18th
ROASTTURKEYDINNER
Servedwith soup or salad, homemade dressing, real mashed
potatoes, veggie, andAmy's pumpkin ice cream pie $17.99