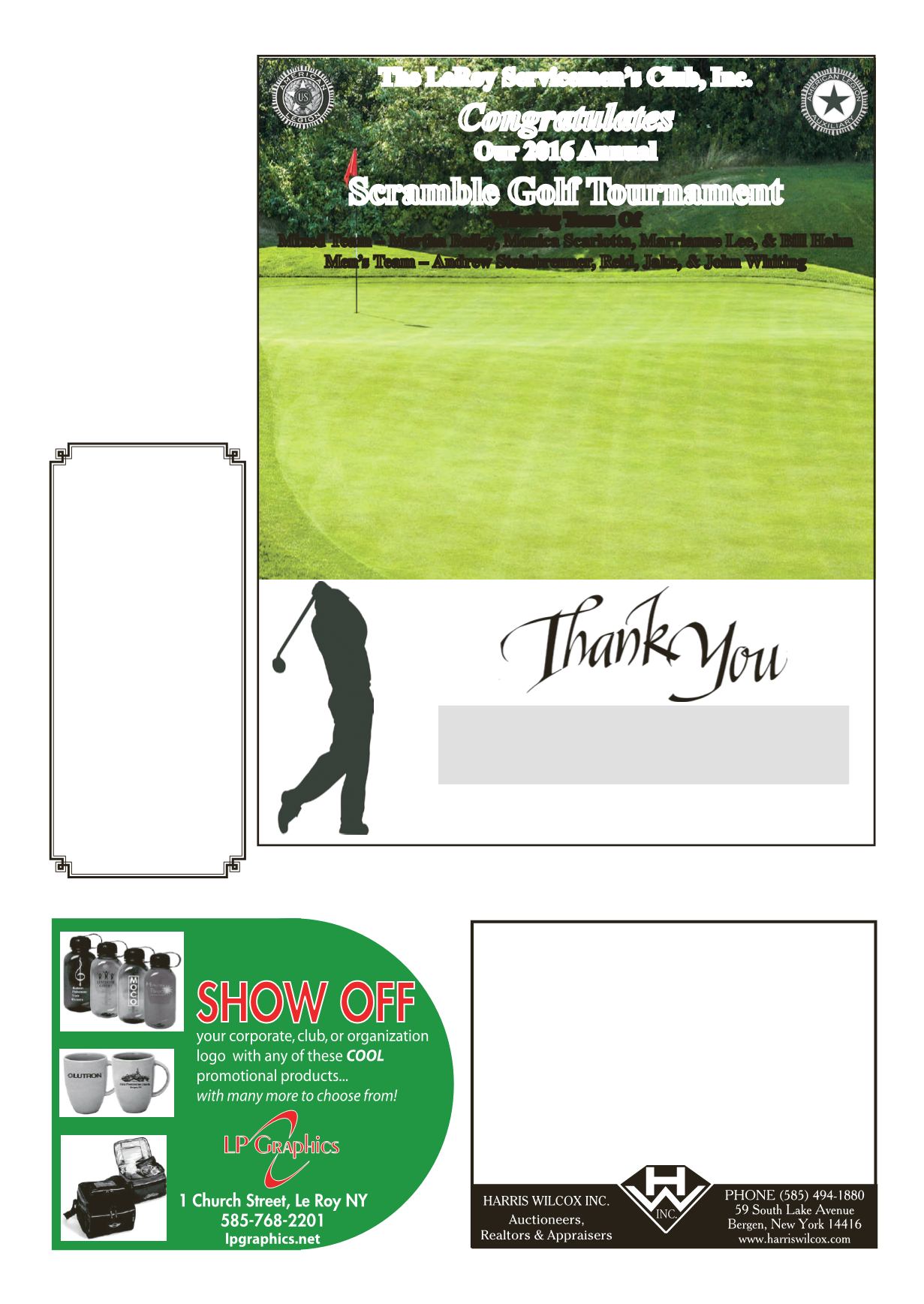 LEROYPENNYSAVER&NEWS -AUGUST21, 2016
CAROLYN PARTONREAL ESTATE
andHOUSEHOLDAUCTION
TUES., AUG30, 2016• 5:00 PM• LEROY, NY
Auction tobe heldat 64Wolcott Street inVillageof LeRoy,
off Rt. 19, south of Rt. 5.
REAL ESTATE:
beagood, solid2bedroom, 1bathvillagehome inneedof
complete rehab. Assessed at $48,000 and sells for $10,000
orabove. $4,000deposit required tobid.Call ShellyFalcone
for details 683-0995or PenneVincent 303-2325.
OPENHOUSES: Thurs., Aug. 25 from 4-5pm
and Tues., Aug. 30 from 4-5pm.
HOUSEHOLD:
TheLeRoyServicemen'sClub, Inc.
Congratulates
Our2016Annual
ScrambleGolfTournament
WinningTeamsOf
MixedTeam –MarthaBailey,MonicaScarlotta,MarrianneLee,&BillHahn
Men'sTeam –AndrewSteinbrenner, Reid, Jake,& JohnWhiting
TheSuccessOf TheEventWasDue
InLargePart ToOurGolf Teams andSponsorsWithAVery
GratefulAppreciationTo:
LPGraphics, StellaCollisionService, RobleePlumbing, SmokinEagleBBQ&Brew,
SelectHealthcareServices, LLC (GreensOf LeRoy), BataviaLegal Printing,
Bubba'sLandscaping,MeadowbrookGolfCourse, BessyTools,
CameronBrady&SteuberFuneralHome, LeRoyLegionLanes, Rt. 5Storage,
D&RDepot Restaurant, Bill Fox&SonConstruction&Remodeling,
LeRoySal Squadron #576, CarlMcQuillenEngines, GunsmokeCountryGrill,
Shell'sPost (StaffordTradingPost), Northwoods SportsmanClub,
JohnF. RiderReal Estate Inc., TopsFriendlyMarkets, C.H.Wright BeverageDistribution,
Sanyo&Sons, GCBEnterprises, C-A-MConstruction, LeRoy'sNoFinerDiner,
DerrickMonument Co., Inc., IroquoisDesignCo., Inc., LeRoySupercuts, and to ourHosts
LeRoyCountryClub andBottsFioritoAmericanLegionPost #576.
AVerySpecial ThankYouGoesToThe
BottsFioritoAuxialaryUnit #576For Sponsorship,
Planning andPreparing aGreat SteakDinner
German, the Adjutant General
of NewYork, announces the re-
cent service accomplishment of
members of theNewYorkArmy
NationalGuard in recognitionof
their initial commitment to serve
community, state and nation.
Spc. Laurel Presher
Army's rigorous basic combat
trainingandadvanced individual
training, culminating with a
ceremony held August 7, 2016
at the Patriot Way Armory
in Rochester to mark start of
training with their new unit,
CompanyA (Distribution),427th
BrigadeSupport Battalion.
Achievement
who passed away
August 15th, 2016
Therewill be a
celebration
of his life on
Saturday,
August 27th
at 1:00 pm
BergenRod
andGunClub