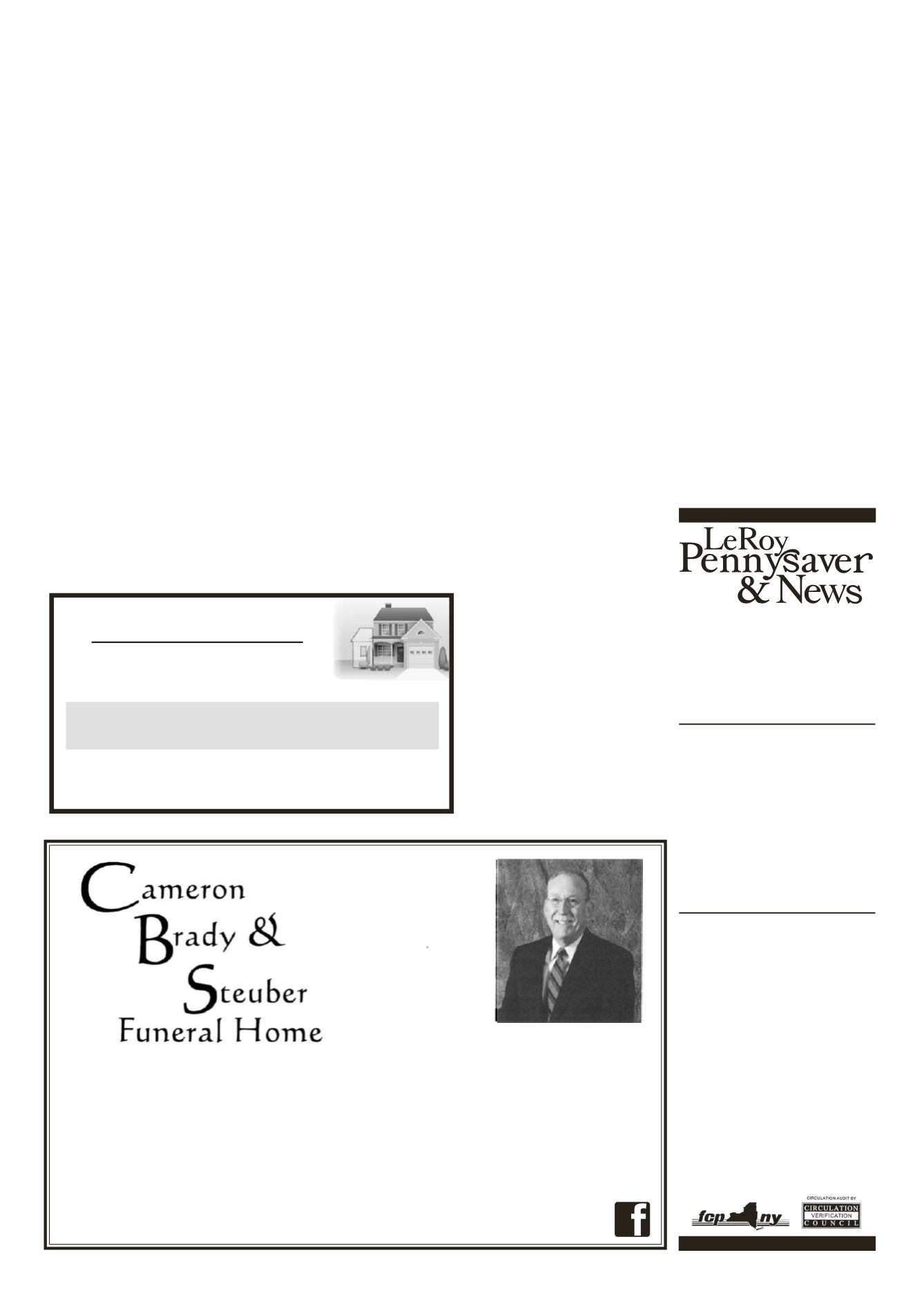 LEROYPENNYSAVER&NEWS -AUGUST 21, 2016
"CompleteCarpentry Service"
M
ILLER
B
ROTHERS
B
UILDERS
CustomHomes •Remodeling•Additions
Roofing• Siding
DANIEL
MICHAEL
LeRoy's BestAdvertisingMedium
Le Roy Pennysaver
will not knowingly accept or
publish advertising which is fraudulent or misleading
in nature. The publisher reserves the right to reject or
cancel anyadvertising.The
LeRoyPennysaver
no financial responsibility for typographical errors in
advertisements, but if at fault, will reprint the portion of
the ad in which the error appears. Style, size of type
and locationof advertisement are left to thediscretionof
the publisher. The opinions expressed in this publication
are not necessarily those of the publisher. We cannot
guarantee the returnof photographs.
LeRoyPennysaver
Providing full funeral and
cremationservices.
111Wolcott Street, LeRoy, NY 14482
bySenatorRanzenhofer
August 2016
Heroin and opioid addiction
continues todestroy far toomany
lives acrossWesternNewYork.
It has been felt in every corner
of our community, leaving too
many individuals and families
As Imentioned inmyJunecol-
umn, all ofus share thecommon
goal of overcoming this crisis,
andwe have towork together to
That is why I am pleased to
report that I recently helped to
pass new groundbreaking laws,
at the conclusion of the 2016
Legislative Session, to stem the
tideof thisepidemic. Earlier this
summer, I joined theGovernorat
EvergreenHealthServiceswhen
this comprehensive legislative
packagewas signed into law.
These new laws will establish
our state as the leader in the
battle against addiction by en-
hancing insurance coverage for
individualsseeking treatmentand
recovery services. Additionally,
thenewmeasures expand access
to addiction treatment opportu-
nities and extend the length of
time a person can receive these
In an effort to prevent addic-
tion, one aspect of the landmark
legislation limits initial opioid
prescriptions from 30 to seven
days. A practitioner may then
prescribeanyappropriate renew-
al, refill, or other prescription
after the initial seven-daysupply.
This will help to address over-
prescribing medications, while
ensuring patients with chronic
conditions are able to receive
In addition to these crucial
measures, I organized a special
community forum in May as a
member of theSenateTaskForce
onHeroin andOpioidAddiction.
This forum and others across the
statehavebeen instrumental inse-
curing$189million in funding to
strengthen prevention, treatment,
recovery and education services.
This includes an increase of
$25 million above Governor
Cuomo'sbudgetproposal. Ihave
been a strong proponent of this
funding. Some of the additional
$25 million will support the
following important initiatives:
• $1.3 million for 270 new
treatmentbeds,providingamuch
needed expansion to treatment
•$1million incontinued fund-
ing to supply the public with
overdose prevention kits;
• $1.7million for 20 newOn-
Call Peer programs, assisting
individuals with substance use
disorders inemergency rooms in
• $1.9million for 11 newAd-
olescent Clubhouses, providing
safe and welcoming spaces for
teens and young adults who are
• $3.2 million for 16 newRe-
coveryCommunityandOutreach
MajorProgress InTheBattle
AgainstAddiction
Centers, providing support in a
comfortableenvironment includ-
ingeducationand informationon
how to access treatment services
While there are no easy an-
swers or quick fixes to solving
this public health crisis, these
newmeasures will help prevent
Myworkon thiscritical issue is
only thefirst step, and I amcom-
mitted toworkingcollaboratively
tohelp thousandsofNewYorkers