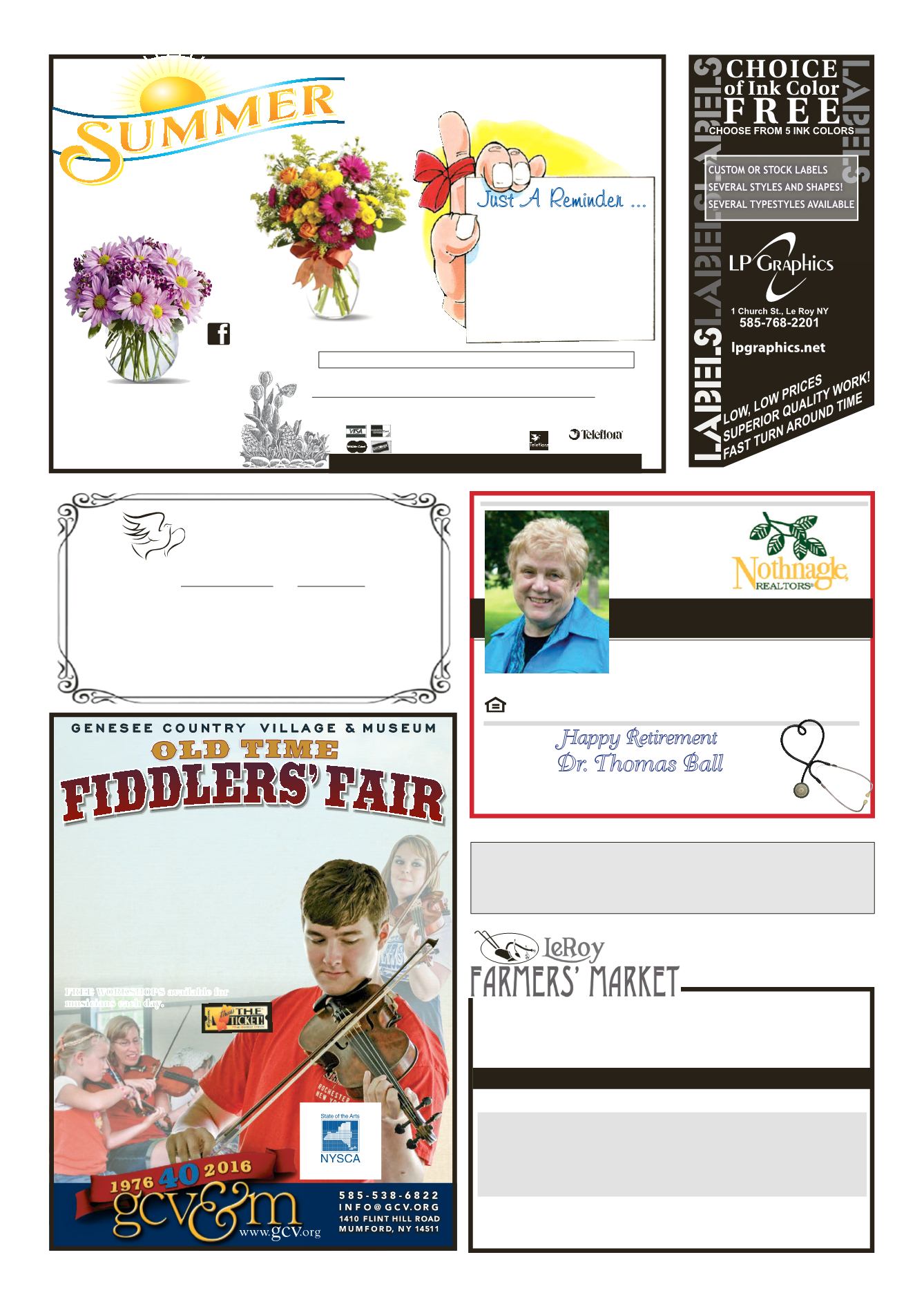 LEROYPENNYSAVER&NEWS -AUGUST 21, 2016
NANCYCROCKER
LicensedReal Estate Salesperson, REALTOR
570EastMainStreet •Batavia, NewYork14020
Office: 585.409.2115 • Fax 585.343.8502
Multi-MillionDollar
Producer
Platinum Sales Award Winner
eRoyFarmer'sMarket onFacebook
Saturdays ThroughOctober 1st
LOCAL • FRESH•DELICIOUS •NUTRITIOUS
Seasonal Fruits&VegetablesWill BeArrivingWeekly!
ALWAYSLOOKINGFORNEWVENDORS&VOLUNTEERS
ContactMaryMargaret Ripley - 297-2441
Entertainment:
DeniseDuthe onHarp - 8/20
LeRoyTownBand - 8/27
CommunityBooth:
OatkaCreekWatershed - 8/20
MasterGardeners - 8/27
Aug. 20th& 27th
LookatourWEBSITE for lotsof ideas!
LikeUsOnFacebook - Lakestreet Florist
TimeSpecials!
HeatWave
DelightfullyDaisy
WILLBECLOSED
Sat., Aug. 27th at
Noon thru
LaborDay, Sept. 5th
Re-open - Tues., Sept. 6th
at 9:00 am
Director /Owner
FuneralDirector
F
ALCONE
F
AMILY
Funeral&Cremation Service, Inc.
Director/Owner
"ALOCALFAMILY
CARINGFORLOCALFAMILIES"
Lakestreet Florist&Gift Shoppe
WeDeliver To: LEROY, Byron, Bergen, Caledonia,Mumford, Pavilion,Wyoming, Stafford&Batavia
TelefloraWireServiceForFamily&FriendsOut of Town
768-7720
110LakeSt., LeRoy
HOURS:
M-T9-5:30
F 9-6:00
Sat. 9-4:00
COOK'S LANDSCAPING - 330-3819
Heartfelt thanks toyouandyour staff for providing
over 20years of excellent health care toour community.
Hundredsofmusicians. Non-stopentertainment
Bring your instrument for free
admission (with one guest)
toplayononeof four stagesor in thehistoric
village. Immerseyourself inadayof traditional
music rooted inNewYorkState's richheritage.
FREEWORKSHOPS
available for
musicians eachday.
hollerin', toe-tappin'day.
FIDDLERS'FAIR ISMADEPOSSIBLEBYTHENEWYORK STATE
COUNCILONTHEARTSWITHTHE SUPPORTOFGOVERNOR
ANDREWCUOMOANDTHENEWYORK STATE LEGISLATURE.
TicketsalsoavailableatWegmans
gcvmFiddlers LEROYPennysver 2016.indd 1
SUPPORTYOUR LOCALADVERTISERS!
They help sponsor the local news section of the Le Roy Pennysaver.
THANKS FORYOUR SUPPORT!