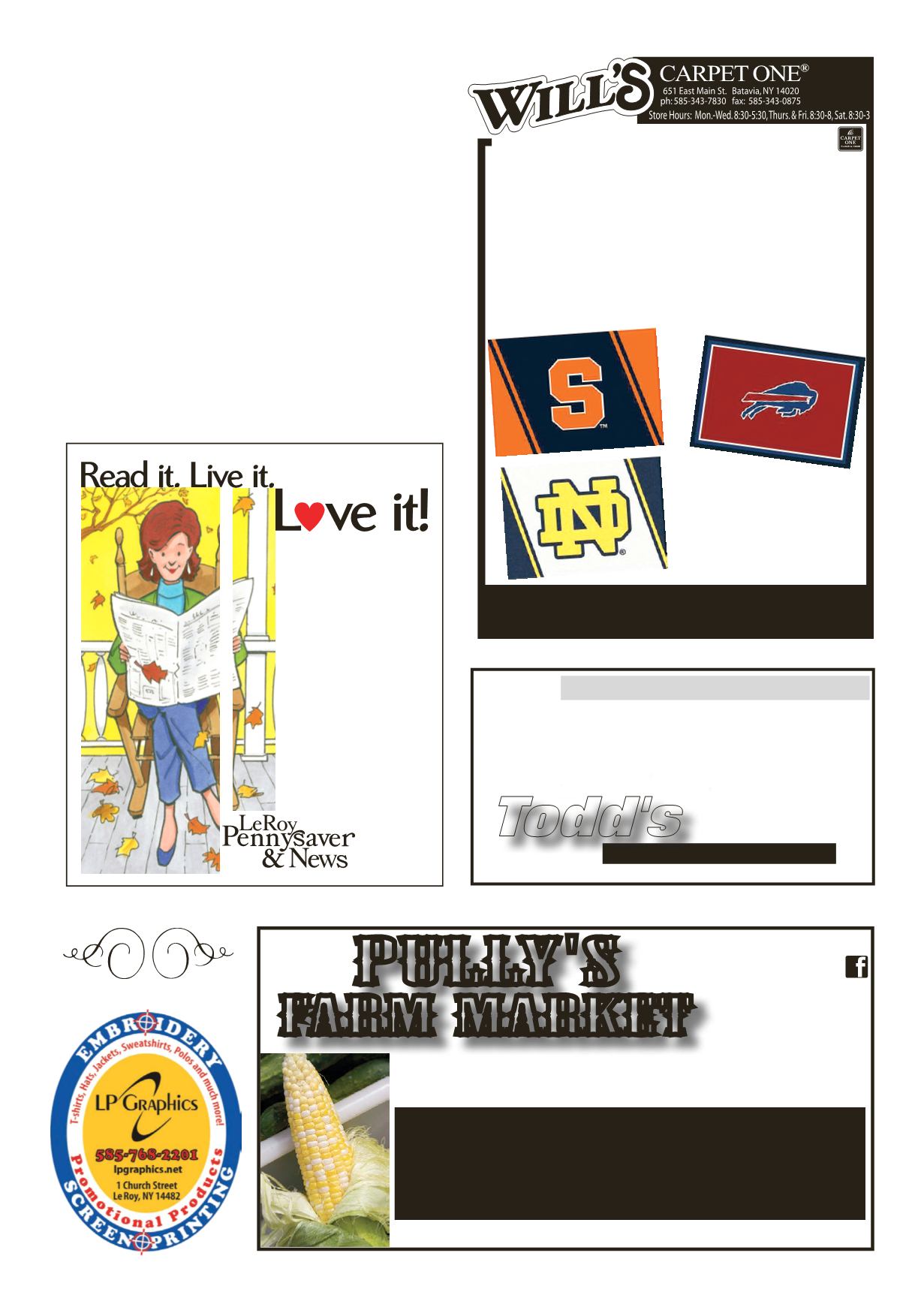 LEROYPENNYSAVER&NEWS -AUGUST 7, 2016
TheONE store for your perfect floor.
FLOOR
&HOME
COLLEGETEAMS
Basketball • Football
PROFESSIONALTEAMS
NFLFootball • NHLHockey
$
69
95
Group for Improved Soil Health
has named its farmer-panelists
for three Soil Health Center
panel discussions at the August
9, 10, and 11Empire FarmDays
at Rodman Lott and Son Farms
Donn E. Branton of Branton
Farms,LeRoy,NY,will serveon
theWednesday,August 10panel
at 11:30 am on Managing Re-
duced Tillage and Cover Crops.
Cornell SCNYDairy and Field
CropsTeamLeaderJaniceDegni
willmoderate thepanel.DonnE.
Branton and his son Chad farm
1,500 acres of field crops and
A3-acre trial convincedDonn
to transition the entire farm to
reduced tillage. He works four
major soil types and a variety of
textures, andhas testeddifferent
types of equipment and cover
crops for best results. He counts
fuel, labor, time and equipment
wear savings as advantages of
reduced till systems.Formore in-
formation,visit empirefarmdays.
com or call 877-697-7837.
LeRoyFarmerParticipating
onSoilHealthCenterPanel
TheLeRoy
Pennysaver
1ChurchSt.
LeRoy,NY14482
(585)768-2201
8160LakeRd. (Rt. 19)
LeRoy, NY
1/2mile southof Thruway
768-2280 • 704-1157
Hours:Mon.-Sat. 9-6, Sunday9-5
pullysfarmmarket.com
Jams • Jelly •Honey • Syrup
Gift CertificatesAvailable!
Watermelon •Cantaloupe • Peppers
Cherries • SummerSquash •Zucchini •Onions
Cucumbers •Tomatoes • Peaches
NewHomes •Additions •Garages •PoleBarns
ToddCarli • Phone 703-0964
Todd's
Decks •Windows •Doors
Kitchens •Baths
CeramicTile
Basement Finishing
CustomShelves/Built-Ins
Siding •Remodeling
Roofing • SnowPlowing
FULLY INSURED