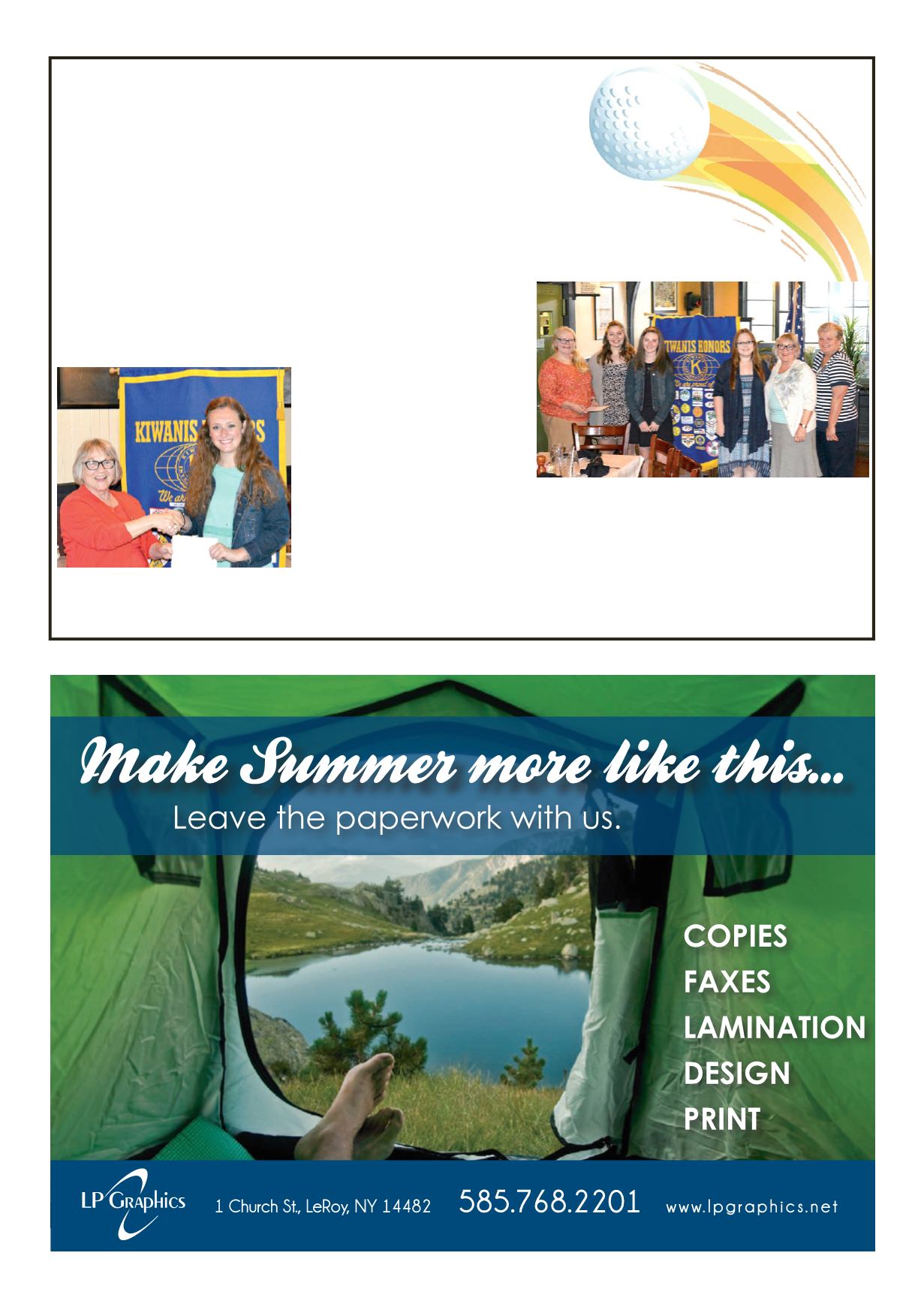 LEROYPENNYSAVER&NEWS -AUGUST7, 2016
The LPS KiwanisClubwould like to thankall golfers, supporters, and sponsors
for their participation inour annual golf outingheldon July 13th.Wehadbeautiful
weather, awonderfulmeal, andgreat fun! Allmonies raisedareapplied toCommunity
Service Scholarships for areahigh school students.
Sponsors: D&RRestaurant, Batavia Legal Printing, HiddenValley ExecutiveGolf Course
Supporters andBusiness Donors:
AceHardware, Tompkins Bankof
Castile,BaskinLivestock,BataviaMuckdogs,CameronBradyFuneral
Directors, C&CArchery,KimClark,CountryCafé,CountryHillGifts,
DavisCountrysideGolf,GeneseeCountryMuseum,DaveGoodwin,
JohnandBetsyGremer,MickeyHyde, JazzyCreations, JeffConiber
Trucking LLC,Catherine John-
ston, Sue Kinney, Klever Con-
struction Co., Kwik Fill, Lake
Street Florist, LeRoy Discount
Liquor, LeRoy Federal Credit
Union, LeRoy No Finer Diner,
LeRoy Physical Therapy, Tracy
McGrath, Merryway Kennels,
Morg'sSawzandStoves,NAPA,
Paparoni'sPizza,PavilionDen-
tal Center, Pizza Land, R L
JeffresandSons, Barbaraand
TomRadley, S&S Limo, SabinMetal,Charlene Schoenenberger, Scooters, Shells'
Post, Smokin' EagleBBQ, Laurieand Jim Taille, Transformations Salon, The Farm-
er'sWife, LindaandBill Thompson, JoanneandJustinUnderwood,Woody'sDeli.
LeRoyPavilionStafford
KiwanisClubGolfOuting
LPS Kiwanians Catherine Johnston and Charlene
Schoenenberger andLt. Gov. AnneKelly present Com-
munityServiceScholarships toSamanthaBragg,Alyssa
Coniber, andMikhaylaGraham at a recent meeting at
D&RDepot.
LPSKiwanisPresidentpresentsoneofthe
club's Community Service Scholarships
toHaileeMilligan of Piffard at a recent
meeting atD&RDepot.