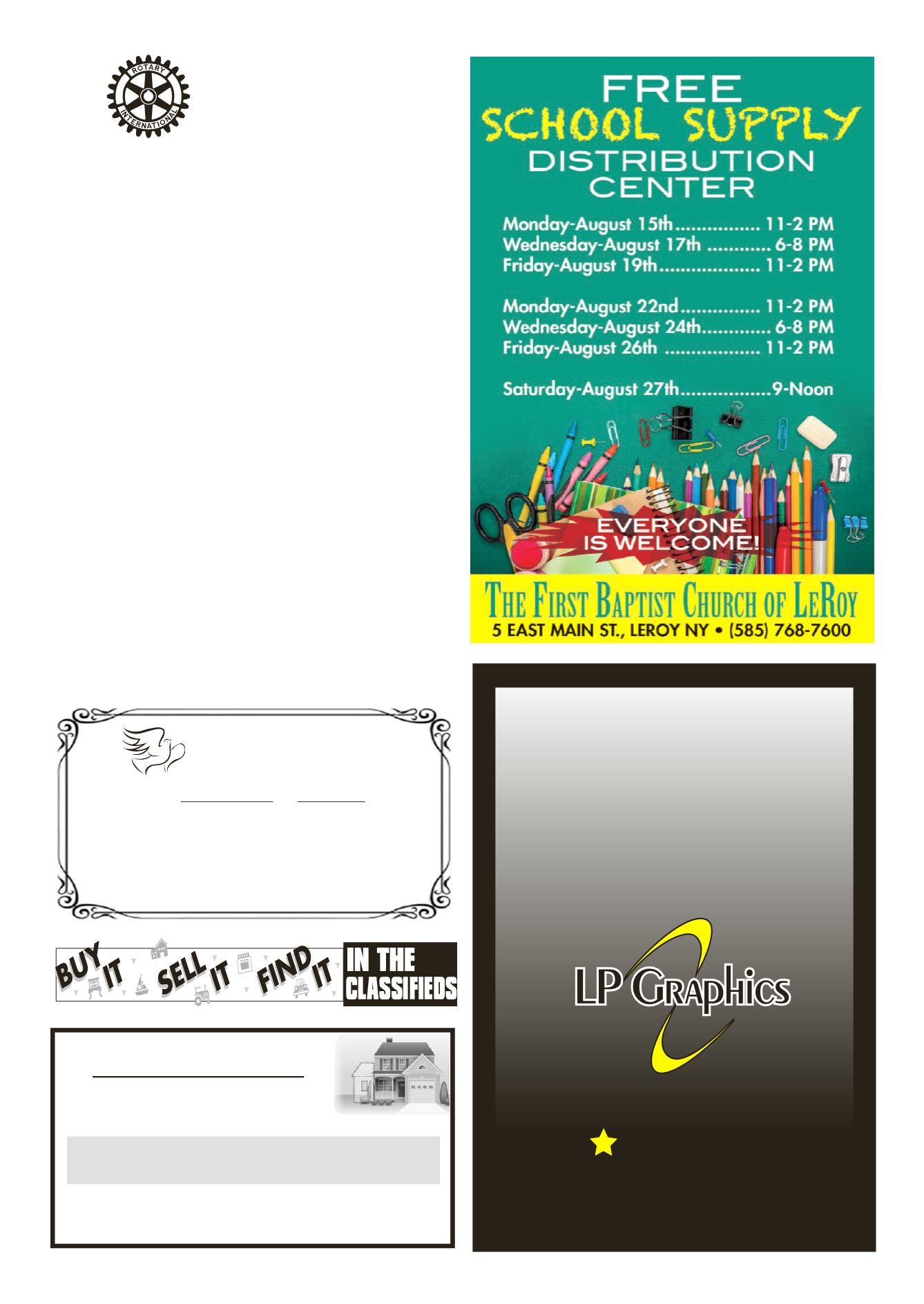 LEROYPENNYSAVER&NEWS -AUGUST 7, 2016
LeRotary
Notes
"CompleteCarpentry Service"
M
ILLER
B
ROTHERS
B
UILDERS
CustomHomes •Remodeling•Additions
Roofing• Siding
DANIEL
MICHAEL
Itwasabeautiful sunnyday for
ourWednesday lunchmeetingat
theGreensofLeRoyasPresident
DavidGrayson,brought themeet-
Members of the Interact Club;
MichaelaMisiti, Hayley Babbit,
Devin Kelly, Emily Friend and
HannahArneth,MaryMargaret
Ripley's son Doug Irwin and
guest speakerMelissa Schrock.
ThePledgeofAllegiance
andFour-WayTest were given.
Members with missed meet-
ings were Ben Deragon, Tracy
Ford, Marcia McKenzie, Phil
WeiseandMaryMargaretRipley.
Multiple fines were given out
including Bob Carlsen for a
Yankees trade,TracyFord forher
son's graduation party, Marcia
McKenzie for President David
catchingher at thebank in shorts
on herway to a picnic, RonPan-
grazio forhisgolfingpartnersand
him being in 3rd place in their
league,MaryMargaretRipley for
picking raspberries inhergarden
and wearing a special hat to do
it, Anil Sawhneywas askedwhy
dentists wear masks and fined
for his answer, Samantha Vagg
for camping at a vineyard, Phil
Weise for both he and his son
celebratingbirthdays thismonth-
hissonbeing3,MaryYoungwas
fined for her running skills and
PresidentDavidgaveher awater
bottlekit touseatRelay forLife,
BenDeragonwas alsofined and
given a water bottle and Bruce
Baker was fined too but I can't
for the lifeofme rememberwhy.
Our program today was pre-
sented byMelissa Schrock from
the District and she encouraged
us to joinherandother fellowRo-
tariansat theDistrictConference
at the Batavia Downs this year.
She told us about the wonderful
programs we would discover
including many service projects
and interactive club events for
ourselvesaswell asour families.
Then thebellwas rungandour
meetingwasoveruntilnextweek.
Don't forget to"Like"usonFace-
bookat "RotaryClubofLeRoy"!
Director /Owner
FuneralDirector
F
ALCONE
F
AMILY
Funeral&Cremation Service, Inc.
Director/Owner
"ALOCALFAMILY
CARINGFORLOCALFAMILIES"
1CHURCHST, • LEROY, NY • lpgraphics.net
WEHANDLEALLASPECTSOFPRINTING...
PROGRAMS
LETTERHEADS
BILLHEADS
FLYERS
BROCHURES
POSTERS
CARBONLESSFORMS
ENVELOPES
RAFFLETICKETS
NEWSLETTERS
RESUMES
TYPESETTING
RUBBERSTAMPS
ENGRAVEDSIGNS
NAMETAGS
COPIES
LAMINATION
COMMUNITYFAX
NEWSANDPICTURES
ADVERTISING
BUSINESSCARDS
HOURS: Monday thruFriday 8:00 to5:00