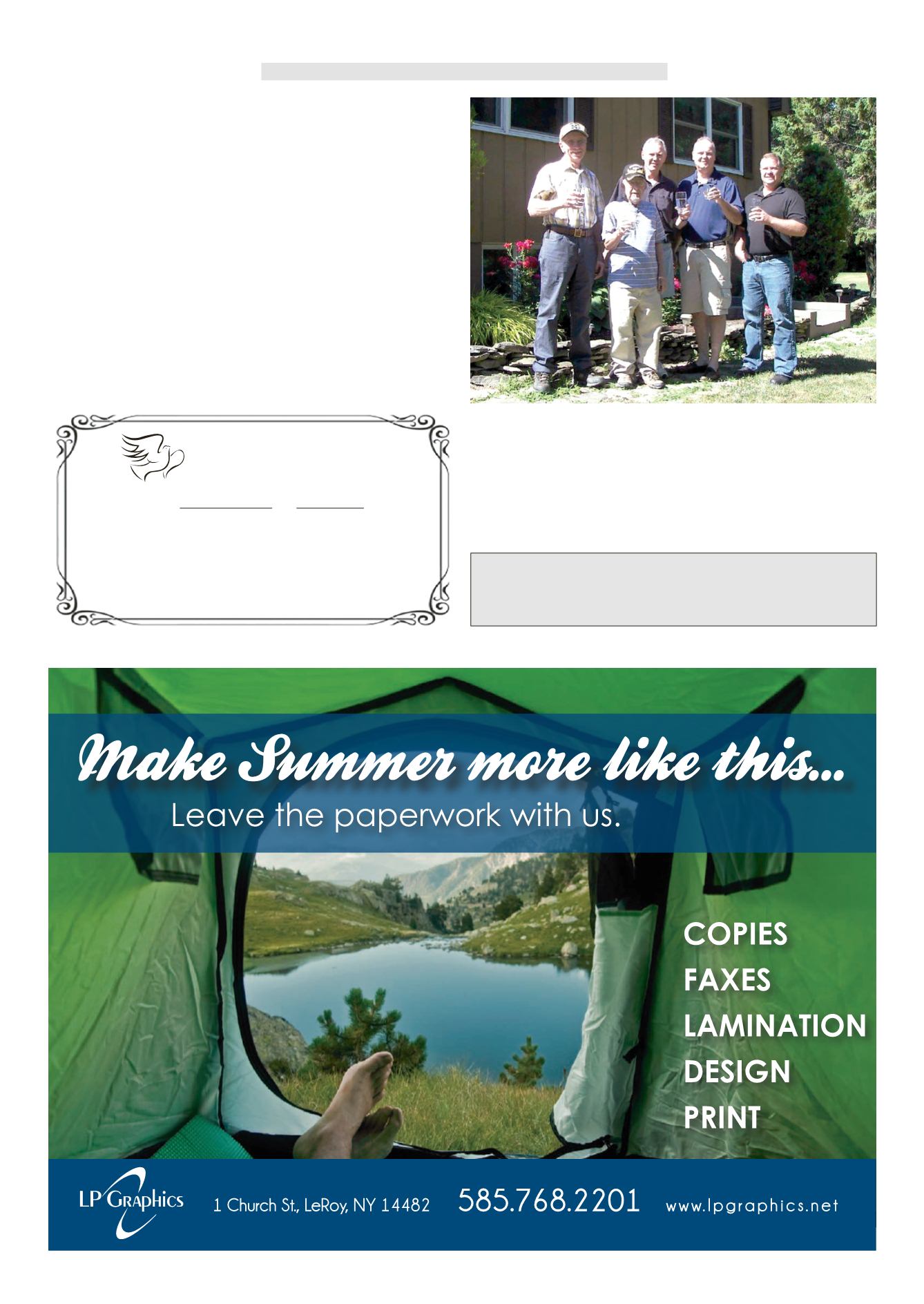 LEROYPENNYSAVER&NEWS - JULY 10, 2016
Director /Owner
FuneralDirector
F
ALCONE
F
AMILY
Funeral&Cremation Service, Inc.
Director/Owner
"ALOCALFAMILY
CARINGFORLOCALFAMILIES"
SUPPORTYOUR LOCALADVERTISERS!
They help sponsor the local news section of the Le Roy Pennysaver.
THANKS FORYOUR SUPPORT!
Resident "architects" of Water District #10 Cliff Blank, Bob
Myers, and Steve Upson are joined by Town Supervisor Steve
BarbeauandHighwaySuperintendentEricStauffer ina"clean
water toast" over the recent completedproject
AroundTown
bySteveBarbeau
LeRoyTownSupervisor
First, a note of sincere thanks
and appreciation for theprayers,
thoughts, calls, andcardsduring
my recent medical absence. A
special thankyou toDeputySu-
pervisorTomStella,TownClerk
Patty Canfield, and Secretary/
Bookkeeper Laura Brodie for
For you "techies" out there,
Management Services hasmade
available a new app (free of
charge- download on AppStore
or Googleplay) that allows Gen-
esee County residents to cre-
ate an emergency plan, receive
emergency alerts (weather, road
closures, detours, etc.), and text
your safety needs during an
emergency. For those interested,
this isagood tool inbeingaware/
prepared during emergencies.
If a picture is truly "worth a
thousandwords", I'll save space
and let the following photo do
all the talking. Look forward to
seeingyouAroundTownduring
theOatka Festival (thank you to
allwhovolunteer inmaking this
a great community celebration)!
P.S. My Class of 1976 will be
"celebrating" our 40th during