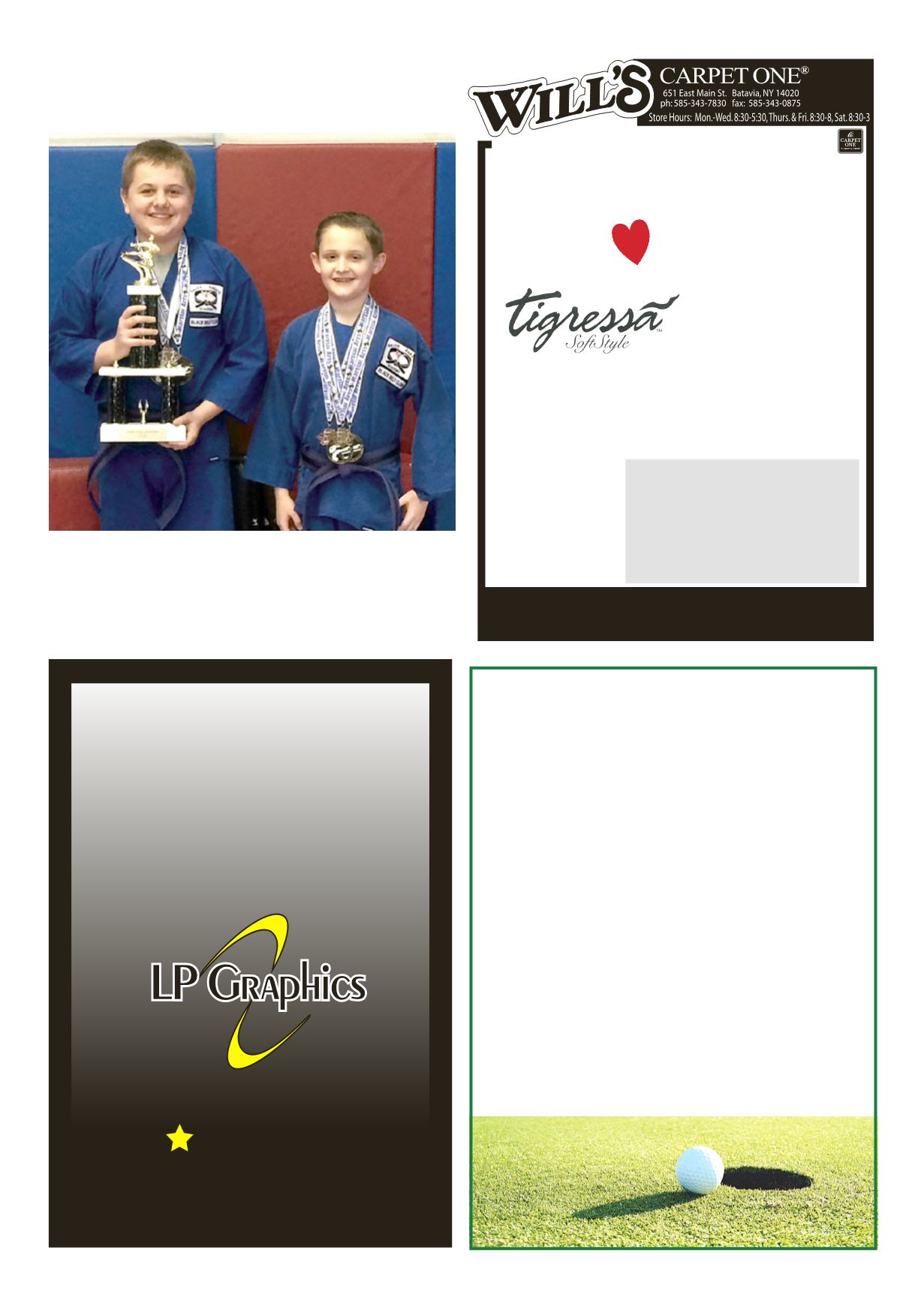 LEROYPENNYSAVER&NEWS -MAY 15, 2016
THANK YOU to family, friends and neighbors for the
cards, visits, calls, flowers, food, on line condolences and
donations.
THANK YOU to Falcone Family Funeral & Cremation
Home, Pastor Jones of UnitedMethodist Church of LeRoy
andMr. Carmichael ofMachpelahCemetery.
THANK YOU to the Bergen Ambulance, Mercy EMS,
MercyAir andStrongHospital Emergency.
THANKYOU to United Vascular SurgeryDoctors and
Staff,Dr.DawnDrydenandStaffand favoritenursesAmber
andAmy.
THANKYOU toLeRoyCountryClubandBataviaLegal
Printing.
THANKYOU to thosespecial friendswhoenjoyedplaying
golf and thosewho attended sporting eventswithGary. He
appreciated all of youverymuch.Also those special friends
who enjoyedgoingon tripswithhim.Gary enjoyed the trips
and always looked forward to the next one.
Sue, Jason
Crystal, Jeff
Kayla&Lindsay
TheONE store for your perfect floor.
FLOOR
&HOME
Flooring
Carpeting
OnSale!
IncludingTigressa
H2OWaterproof Carpet
BenOliver (left)andRyanMacKayareshownwith theirmedals
and trophy theywon ina seriesof 3 tournaments theycompeted
in through theNiagaraTraditionalKarateCircuit.Also,onMay
7thRyanMacKay took 1st place in his division at the Interna-
tionalKarateChampionshipheldat theHyattRegency.Awesome
job to these futureblackbelts!
BauerKarateStudents
Compete InTournaments
1CHURCHST, • LEROY, NY • lpgraphics.net
WEHANDLEALLASPECTSOFPRINTING...
PROGRAMS
LETTERHEADS
BILLHEADS
FLYERS
BROCHURES
POSTERS
CARBONLESSFORMS
ENVELOPES
RAFFLETICKETS
NEWSLETTERS
RESUMES
TYPESETTING
RUBBERSTAMPS
ENGRAVEDSIGNS
NAMETAGS
COPIES
LAMINATION
COMMUNITYFAX
NEWSANDPICTURES
ADVERTISING
BUSINESSCARDS
HOURS: Monday thruFriday8:00 to 5:00