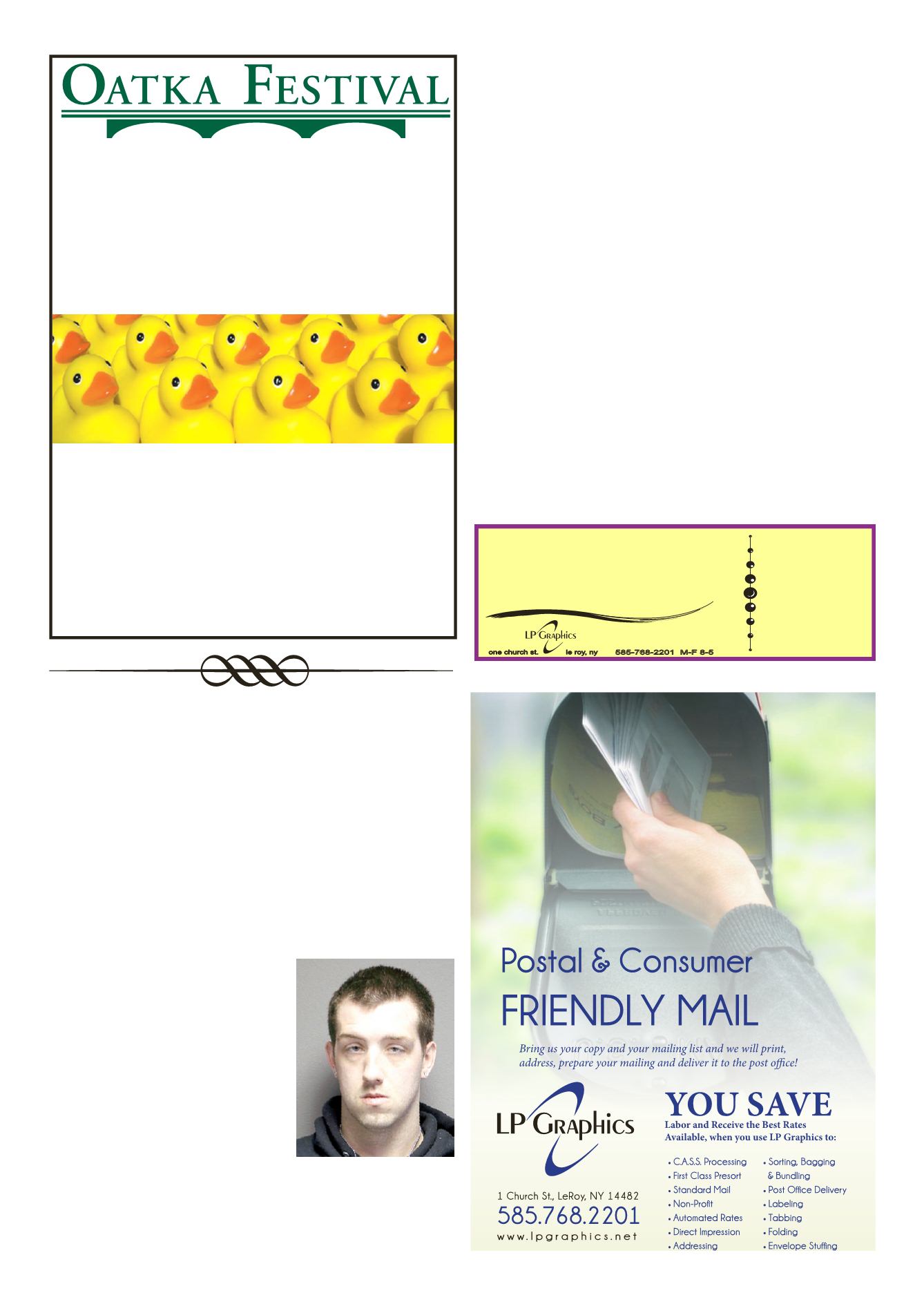 LEROYPENNYSAVER&NEWS -MAY 15, 2016
SoftballGames Sat.,May 7
U10LeRoyGirlsYouth
Softball:
Bubba'sLandscape-LeRoy1 vs
Bubba's Landscape-LeRoy 1
beats Perry 2 16-0. AbbyAllen,
CarsonTyler,SophieBraun,Mad-
isonSpink, andLeahWolfhanger
all had 3 hits for LeRoy. Bela
Condidorio made several great
defensiveplays, includingagreat
catch. AbbyAllen,CarsonTyler,
andMadison Spink each pitched
two scoreless innings for LeRoy.
U12LeRoyGirlsYouth
Softball:
Tompkins-Bank of Castile-
Tompkins-Bank of Castile-
LeRoy 1 beats Perry 1 24-4.
EllieDambra andKailynTresco
led LeRoy going 2 for 3with a
double, BB, and 3 runs scored.
Several great defensive plays
were made by: Riley Wood,
Jamie Staba, Charlotte Blake,
U12LeRoyGirlsYouth
Softball:
Tompkins-Bank of Castile-
Tompkins-Bank of Castile-
Leroy 1 beats Perry 8-3. Ellie
Dambra and Kailyn Tresco led
LeRoy going 2 for 3with 2 runs
scored. Quinn Doty, Ashley
Michel, Angela Allen, Riley
Hailey Johnson each had a hit
for LeRoy. Amara Condidorio,
EllieDambra, andKailynTresco
05/07/2016 -68yearoldMaryFinneganofLakeStreet,LeRoywas
arrested onMay 07, 2016 and chargedwith one count of Criminal
Trespass in theSecondDegree, aClassAMisdemeanor.
The LeRoy Police Department responded to a local apartment
house after receiving a complaint of a subject on the property
trespassing. Upon arrival Finnegan was allegedly located on the
property after she had previously been advised she was no longer
allowed on the property. Finnegan was taken into custody and
Finnegan is to appear in theLeRoyTownCourt onMay19, 2016
05/12/2016 - On 4/20/2016, 23 year
old Darik R. Orbaker of 71 Wolcott
Street, LeRoywas arrested by the Le-
Roy Police Department and charged
with one count of Aggravated Family
OffenseanE-Felonybasedonadomes-
tic complaint. It is alleged that during
the domestic disturbance, Orbaker
damaged property and obstructed the
breathing or blood circulation of a
familymemberandhasbeenpreviously
convicted of one or more "specified
offenses" against this or other familymemberswithin the previous
Orbakerwasarraigned in theTownofLeRoyCourtandcommitted
to theGeneseeCounty Jail in lieu of bail.
LeRoyGirlsYouthSoftball
f your organization is interested in
applyingorwould likemore information
pleasecontact
ChristineGephart at 585-298-2166or
email
All applications aredueby
is looking topartnerwitha
local organization to run the
2016DuckDerby
for this year's festival.
Theorganizationwill receive50%of
the funds raisedat theevent.
one church st. le roy, ny
one church st. le roy, ny