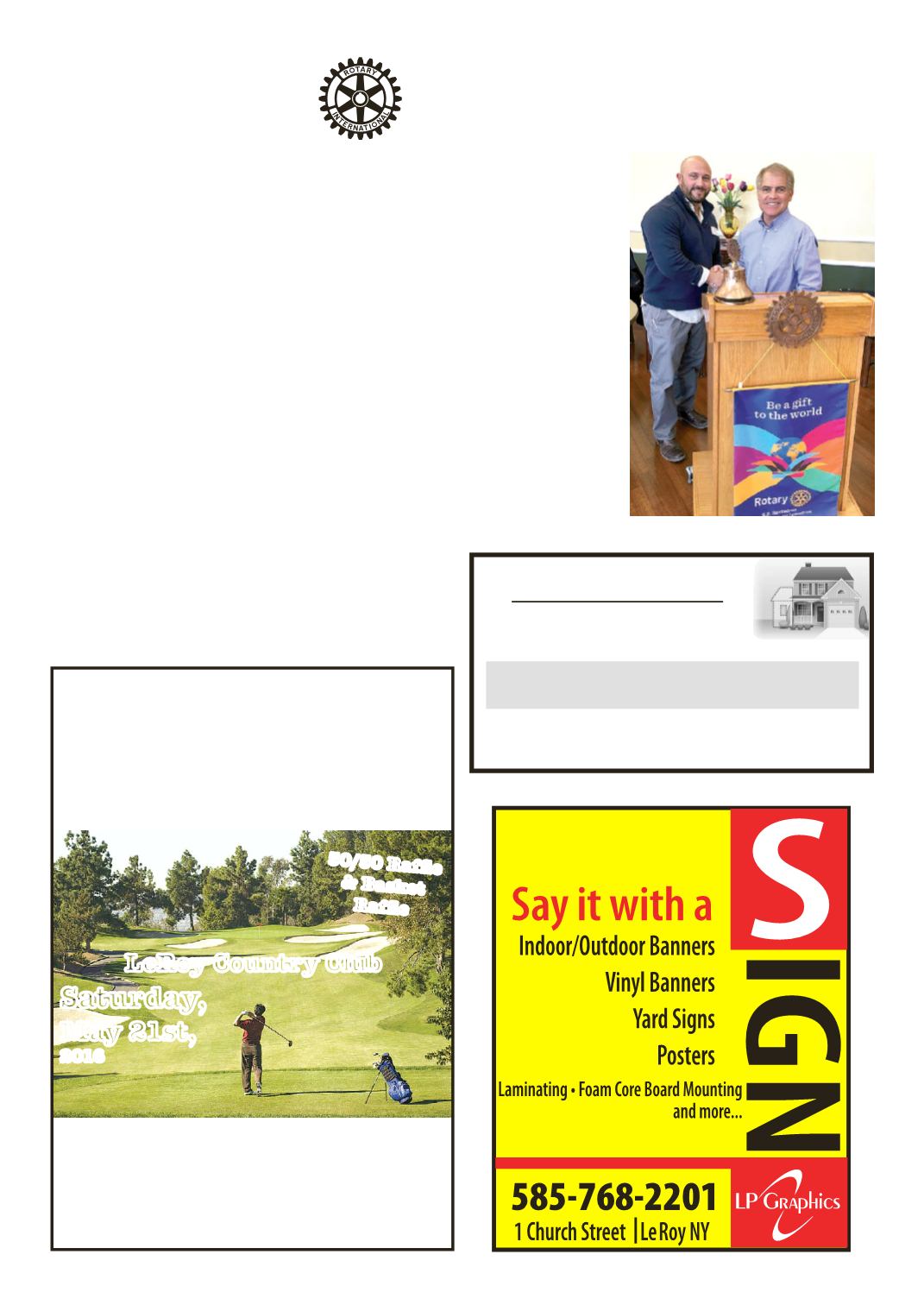 LEROYPENNYSAVER&NEWS -MAY 15, 2016
LeRotary
Notes
"CompleteCarpentry Service"
M
ILLER
B
ROTHERS
B
UILDERS
CustomHomes •Remodeling•Additions
Roofing• Siding
DANIEL
MICHAEL
"Hooch"Golf
TOURNAMENT
Tobenefit theLeRoyMooseand
LeRoyCountryClub
Saturday,
May21st,
2016
1:00ShotgunStart - Format4-PersonScramble
Cost$50.00 (Dinneronly$25.00)Hole sponsor$100.00
Includes ...
Golf, Cart,Dinner&Prizes
Registrationbegins11:30am
Skins$20.00perTeamOptional
50/50Raffle
&Basket
Raffle
RotaryNotes 5-4-16
It was a beautiful spring day
at TheGreens of LeRoy for our
weekly meeting. Brian Foeller
from Le Roy Central School
joined us today as our guest.
REAL (Rotary Excited About
Literature) is now accepting
books,Rent aRotarianwillwrap
up thisweekend, andClubLead-
ershipTrainingwill takeplaceon
May 7th in Niagara Falls. Sam
Vagg reported everything is on
track with the Graze to Raise.
The Graze will be May 20th at
Mercy Grove. Sam encouraged
all Rotarians to get donations in
to her as soon as possible. The
Nanette Chiulli, Jerry Mc-
Cullough, JimEllison, and Tim
Moagwereall tagged formissed
meetings. Scott McCumiskey
was fined for a Buffalo Bills
Flag, in an attempt by President
Tony to get Scott on theBuffalo
Itwasourpleasure towelcome
MikeCassata to our Club today.
Mike is theGeneralManager of
theLeRoy locationofCopart Inc.
Our program today was pre-
sented byKimCox, Superinten-
dent ofLSCD, andBrianFoeller,
Business Administrator. Kim
Cox started the program high-
lightingstudent&schoolachieve-
ments. Kim andBrian then gave
an overview on the 2016-2017
District Budget. After 8 years,
the District's Gap Elimination
Adjustment (GEA)hasbeen fully
restored in theStateBudget. The
proposed total budget for the
2016-2017 year is $23,214,782.
This is an increase of $393,275
(or about 1.72%) over last year's
budget. The bulk of the increase
represents increasing operating
and salary costs. The district is
lpgraphics.net