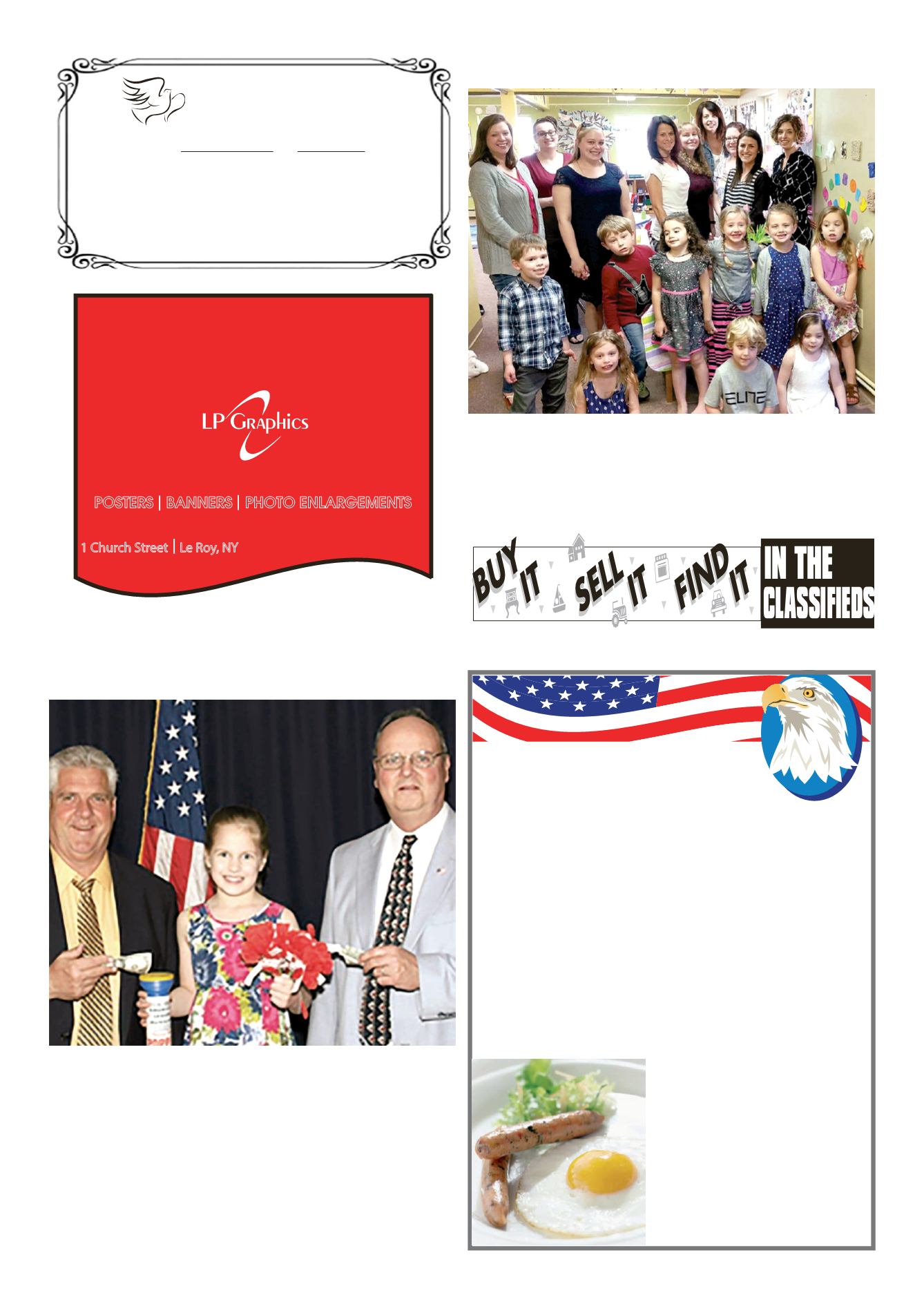 LEROYPENNYSAVER&NEWS -MAY 15, 2016
Director /Owner
FuneralDirector
F
ALCONE
F
AMILY
Funeral&Cremation Service, Inc.
Director/Owner
"ALOCALFAMILY
CARINGFORLOCALFAMILIES"
SunshineNurserySchool'sPre-KclasscelebratedMother'sDay
with a special tea party. We spent the morning singing songs,
showing off special projects and enjoying snacks. Thank you
moms for all that youdo!
WeLoveMoms at Sunshine
LeRoy
Servicemen'sClub
Sunday,May 22nd, 2016
8:00 am –Noon
ALLYOUCANEAT
53WestMainSt., LeRoy, NY
Also serving agood time
with your localVeterans.
American Legion Auxiliary
Botts Fiorito Unit 576 Le Roy
Carolyn is the daughter ofMi-
cheleand JeffWujcik andgrand
daughter of JohnWujcik and the
lateCaroleWujcik. Carolyn is a
1st grade student at Wolcott St.
CarolynWujcik
PoppyGirl 2016
School.She isaJuniorMemberof
theAuxiliary.Sheenjoysreading,
coloring andgardening.You can
meet Carolyn at TopsMarket on
Saturday, May 28 distributing
Poppies to the community. Also
at theMemorialDayService, 11
Pictured isMayorGregoryRogers, Carolyn, andTownSuper-
visorStephenBarbeau.
POSTERS BANNERS PHOTO ENLARGEMENTS
lpgraphics.net