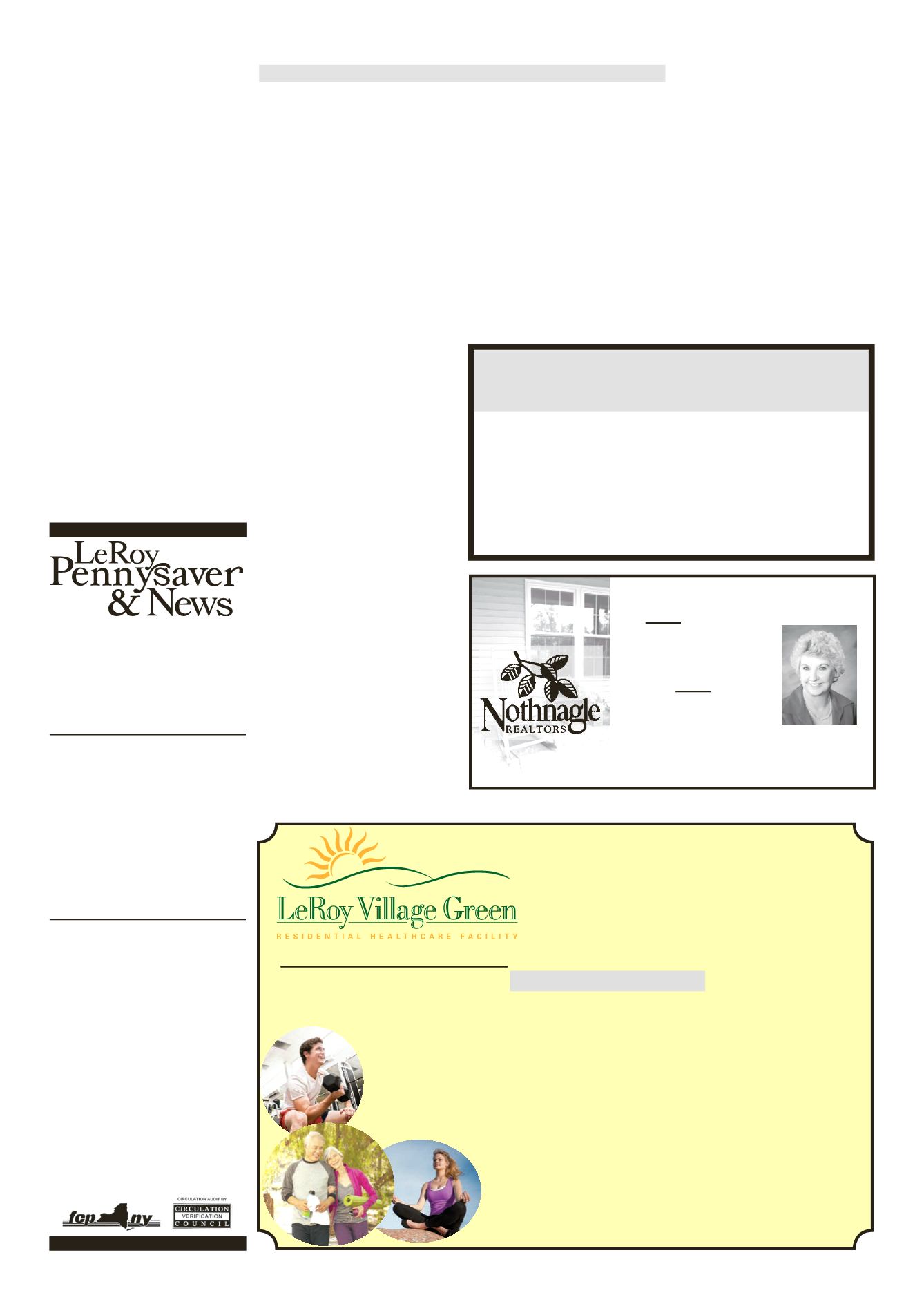 LEROYPENNYSAVER&NEWS -MAY 1, 2016
Batavia
585-343-6750
NOW is theBEST time
toBUYwith the interest rates
at their lowest!
Don't wait
toBUY -
call
LindaBeaumont
for all your real
estateneeds.
LindaBeaumont
Home (585) 768-6315
LicensedReal Estate
Salesperson
Multi-MillionDollar Producer
LeRoy'sBestAdvertisingMedium
Le Roy Pennysaver
will not knowingly accept or
publish advertising which is fraudulent or misleading
in nature. The publisher reserves the right to reject or
cancel anyadvertising.The
LeRoyPennysaver
no financial responsibility for typographical errors in
advertisements, but if at fault, will reprint the portion of
the ad in which the error appears. Style, size of type
and locationof advertisement are left to thediscretionof
the publisher. The opinions expressed in this publication
are not necessarily those of the publisher. We cannot
guarantee the returnof photographs.
LeRoyPennysaver
byGreg "Porp"Rogers,
Mayor
lage Board will have their first
workshop,7:00pmat theVillage
Hall.The topicwillbe thecurrent
and future situation at ourWaste
Thediscussionwill focuson the
plans for belt press, sludge haul-
ing, and an upgrade to the plant.
As well as grant applications,
grant funding, and financing for
Thismeetingandallworkshops
areopen to thepublic.Webelieve
that this format allowsamore in-
depth look into important issues
that might not get the complete
discussionneeded toproduce the
Youmayhave read in thepaper
that theVillageBoard has voted
to raise the sewer rate froma$33
minimum to $40minimum and
excess charge from $5.81 per
thousand gallons to $8.00 per
Many factors contribute to this
move.First, state lawdictates that
the sewer fund operates strictly
from themoney taken in from the
sewer rates.Currentlywehavean
annual bond payment of around
$300,000 a year for another 3
years. The biggest change is the
agreementwithWeCareOrgan-
ics that we have enjoyed for the
last 14 years. They have decided
that it was not lucrative for them
tocontinueandhadwewished to
extend theagreementwouldhave
come toa$200,000+cost ayear.
Our new permit issued in 2015
required more testing, another
The raise in the rateshouldoff-
set thecost for theVillage tohaul
wet sludgeuntilweareable toget
a belt press in and operational.
Oncewe are set upwewill see a
significant drop in the total cost
of handling our sludge formany
Other factors are the reduction
of water usage.While the solids
remain the same, the amount of
water used has dropped because
of energy saving toilets, wash-
ing machines, and dishwashers.
Many improvements have been
made at the plant but these take
money for time andmaterial.
While we realize the extra
burden this will put on every
household, and plan to do
everything in our power to get
this back to a more reasonable
rate, it is important to realize this
utility has not been increased in
14years.Take intoconsideration,
employee's wages, health care
and cost of utilities to run
the plant which have gone up
numerous times throughout the
TheBoard is committed tofix-
ing this issue and putting a plan
in place that not only has LeRoy
ready for the future but also has
money set aside for preventive
maintenanceanda long standing
"If you are always trying to
figure out what happened; you'll
neverhave time tofigureoutwhat
Notes From TheMayor's Office
ALLWORKMANSHIP GUARANTEED • INSURED
297-9097 • 768-7737
• InteriorPainting
• Plaster/LathRestoration
•Drywall&Drywall Repair
•TextureRemoval
• Floors Stripped
&Refinished
•OldCeilings&Walls
MadeLikeNew!
MikeDarby'sPatch&Paint
LeRoyVillageGreenResidentialHealthcareFacility
TheGreens of LeRoy, Senior Independent Community
LeRoyPhysical Therapy&VillageFitness
LeRoyAthleticClub/Kettle'sGym
Alzheimer'sAssociation ofWesternNewYork
UnitedMemorialMedical Center
Wellness Fair
May 12th, 2016
LeRoyVillageGreen, RHCF
10MunsonStreet, LeRoy, NY14482
2pm-5pm
Open&Free to Community
Activities:
LiveHealthyCookingDemonstrations • Fitness&Wellness Exhibitions
Prizes:
Over $1000.00 in free raffle prizes for attendees,
including afit bit, golf packages, gift certificates&more.
Free private consult/care planmanagement withAlzheimer'sAssociation
VENDORS