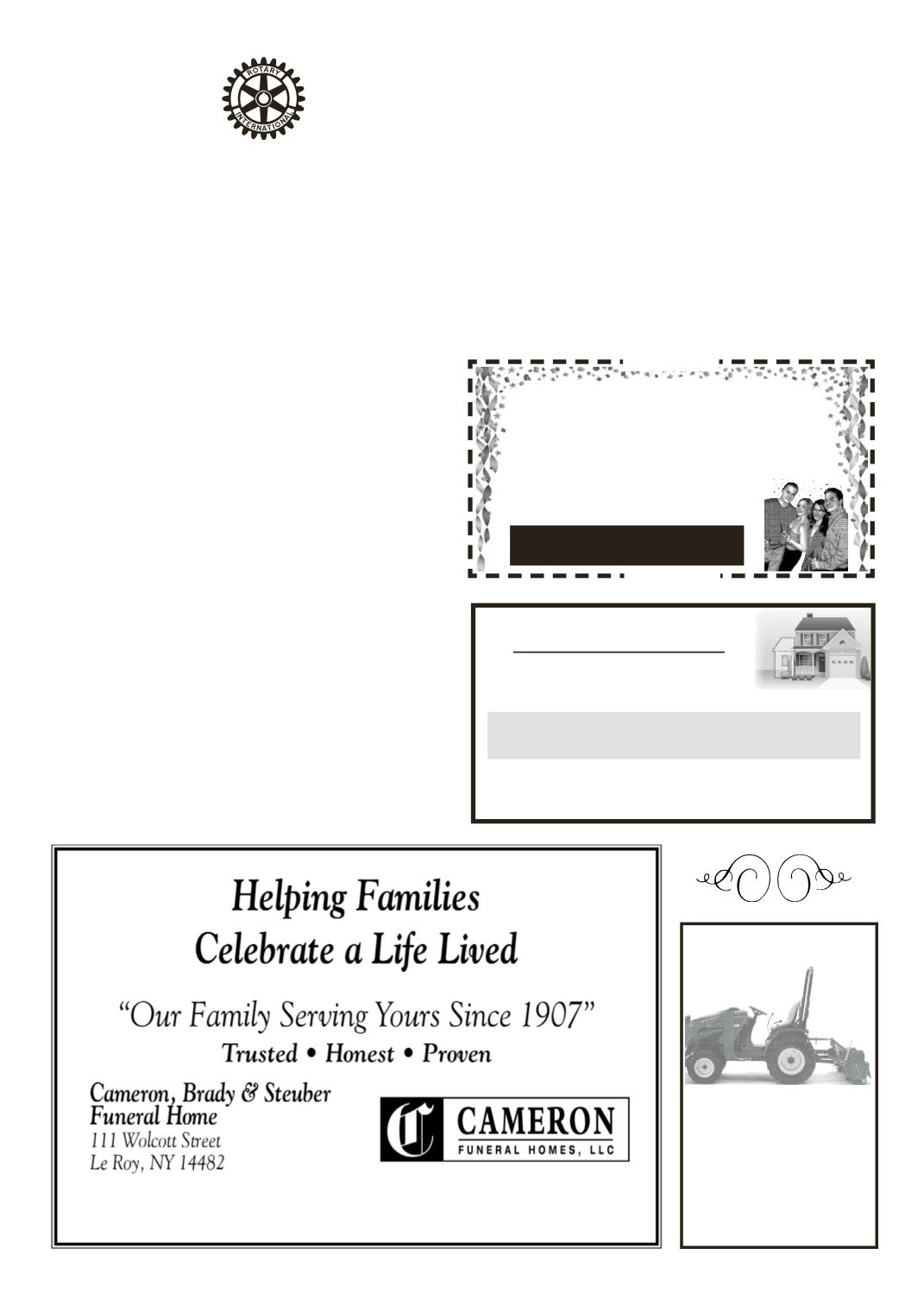 LEROYPENNYSAVER&NEWS -MAY 1, 2016
LeRotary
Notes
"CompleteCarpentry Service"
M
ILLER
B
ROTHERS
B
UILDERS
CustomHomes •Remodeling•Additions
Roofing• Siding
DANIEL
MICHAEL
(585) 768-6800 •
Likeus onFacebook
Notes 4-20
It was a beautiful spring day
at TheGreens of LeRoy for our
meeting today. CindyHendrick-
son joined us from the Perry
Rotary today. ValerieBrey from
Happy Hour at LCC on 4/21,
District Club Training is on 5/7
in Niagara Falls, and there is
a Chicken BBQ to benefit the
LeRoyCommunityPoolonApril
23rd in Trigon Park. Martha
Bailey is now accepting jobs
for our Annual Rent a Rotarian.
Thereare several dates available
for jobs. SamVagg reported that
theGraze toRaise issoldout,and
encouragedeveryone to focuson
getting items for the auctions.
We acknowledged the birth-
days of Ron Pangrazio and Tim
Moag. Following catching up
on missed meetings, we had a
lengthy fining session. Tracy
Ford was fined for a new job.
ChristineGephartgavePresident
Tony an education on some of
the significance associated with
today's date, April 20th, and
paid todoso.RonPangraziowas
fined for his lengthy absence,
and his daughter's prestigious
award.BobCarlsenhadadouble
whammy for having to watch a
struggling Yankees team, and
then having to pay for it. Tim
Moag was happy to pay up for
the endof a long tax season. Jim
Ellison was called upon for a
vocalgroupperformance,hewas
happy topayup,butpassedon the
opportunity to give us a sample.
ValerieBrey,DirectorofCamp
Hough, YMCAwas our speaker
today. Valerie has been involved
incamping since shewas6years
old. She is a huge advocate of
the benefits camps like Camp
Hough have on children of all
backgrounds. The Traditional
Camp provides youth ages 6 to
15with the opportunity tomake
new friendswhilebuilding close
relationships with their peers
andcounselors forawholeweek.
Traditional Campers arrive on
Sunday afternoon and depart
Saturday morning. Whether it
is your camper's first time or
eighth time, Traditional Camp is
a fantastic experience for those
ready to stayat camp for awhole
week.CampHough alsooffers a
"First Experience Camp". First
Experience Camp is designed
for first-time campers ages 6-9.
Thesecampers arriveonSunday
afternoonanddepartWednesday
evening. This 4 day camp expe-
rience is a great opportunity for
those who are uncertain about
spending an entire week away
from home. First Experience
Campers stay in cabins with the
traditional campers and have
all of the same experiences. On
Tuesday night the directors will
speakwitheachFirstExperience
Camper to see how they are
doing and give them the option
of staying for the whole week.
If the childwants to stay for the
entireweekyouwillbecontacted
Tuesdayevening tosee if this isa
possibility.Financialassistance is
available to thosewhoqualify.No
child isdenieddue to inability to
Please like theRotaryClub of
NoTexting
Either new or
existing gardens
rototilled.
48" rototiller.
Call Don
At 356-4089
LEROYPENNYSAVER -OCTOBER 24, 2005
American Legion
Post 576
585-768-2090
CLIP&SAVE
CLIP&SAVE
Inside - 2RoomsAvailable
Outside - LargePavilion