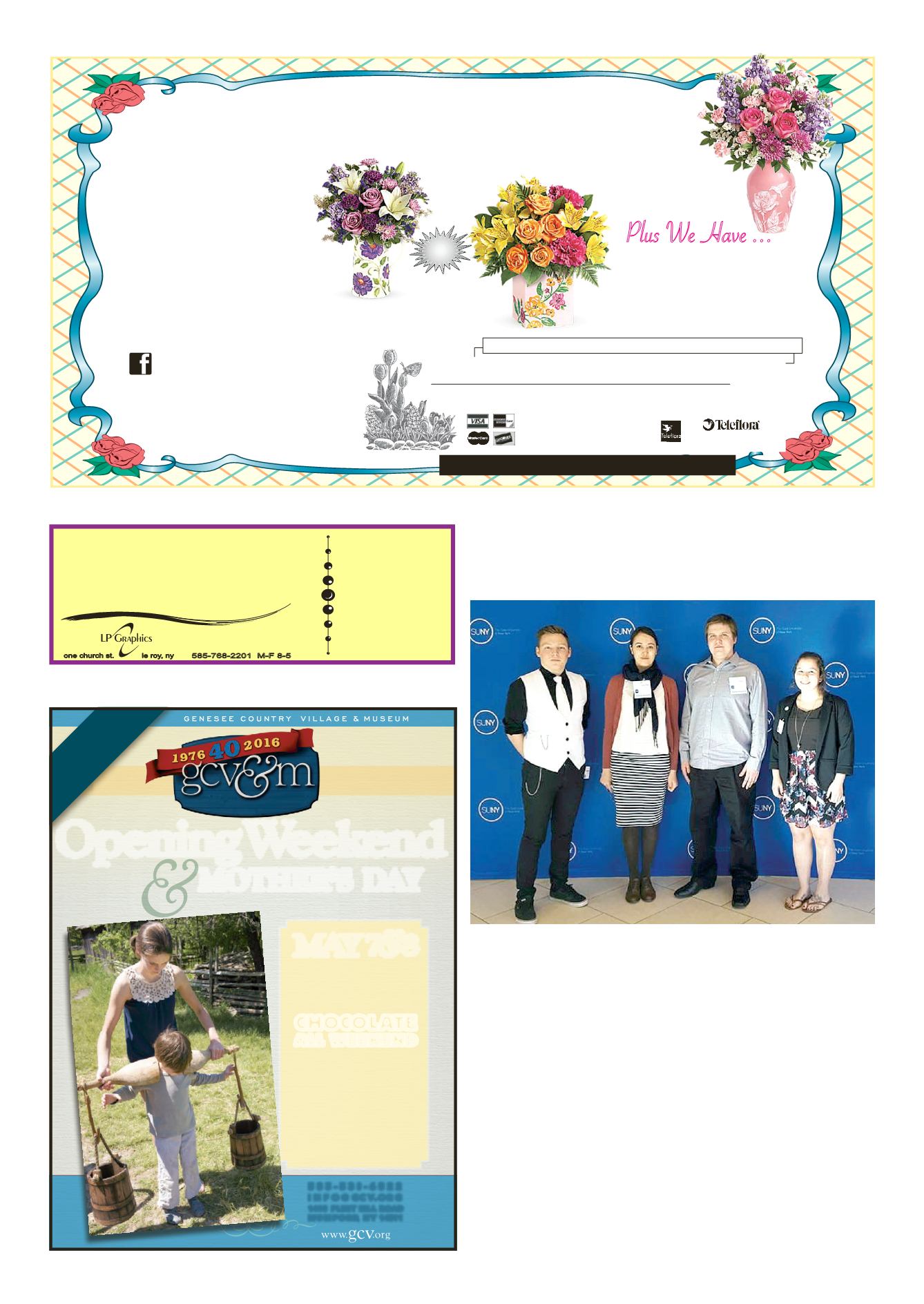 LEROYPENNYSAVER&NEWS -MAY 1, 2016
MOMS ARE FREE ALL OPENING WEEKEND
&
Joinus for a special Mother's
DayonSunday, May8.
Enjoy a 19th-Century
FashionShow at 1 p.m. Sunday.
Chocolatepairingswith
local wines and craft beers
Authentic, sophisticated
19th centurydemonstrations
and tastingswith
AmericanHeritage®Chocolate
UnwrapAmerica's history
through the storyof chocolate,
presentedbyMars, Inc.
gcvm openingLEROYPennysver 2016.indd 1
LookatourWEBSITE for lotsof ideas!
PROMTIME, Corsages/Bouts., Garters
PresentationBouquets/Corsages/Bouts.
TakingOrders For CemeteryUrns
Bracelets
LookatourWEBSITE for lotsof ideas!
Lakestreet Florist&Gift Shoppe
WeDeliver To: LEROY, Byron, Bergen, Caledonia,Mumford, Pavilion,Wyoming, Stafford&Batavia
TelefloraWire ServiceForFamily&FriendsOut of Town
768-7720
110LakeSt., LeRoy
HOURS:
M-T 9-5:30
F9-6:00
Sat. 9-4:00
COOK'S LANDSCAPING - 330-3819
Genesee Community College
students,MaxwellDiNatale (One
ofLeRoy'snewest residents, and
grandson of Ernie and Judith
Lusky),GovherHemrayeva,Kev-
inWall, andGina Schelemanow
Community College as voting
delegatesat thespringsemesterof
the SUNY SA (State University
of NewYork Assembly) confer-
ence on April 15th and 16th in
Saratoga Springs, NewYork.
SUNYSA is thecollectivestu-
dent governanceof all 64SUNY
colleges across the state.During
the conference, student leaders
from all across the state elect an
MaxwellDinatale
LaunchesPoliticalCareer
executive board to represent col-
lectivestudent interests inAlbany
toadvocate for students through-
out the year. Voting delegates
pass resolutions on a number of
issues such as daycare funding
for colleges and Band the Box
initiatives. Genesee Community
College has only recently been
attending the conference in the
All fourstudentsarealsoworking
tirelessly back at GCC to revi-
talize their student government
structure. Maxwell DiNatale
plans to run for local office after
the completion of his degree at
one church st. le roy, ny
one church st. le roy, ny
Welcome Spring!
LikeUsOnFacebook - Lakestreet Florist
5.3.16 -National Teacher'sDay
5.6.16 -National Nurse'sDay
5.8.16 -Mother'sDay!
OPENSUNDAY - 9-1pm
teleflora's garden
pitcherbouquet
teleflora's paintedblossoms bouquet
teleflora's love
and joybouquet