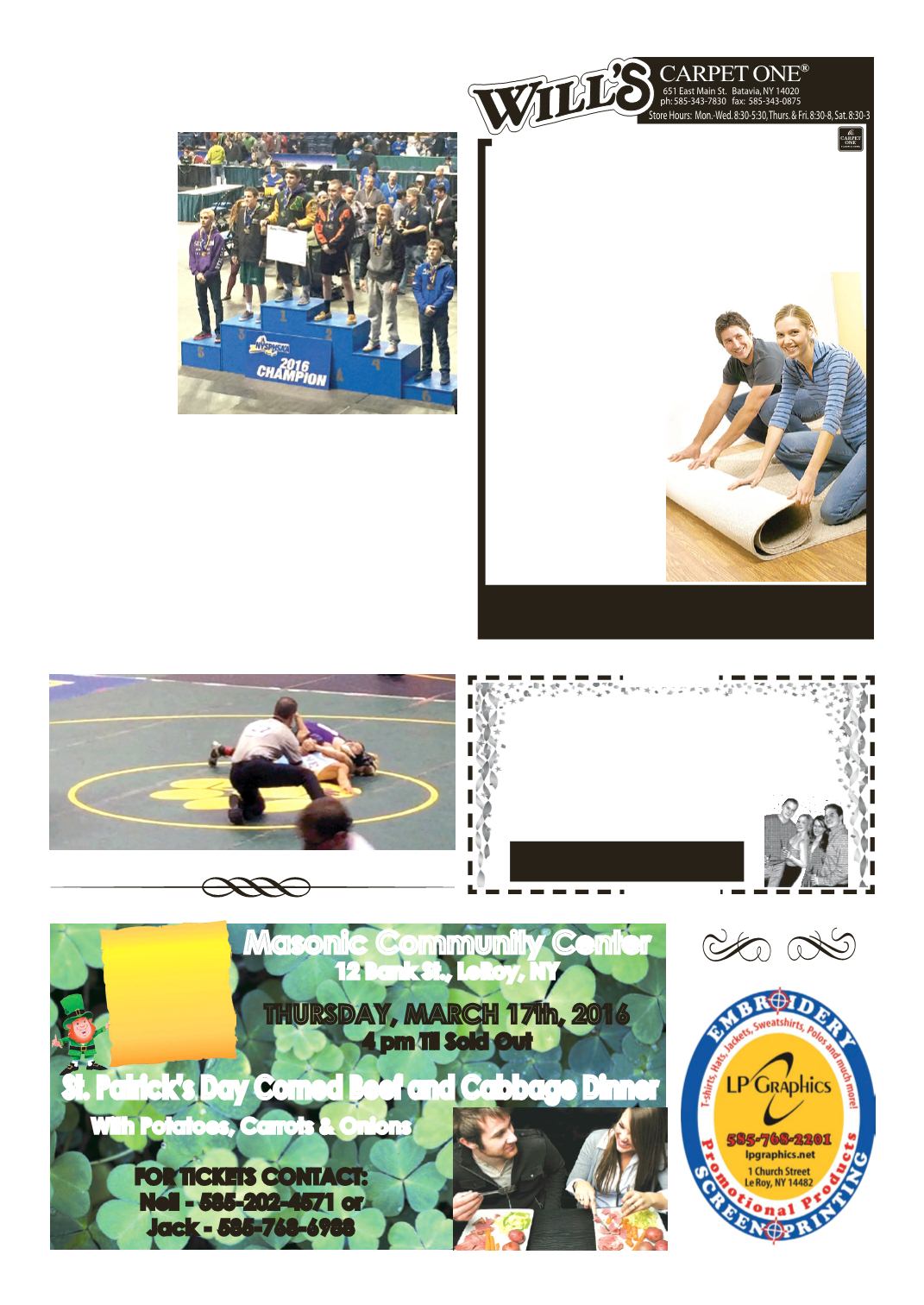 LEROYPENNYSAVER&NEWS -MARCH 6, 2016
TheONE store for your perfect floor.
FLOOR
&HOME
JustArrived!
NEWSHIPMENT
OFCARPETREMS
Largeand
Small Sizes
GREAT
SELECTIONof
Colors&Styles
the quarterfinals, he lost 3-1 to
Dane Heberlein from Alexan-
der in Section 5, the eventual
NYS Champion at 120#. John
thenmoved into the consolation
bracket where he defeated Sa-
toshi Abe from Putnam Valley
inSection 1 by a score of 11-2.
Hedefeatedhisnext opponent,
Jacob Nolan from Saranac in
Section 7 by a 4-2 decision. He
then lost 6-4 in a tough match
against Jon Gomez of Locust
Valley in Section 8. John then
Deposit-Hancock in Section 4
to earn his place on the podium
at theNewYork StateWrestling
Besides being the first wrestler
fromLeRoyHighSchool tohave
earned a return trip to Albany
to compete in the NYS Tourna-
ment, John Lauricella also set a
new career record in the LeRoy
Wrestling books, finishing an
JohnLauricellaAt
NYSWrestlingTournament
OliveBranch
Lodge#39
and
Eunice Lodge
#830
MasonicCommunityCenter
12Bank St., LeRoy, NY
THURSDAY,MARCH 17th, 2016
4pm Til SoldOut
WithPotatoes, Carrots&Onions
FOR TICKETSCONTACT:
Neil - 585-202-4571or
Jack - 585-768-6988
St. Patrick'sDayCornedBeef andCabbageDinner
American Legion
Post 576
585-768-2090
CLIP&SAVE
CLIP&SAVE
Inside - 2RoomsAvailable
Outside - LargePavilion