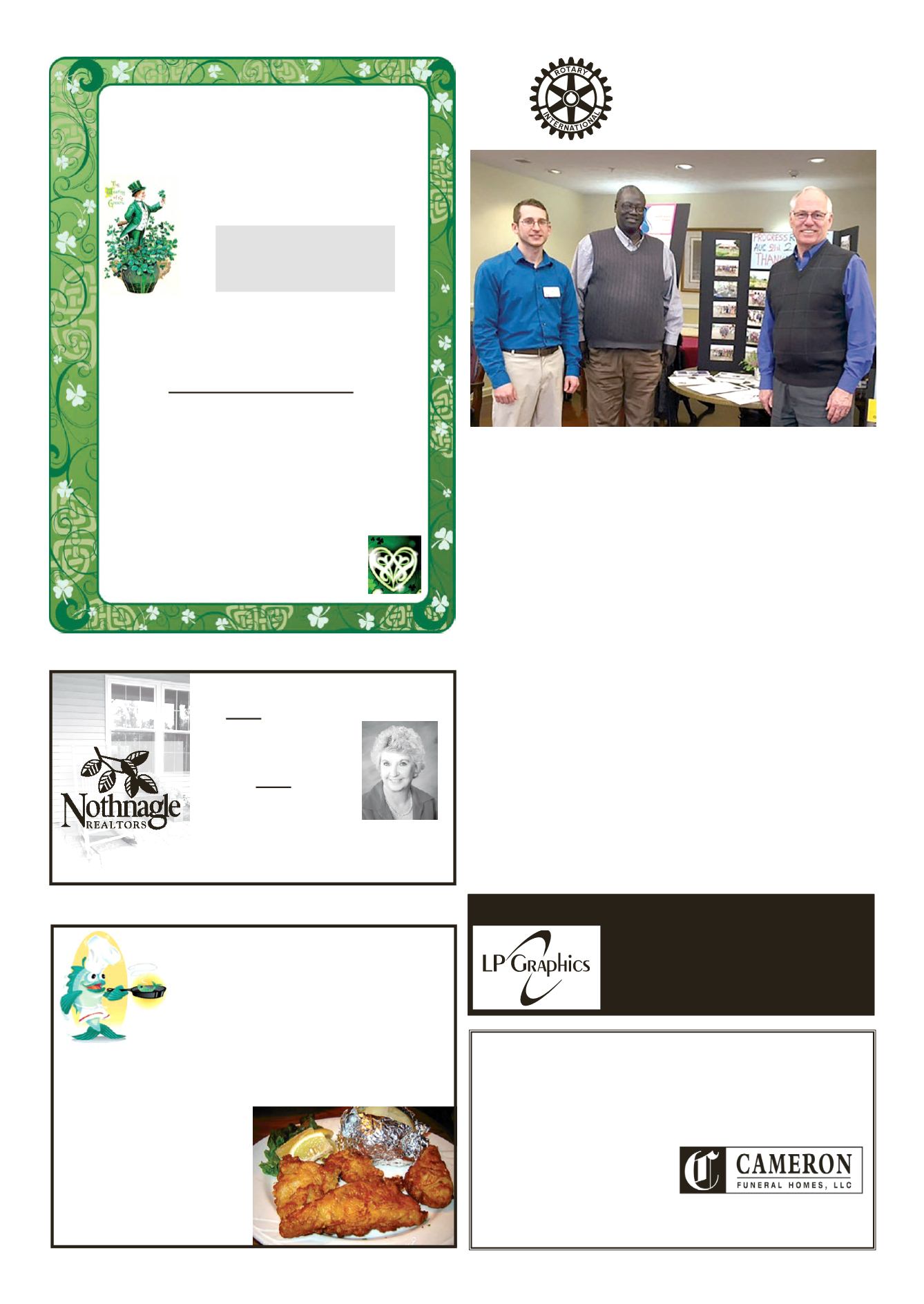 LEROYPENNYSAVER&NEWS -MARCH 6, 2016
HelpingFamiliesCelebrateaLifeLived
"Our FamilyServingYours Since 1907"
Trusted•Honest •Proven
Cameron, Brady&Steuber
FuneralHome
111Wolcott Street
LeRoy,NY 14482
(585) 768-6800 •
Likeus onFacebook
1ChurchSt., LeRoy, NY14482
585-768-2201
FAX 585-768-6334
WeDo
LeRotary
Notes
Batavia
585-343-6750
NOW is theBEST time
toBUYwith the interest rates
at their lowest!
Don't wait
toBUY -
call
LindaBeaumont
for all your real
estateneeds.
LindaBeaumont
Home (585) 768-6315
LicensedReal Estate
Salesperson
Multi-MillionDollar Producer
The Rotary Club of Le Roy's
February 24th meeting was
called toorder byPast President
Guests includedKucMajakand
MarvinMich from theVocational
Institute for theChildrenofSouth
Announcements were as fol-
lows:OnMarch12th,wewill be
stuffingEastereggsat theMoose.
OnMay12th,aWellnessFairwill
beheldat theVillageGreenwith
all welcome to attend.May 18th
is theUnitedWayDayofCaring.
OurGaze toRaiseFundraiserwill
beheldonMay20that the former
Missed Meetings included,
Martha Bailey, Kim Cox, Ben
Deragon, Jim Ellison, Eric Fix,
Lauren Humphrey, Jerry Mc-
Cullough, Tom McGinnis and
Mary Young. David Grayson
wasfined forhisbirthdayandhis
daughter'schocolate moosewith
Bob Bennett graciously paying
Our Presentation was brought
to us byPhilWeise on theVoca-
tional Institute for theChildrenof
SouthSudan.TheOrganization is
helping children ofWar Victims
in South Sudan with technical
apprenticeships such as carpen-
try, welding and mechanics.
It is offered to both girls and
boys. Theorganization started in
2001 and as of today they have
raised $100,000. Classes began
as of February 2016. They have
a goal to raise another $25,000
for windows and doors in the
school. Thirtystudentscurrently
attend the schoolwith thegoal at
350. The current government is
funding the teachersandsupplies.
Formore information,visit
FISH FRY
(585-502-5155)
FREE "CelticConcert" followingdinner in theSanctuary
(7:00 to8:30pm)witha reception to follow.
DINNER tickets are$10 for adults, $9 for seniors;
$6 for children10&under. Takeoutswill be available.
Comeand enjoy somegreat food, fellowshipand "IrishMusic"
byCelticTrio:CuisleMoChroi
PatriciaCarey,MaryLester&CathyMcGrath
Dancingby students ofMGOSAcademyof IrishDance -Rochester,NY
This project ismade possiblewith funds from theDecentralization
Program, aRe-Grant Program of theNYSCouncilOn theArts&
Administered byGeneseeOrleansCountyCouncil of theArts.
Contact JaniceCooper at585-356-6656
Ides ofMarch
CornedBeef&Cabbage
Dinner andSilentAuction
Saturday,
March12th
Dinner from3:30 to7:00pm
Concert from7:00 to8:30pm
LeRoyUnitedMethodistChurch